What: K-Palette 1Day Tattoo Lasting Eyebrow Tint
What It Is:
Adding to its extensive line of long-lasting products, K-Palette recently launched its first liquid eyebrow tint. To use it, draw your desired shape with the brush applicator on clean, makeup-free skin. You can either use it freehand or with the included stencils. Leave the product on for two hours (or overnight), then peel it off to reveal the tint. The product claims that the tint can last up to a week, provided that the least amount of friction is applied to the brows.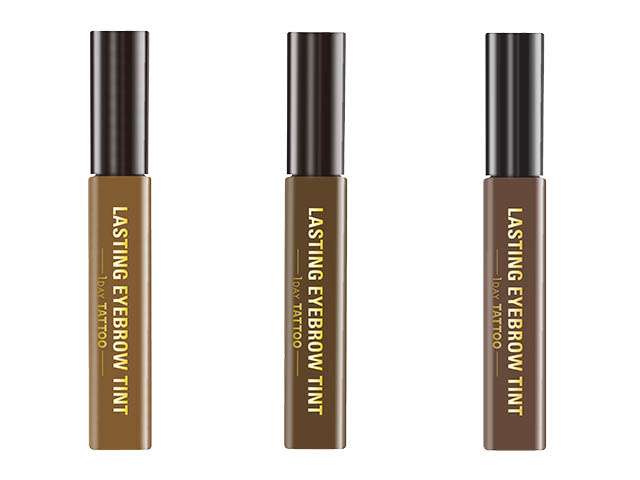 IMAGE K-Palette
K-Palette 1Day Tattoo Lasting Eyebrow Tint, P895, Beauty Bar
The product comes in three shades—Light Brown, Natural Brown, and Mocha Brown. According to K-Palette, one tube can last for around six months of continuous use.
Current Condition:
Three Preview editors used one shade of the brow tint each. Yanna, Steph, and Gab used Light Brown, Natural Brown, and Mocha Brown, respectively.
ADVERTISEMENT - CONTINUE READING BELOW
Yanna's current hair color is a vibrant caramel brown, so she decided to use a shade that's closest to it. Her brows are already pretty full, with just a few sparse patches in between—"On a regular day, I either fill the spaces in with a tiny bit of pencil, or skip any brow product completely."
Steph's natural hair color is neither too light nor too dark, so the Natural Brown seemed like the best fit for her brows. She has fine brow hairs with a few sparse areas. "I like keeping my brows in a straight shape, like the K-beauty trend."
Meanwhile, Gab has naturally dark and full brows but decidied to try the tint anyway to see how it would fare on the small gaps between his brow hairs.
How We Used It:
Since Yanna's brows don't need too much filling in, she didn't use the stencils. "I was scared of getting too heavy-handed with the brow product, so I only applied very little at first. Turns out that you actually have to pile it on so the tint is more obvious when peeled off. I had to apply another coat to next day."
It took about five to six days for the tint to fade completely. "I just use my face wash to remove my makeup, so makeup removers hardly touched my brows."
Steph, despite having black hair, used Natural Brown for a subtler tint. To apply the product, she skipped the stencil and carved her brows the way she would with a pencil. "It was pretty easy to use. Although the results turned out lighter than I expected, it was okay as it still matched my hair color. Maybe I'm too used to having gray/black brows."
On her, the tint lasted for around a week, but began fading after four days. "I use micellar water to remove my makeup and since it's already routine for me to do so, I always lightly run the cotton pad across my brows."
On the other hand, Mocha Brown was a tad too light for Gab. "I applied a thick layer of the tint, but it didn't get as dark as I hoped it would. I thought the darkest shade would give me a darker, almost black tint, but instead it produced a light brown color." The tint didn't last too long on him either. "It lasted for about two days on me before it started to fade. I use quite a strong cleanser so that probably made it fade faster."
IMAGE Angeline Morales
Conclusion:
Yanna: "I really liked how natural my brows looked afterwards, sort of like I just filled them in very lightly with a hint of pencil! So will I recommend this to others? Very likely. I've already convinced my mom to try it! It cuts a small chunk of my daily makeup routine off, and time is gold."
ADVERTISEMENT - CONTINUE READING BELOW
Steph: "My hair color right now is a bit too dark for the shades, but I'll definitely use the tint again once my hair color has amber tones again. That said, I recommend this to lazy girls who like keeping their makeup routine fast and simple. Having my brows tinted gave me more snooze time. I simply cleaned my face, applied necessary skin care then moved on to a light pat from my cushion compact and a swipe of lipgloss. Total time saver!"
Gab: "For those who prefer darker brows like I do, I would stick to using regular brow pencil. But if soft brows are your thing, I say go for it! It leaves a nice stain that those with finer brow hairs will love."
Related Stories from Preview.ph
Hey, Preview readers! Follow us on Facebook, Instagram, YouTube, Tiktok, and Twitter to stay up to speed on all things trendy and creative. We'll curate the most stylish feed for you!