What: Kiss InstaWave Automatic Curler
The InstaWave is an automatic curling iron with a ceramic barrel. It claims to produce tangle-free curls with a self-turning dial at the push of a button. It also promises to be gentle on the strands and easy to use.
IMAGE Mark Buenaobra
KISS InstaWave Automatic Curler, P3599, Watsons and SM Department Stores
ADVERTISEMENT - CONTINUE READING BELOW
Current Condition:
My hair is as straight as hair can be, which makes it a nightmare to curl. For one, its naturally silky texture prevents it from holding a curl for longer than two hours, and the only way to get it to cooperate is by dousing it in texturizing spray and dry shampoo. Sometimes, I skip shampoo and conditioner altogether just to get an iron to work.
To add insult to injury, I'm also incredibly impatient. Even the thought of twirling my hair on a heat stick for 20 minutes puts me to sleep. That's why I save done-up hairstyles for very special events. On the daily, I personally prefer simple tools that can do all the work for me.
How I Used It:
The first time I used this iron, I treated it like your average curling barrel. I turned it on, left it on my table to heat itself up, and waited until it was ready to use. I was told that the iron would make a sound when it was hot enough, a process that usually takes around two to three minutes. So imagine my surprise when it beeped less than a minute after I flipped the switch! (Sidenote: I actually used a stopwatch the second time I used it, and the iron set in high temperature sounded off exactly at the 40-second mark.) Impressive, no?
CONTINUE READING BELOW
Recommended Videos
After using the curling iron on myself, I had my co-editor Steph give it a spin at Preview HQ to demonstrate how it works its magic. Keep reading for a step-by-step guide.
Step 1: Place a section of hair on the curl dial.
To start using the InstaWave, you need to lift a small section of hair and place it on the curl dial. I suggest doing small sections at once so the dial can easily wrap itself around the strands.
It's also very important to hold the iron vertically instead of horizontally, which seemed odd at first, but I swear it's the best position for making sure no strand gets left behind.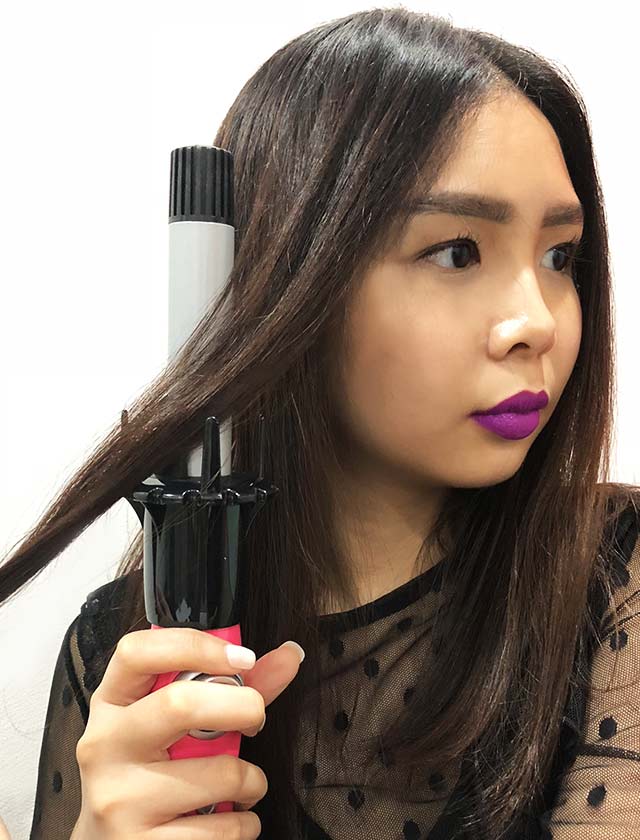 ADVERTISEMENT - CONTINUE READING BELOW
IMAGE Mark Buenaobra
Step 2: Press the button until the section is fully wrapped around the barrel.
The button on the InstaWave allows you to curl your hair either clockwise or counterclockwise. So after deciding on your preferred direction, you simply have to press and hold the side of the button that corresponds to it. The dial will then start spinning on its own to catch your hair, but you'll have to release the button once the section is fully wrapped around the barrel.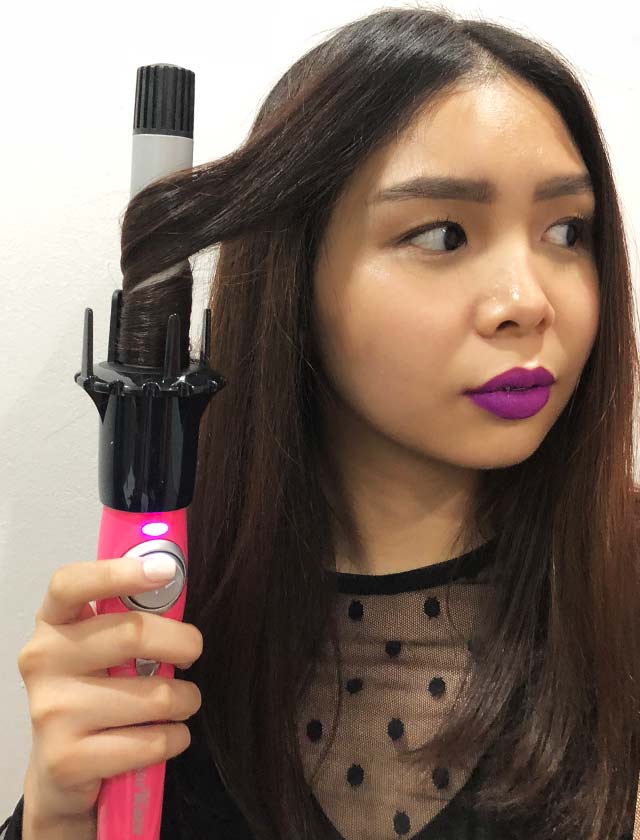 ADVERTISEMENT - CONTINUE READING BELOW
IMAGE Mark Buenaobra
Step 3: Wait for eight seconds and release your hair from the dial.
The moment you let go of the direction button, the iron will set a timer for eight seconds and make a small sound once the time has elapsed. Yep, there are no guessing games with this one!
Right after the iron beeps, you can pull the barrel downwards to unlatch your hair and enjoy your new curls. It's really that simple. When used properly, it only takes five to ten minutes to curl the entire head—for me, at least.
Here's what a quick InstaWave session did on Steph: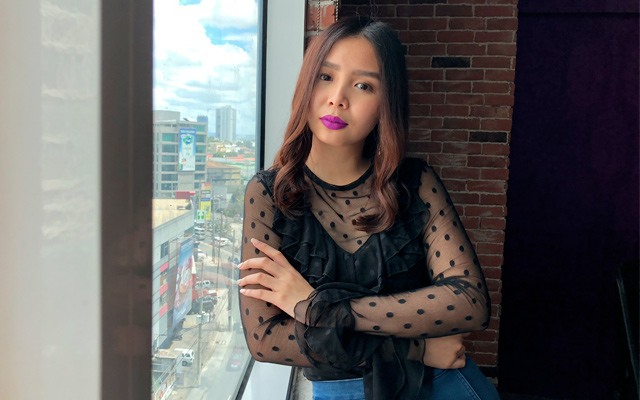 ADVERTISEMENT - CONTINUE READING BELOW
IMAGE Mark Buenaobra
As you can see, the curls you can get from this iron are far from chunky. They actually look quite natural when brushed out, but we chose not to do that for demonstration purposes. However, we do suggest setting your hair with hairspray immediately after curling because the waves are too soft to last long on their own.
Conclusion:
First, I appreciate how fast and efficient the InstaWave is—from its heating time to the actual curling procedure. The eight-second timer is probably my favorite feature, since I'm the type to zone out in the middle of curling (let's be honest, it's really not the most engaging activity in the world). The soft beep easily gets me back in the zone.
My sleepy self aside, though, the star of this tool is undoubtedly the self-turning dial. It's really refreshing not to worry about scalding my limbs with the barrel. Really, the only skill you should master with the InstaWave is twirling your sections perfectly every time, but for me, that came easily after curling my third or fourth section. Practice makes perfect, in this case.
ADVERTISEMENT - CONTINUE READING BELOW
One issue I think some people might have with this tool is the softness of the curls. From my experience, the curls I got were mostly loose and natural, which I love, but some people might prefer a tighter curl. I can't say if leaving the barrel on longer than eight seconds will help, but it could be worth a try.
Overall, the InstaWave is a product that delivers its promises and will most definitely make your hair curling life easier. It's a fantastic tool to have when you lack hairstyling skills and patience since it basically does all the work for you. Beginners and everyone pressed for time need this in their lives for sure.
Related Stories from Preview.ph
Hey, Preview readers! Follow us on Facebook, Instagram, YouTube, Tiktok, and Twitter to stay up to speed on all things trendy and creative. We'll curate the most stylish feed for you!