What: Grace Cosmetics Skin Trial Kit
What it is:
Grace Cosmetics is an Australian brand new to the Philippines, and they're known for their all-natural and organic skin care. Their products aim to enhance the skin's appearance and influence its internal functions with natural and botanical bio-active ingredients. The trial kit contains six products for a complete skin care routine: three from their Aloe Vera line, and three for anti-aging.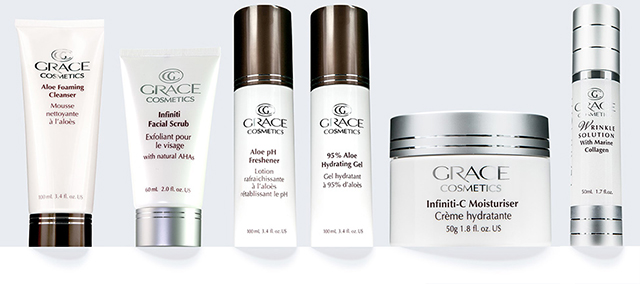 ADVERTISEMENT - CONTINUE READING BELOW
IMAGE Grace Cosmetics
Aloe Foaming Cleanser (P1800); Infiniti Facial Scrub with AHAs (P2690), Aloe pH Freshener (P1590); 95% Aloe Hydrating Gel (P1950); Infiniti-C Moisturizer (P2750); Wrinkle Solution with Marine Collagen (P3950), gracecosmetics.com.ph
Current Condition:
I have oily, acne-prone, and dehyrated skin. My skin tends to react to products easily, so I wanted to take a break from chemical-ridden products. And as if on cue, I was given this regimen to try.
Throughout this trial process, I was aiming to aid my dehydrated skin and to heal some active breakouts. The combination of anti-aging skin care and aloe vera in the kit was a great match, since the former usually works well with hydration, while the latter calms down acne-prone skin. So even as an all-natural skeptic, I definitely had high hopes for this line.
How I Used It:
I used all six products from the brand for around two weeks. Everything, except the facial scrub and wrinkle solution, were used twice every day. I exfoliated with the scrub in two-day intervals and used the wrinkle solution solely at night. Here are my thoughts on each of the products:
CONTINUE READING BELOW
Recommended Videos
Aloe Foaming Cleanser - The first thing I noticed about this product is the weak foam it creates. That might be good or bad for some people, but I don't mind either as long as the cleanser is in the right pH. And being someone who's used to a pH level of 5.5 in cleansers, this one didn't feel too drying and stripping on my skin. It also smells quite pleasant, like scented talcum powder. I prefer using this as a morning cleanser since it's more refreshing than deep cleansing.
Infiniti Facial Scrub With AHAs - This product explicitly states that it's not for acne-prone skin, and that might be because AHA is a strong exfoliating acid. I still used it though, and I didn't expect it to be so creamy. Rubbing the product on my face felt like applying a beaded cleansing oil all over. And speaking of the beads, they were very small and not too abrasive. My skin felt a lot smoother after! Most of my dry patches were scrubbed away.
ADVERTISEMENT - CONTINUE READING BELOW
Aloe pH Freshener - I used this product as a balancing toner to restore my skin's natural pH after cleansing. It comes in a spray bottle which is convenient like a mist, although it didn't provide the same moisture. That said, I didn't skip it because it's important to balance your skin pH before applying other products.
Aloe Hydrating Gel - Like the freshener, this is more of a skin balancing product than a moisturizer. I didn't find this to be hydrating enough for my oily, dehydrated skin. It did, however, work well as a primer for my other moisturizers since aloe is a great soothing ingredient. I found myself using this randomly for dry patches on my body, too.
Infiniti-C Moisturizer - I'm 20 years old, so anti-aging skin care is more preventive than anything. This cream is supposed to improve wrinkles and skin elasticity, which are claims I unfortunately cannot vouch for. But, it did provide my skin with ample moisture and vitamins like Vitamin A and E. The light cream didn't feel heavy on the skin either even if I used it on top of the hydrating gel. It also gave me a soft glow without looking oily!
ADVERTISEMENT - CONTINUE READING BELOW
Wrinkle Solution with Marine Collagen - Again, more preventive anti-aging skin care. I mainly focused this product around my eyes, smile lines, and neck where the first signs of skin aging appear. It was as leightweight as the Infiniti-C moisturizer so layering them on top of each other wasn't a problem.
Conclusion:
My number one takeaway from this skin regimen is how unbothered I was about breaking out the entire time. I'm not saying that you'll never break out from natural products, which you can, but I just couldn't bring myself to worry. Ingredient-obsessed me just loved how Grace Cosmetics breaks down all the contents of their products in a glossary, then states their sources and functions. I didn't have doubts about what I was putting on my face. So if you like ingredient transparency, an all-natural routine might be for you.
However, I have to say that a purely natural skin care routine isn't for me. I'm just too adventurous with skin care, and I don't think all chemicals are out to ruin my complexion. In fact, I might be switching back to my old routine once I finish the samples, but I will keep using some of these products. The foaming cleanser and hydrating gel are for keeps! As for the anti-aging creams, I'll probably go back to them in a few years.
ADVERTISEMENT - CONTINUE READING BELOW
When it came to helping with dehydration and breakouts, I think the products helped with both to a certain extent. Layering the moisturizers over each other gave my skin enough moisture to last the day, while the aloe toned down redness from acne. I didn't notice a dramatic difference, but that might be due to being on the regimen for only two weeks. If there's anything I learned from the experience, it's that natural skin care is very interesting! I'll definitely try more products from Grace Cosmetics and other all-natural brands to expand my horizons.
I can recommend this skin regimen to anyone without problematic skin. If you just need something basic to maintain clear skin, you'll find this incredibly convenient. Those with normal to combination/oily skin will probably enjoy this the most! Again, it has all-natural with well-curated ingredients, so it's unlikely you'll go wrong with this brand.
ADVERTISEMENT - CONTINUE READING BELOW
Related Stories from Preview.ph
Hey, Preview readers! Follow us on Facebook, Instagram, YouTube, Tiktok, and Twitter to stay up to speed on all things trendy and creative. We'll curate the most stylish feed for you!