There's nothing wrong with being experimental with your hair. You can go for a cut, color, and style that you want. After all, it'll always grow back! That said, one thing you do have to pay close attention to is hair care, or the products that you apply on your strands daily. Looking for products that match your hair type is a must, particularly if you deal with specific concerns like damage and frizz. We admit that doing this involves a bunch of trial and error, but thankfully, brands are beginning to become more helpful with our selection.
Dove's new 1-Minute conditioners, for example, have three different products designed to address varying levels of damage. For its "level one" formula, there's the 1-Minute Foam Conditioner, which claims to provide lightweight nourishment for fine hair. The 1-Minute Milk Gel Conditioner comes in for those in level two, as it's formulated for fine and damaged hair to detangle and nourish. Lastly, there's the 1-Minute Serum-Conditioner, a rich formula that addresses heat and color damage with plant oils and vitamin E.
ADVERTISEMENT - CONTINUE READING BELOW
The Preview team gave these products a test-run before they hit the stores, and we've gathered all our thoughts on them below!
1. Dove 1-Minute Foam Conditioner for Normal to Dry Hair
Reviewed by: Steph Sison, Editorial Assistant
Hair type: Fine and damaged
I have very thin hair. My strands are also thin and prone to breakage because I use heat styling tools a LOT. My scalp, on the other hand, is also dry and prone to buildup so I have to really make sure to rinse off all the shampoo and conditioner I apply. I have never tried a foam conditioner—that alone already piqued my interest!
ADVERTISEMENT - CONTINUE READING BELOW
Recommended Videos
I used it as I would a regular conditioner. Although, with this one, I got a bit carried away because it was too much fun dispensing the product. LOL! The foam conditioner felt light and airy and disappeared into the hair! I swear, if you space out in the shower, you'd forget you've applied any. It didn't feel heavy on my wet strands like usual conditioners. I honestly felt that my strands just soaked up all of it right away. That said, rinsing off was a breeze. My locks felt squeaky clean and light after a couple of minutes.
My hair was absolutely soft and almost weightless after drying. Is it possible to have fluffy hair without the frizz? My hair was also silky and it felt light all day long, despite going through heat-styling tools like a hair dryer and a hair straightener. Overall, I think it's an innovative product that lets you get all the goodness of a hair conditioner without the worry of having greasy hair. My only concern is that my hair is now having trouble holding up curls!
ADVERTISEMENT - CONTINUE READING BELOW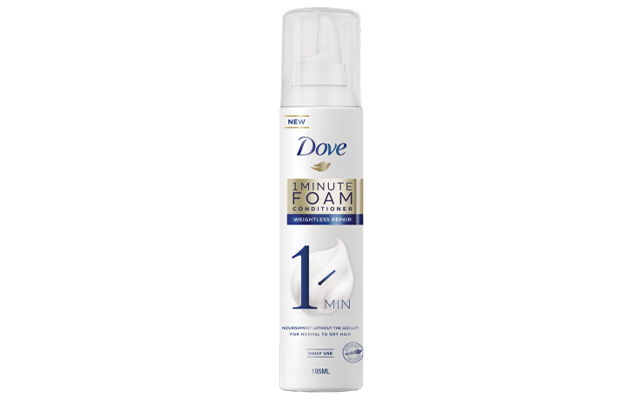 DOVE 1-Minute Foam Conditioner, P449, Department Stores
2. Dove 1-Minute Milk Gel Conditioner for Dry, Damaged Hair
Reviewed by: Nicole Arcano, Beauty Assistant
Hair Type: Fine, dry, and frizzy
I have straight, dry hair that frizzes easily, so I have to use conditioner every day to tame it. However, most formulas tend to weigh my hair down because they're too thick and difficult to rinse, so I was curious if this milk-gel conditioner can help with my concerns.
ADVERTISEMENT - CONTINUE READING BELOW
This conditioner comes in a pump bottle, and I find that I need around one full pump to cover my mid-length hair. The texture is very light compared to what I'm used to! It comes out as a milky gel that spreads easily throughout my hair and doesn't feel heavy at all. Instead of leaving it on for a minute as instructed, I let it sit for two to three or around how long it takes for me to wash my face and body. It's surprisingly easy to rinse off compared to my usual conditioner and it doesn't leave that uncomfortable, slippery feel that's usually a pain to remove.
ADVERTISEMENT - CONTINUE READING BELOW
After using it for five days straight, I noticed that my hair feels softer, and the frizz I usually develop mid-day hasn't made an appearance since. I don't find the need to apply hair oil after it either, since it helps my strands fall straighter even without the extra help. The fact that I can get these results in one minute is good enough for me. This product was overall a pleasant surprise for me and I'd definitely continue using it as a daily conditioner.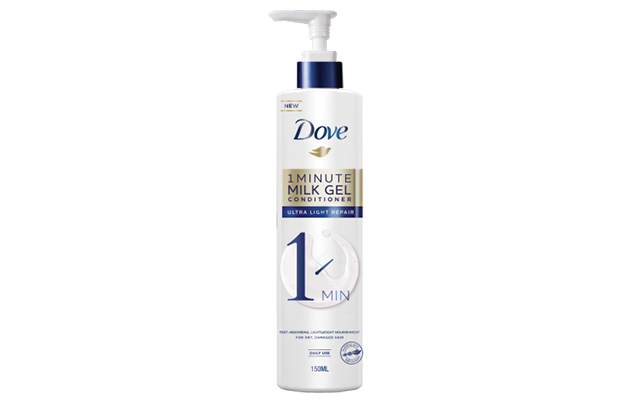 ADVERTISEMENT - CONTINUE READING BELOW
DOVE 1-Minute Milk Gel Conditioner, P200, Watsons
3. Dove 1-Minute Serum Conditioner for Damaged Hair
Reviewed by: Maura Rodriguez, Associate Social Media Editor
Hair Type: Dry and color-treated hair
I currently have dry and bleached hair. I also suffer from hair fall and an oily scalp. Since my hair is bleached and dyed blue green, I shampoo and condition only every three days and use dry shampoo to freshen up in between washes. For my conditioner, I use a type of hot oil treatment because I find that regular conditioners aren't enough to tame the frizz and provide enough moisture and shine to my hair.
ADVERTISEMENT - CONTINUE READING BELOW
I used the Dove 1-Minute Serum for damaged hair after I rinsed off my shampoo. I don't normally put conditioner on my scalp since it tends to get oily pretty quickly and I don't wash my hair every day. So I only lathered on the product on the tips of my hair up until four to five inches away from my scalp. I noticed that the product is very dense and somewhat mousse-like, and it has a very strong scent that those sensitive to fragrance should take note of. Once applied, it seeped into my hair quite quickly that I felt like I needed to add more.
After washing, my hair felt super soft and quite easy to comb. The scent was less strong once towel-dried as well. Once fully dry, my hair felt soft and smooth to touch. It's quite a good treatment if you have severely damaged hair like mine. It helped tame the frizz and made my hair easier to style. I think it's the perfect serum prior to using a flat iron or a blowdryer. I wish it was less fragrant and provided more vibrant shine to my hair, though. But overall, it's a very potent conditioner that'll save your damaged locks!
ADVERTISEMENT - CONTINUE READING BELOW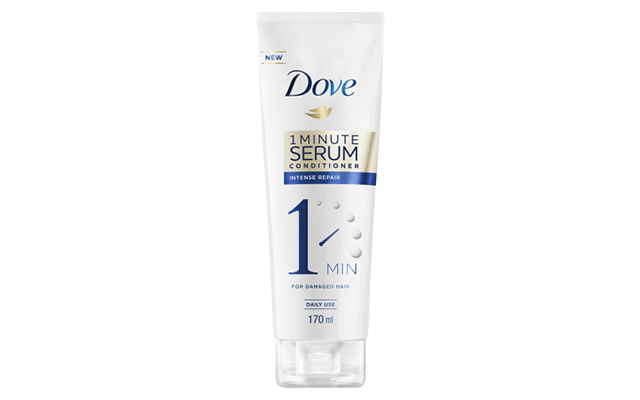 DOVE 1-Minute Serum Conditioner, P159, Lazada
Related Stories from Preview.ph
Hey, Preview readers! Follow us on Facebook, Instagram, YouTube, Tiktok, and Twitter to stay up to speed on all things trendy and creative. We'll curate the most stylish feed for you!