Keratin is a common ingredient you'll find in hair products, which won't be surprising if you know that it's an essential protein that helps make your locks smoother and healthier. Cream Silk's Triple Keratin Rescue conditioners, for one, might be the newest in their product range, but they quickly became one of their most popular ones, claiming to have thrice the keratin content than your average conditioner. Now, the brand is expanding the range with two kinds of treatment products to amplify the effects of the popular conditioners. The Preview team gave the new additions a spin for an entire week, so keep scrolling to find out our thoughts!
Cream Silk Triple Keratin Rescue Treatment Crème and Treatment Wrap in Ultimate Straight
What It Is:
Cream Silk's Ultimate Straight Treatment line is designed tame frizz and polish hair strands from root to tip after every treatment. The Treatment Creme is basically a hair mask that's meant to be used once a week for three minutes for convenient nourishment. It's infused with keratin for a smoothing effect, and claims to have similar effects to salon-branded keratin treatments.
ADVERTISEMENT - CONTINUE READING BELOW
The Treatment Wrap is a deep conditioning treatment that smoothes and repairs damaged hair by coating each strand with the keratin-infused formula for 15 to 20 minutes every week. It comes in the form of a gold foil that's drenched in the treatment, which also contains natural extracts and essential oils not in the hair mask and conditioner.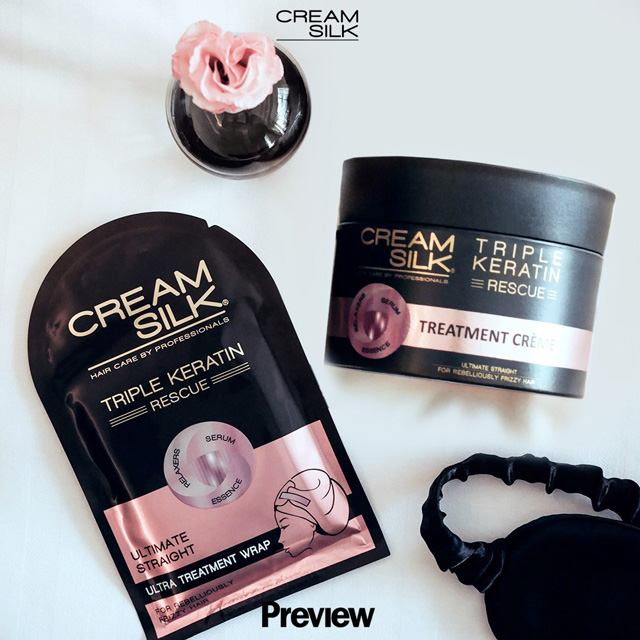 CONTINUE READING BELOW
Recommended Videos
CREAM SILK Triple Keratin Treatment Crème in Ultimate Straight, P12 for 12ml & P190 for 200ml; Treatment Wrap in Ultimate Straight, P200, Watsons
Reviewed By:
Nicole Arcano, Beauty Assistant
Current Condition:
I have fine, dry, frizzy hair, so I can't go a day without conditioner nor a week without a hair mask. Getting a keratin treatment helps smooth it out for longer, but as I only do that twice a year, I make sure that my hair products can at least mimic its effects. I've tried the original Triple Keratin Conditioner in Ultimate Straight before and loved it, so I was definitely curious if these two treatment masks would perform similarly.
ADVERTISEMENT - CONTINUE READING BELOW
How I Used It:
Triple Kertain Rescue Treatment Crème
The first thing I noticed about this product is the smell. It has a fragrant, floral scent that's quite punchy—a note for those sensitive to strong scents. It doesn't bother me personally, since it does fade into a subtle yet pleasant fragrance after rinsing like most Cream Silk conditioners.
I typically use my hair masks as conditioner to save time, which may not be a recommended practice, but it does do the trick for me. I used the treatment cream after shampooing my hair and squeezing out the water a little until it's just damp. The product itself has a thick and creamy texture like your regular hair mask, and I focus it mostly on the ends of my hair, massaging about a dollop of cream there before applying the excess everywhere else. I then left it to sit for three minutes (the product's recommended time) and rinsed it off.
ADVERTISEMENT - CONTINUE READING BELOW
Off the shower, I found that it helped detangle my strands (I didn't comb prior to showering to test it out)—brushing out my wet locks was a breeze! Also, my hair usually gets a slight wave when it's airdried, but after using the treatment, I was surprised to see that it stayed straight! The wave was still there, though it definitely wasn't as prominent as before.
Triple Keratin Rescue Treatment Wrap
ADVERTISEMENT - CONTINUE READING BELOW
I've seen products similar to this before, but it all seemed quite gimmicky. However, the way Cream Silk made their take on a treatment wrap more nourishing—not to mention quite luxurious—made it worth a shot. Like the treatment cream, I used this on damp, freshly-shampooed hair. I had to make a faux bun by twisting my hair up to get everything inside the wrap and then peel off the sticker to hold everything together. It was relatively easy since the foil was big enough and the sticker did its jobs and kept the wrap in place. After 20 minutes, I removed the foil and massaged the treatment in for a while before rinsing everything off.
I'd say that the effect I got with the treatment wrap is quite similar to the treatment cream. My hair felt softer and looked straighter even by the end of the day. Difference is, the wrap stayed on my hair longer, and I actually had the chance to chill outside the shower and do other things while it worked its magic. It felt like an at-home salon treatment!
ADVERTISEMENT - CONTINUE READING BELOW
Conclusion:
After using the treatment cream for a week, I can definitely say that it reminds me of my favorite hair mask that's only available in salons and 10 times the price. I achieve the same smooth and straight finish with both products, but I do prefer the scent of Cream Silk's more. Overall, it does help tame frizz and give my hair a more polished look. I can imagine the effect to only get better the more I use it, so I recommend it to anyone who has a similar hair type as mine. In fact, I don't think I need to come in next month for my keratin treatment anymore!
Since I was only able to use the Treatment Wrap once, I can't say what it would do for me in the longrun. That said, it did impress me during that initial use. The entire process felt like something I would get from a salon, plus it's an overall unique experience for a product I can just purchase from the department store. The way you can multi-task with this since it's not exactly an in-shower product is a plus, for sure!
ADVERTISEMENT - CONTINUE READING BELOW
Cream Silk Triple Keratin Rescue Treatment Crème in Ultimate Repair & Shine
What It Is:
The Ultimate Repair & Shine Treatment Creme brings damaged and dull hair back to life, claiming to help it look healthier and shinier with each use. Similar to the Ultimate Straight variant, it's a three-minute treatment that nourishes, detangles, and makes strands more manageable.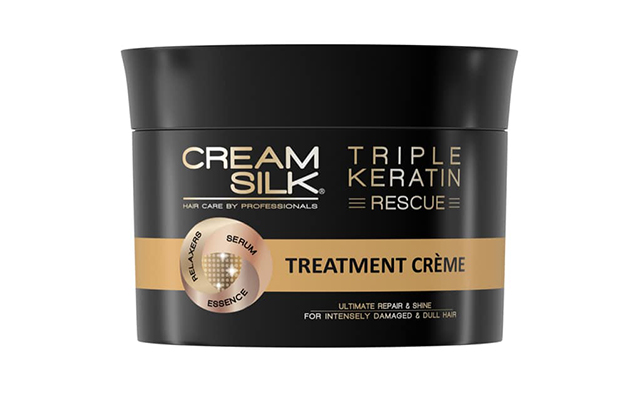 ADVERTISEMENT - CONTINUE READING BELOW
CREAM SILK Triple Keratin Treatment Crème in Ultimate Repair & Shine, P12 for 12ml & P190 for 200ml, Watsons
Reviewed By:
Maura Rodriguez, Associate Social Media Editor
Current Condition:
I have colored ombré hair that's bleached and I normally use hair treatment products and not plain conditioners whenever I shampoo. I also have two days in-between washes to preserve my hair color, and I always use a detangler spray before brushing to avoid breakage. I usually would blow-dry and heat style my hair every other day, so I tend to use a lot of mists and oils to protect my tresses from further damage.
ADVERTISEMENT - CONTINUE READING BELOW
How I Used It:
After shampooing and draining my hair until damp, I applied the product from the ends of my hair moving upwards, avoiding my roots (since I've got an oily scalp). I left it on for three minutes before rinsing, and my hair felt really smooth and easy to finger-comb in the shower. I also noticed that I didn't get a lot of hair fall from using the products, which typically happens to me when I use really potent treatment conditioners.
I opted to skip my detangled spray to find out how the product itself handles wet hair combing. It wasn't a perfect brush through but it did make my hair easy to comb without any dragging. Once completely dry, I noticed that my tresses were straighter and less frizzy. But it was the day after that really impressed me. Since I've gone through a day without shampooing, my hair looked really smooth and healthy, and was still so easy to manage and style.
ADVERTISEMENT - CONTINUE READING BELOW
Conclusion:
I would definitely recommend it if you want your hair to look and feel healthier! It's one of my current favorite hair treatments since it doesn't weigh down curls and waves, too.
Related Stories from Preview.ph
Hey, Preview readers! Follow us on Facebook, Instagram, YouTube, Tiktok, and Twitter to stay up to speed on all things trendy and creative. We'll curate the most stylish feed for you!