What: Baby Foot Peel
What It Is: Baby Foot is an award-winning and best-selling Japanese foot exfoliant. It uses exfoliating fruit acids like citric acid and glycolic acid to facilitate peeling, along with salicylic acid and lactic acid. The rest of its ingredients acts as moisturizing and astringent agents to help with peeling after care. The label recommends it to be used only four times a year for best results.
As for its claims, it promises to get rid of rough, dry, and flaky skin by peeling off the outermost skin layer of the feet. For the ingredients list and full instructions, click here.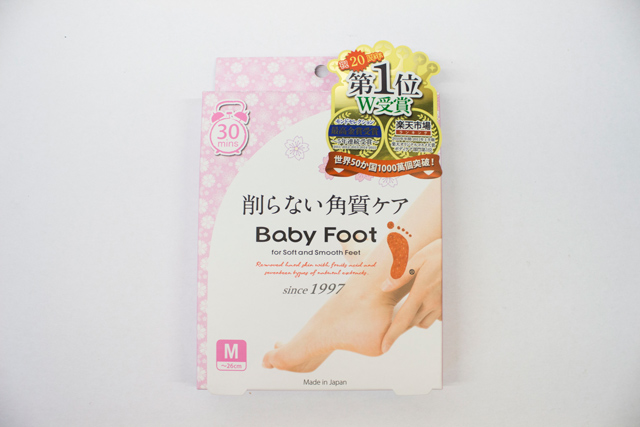 IMAGE Jason Cayacap
Baby Foot Peel, P830, Beauty Bar
Current Condition:
With quite a bit of shame and regret, I admit that my feet are quite dry and rough. This is due to not moisturizing and exfoliating them enough. The skin on my heels are especially dry, and I also have a few callouses from wearing new shoes and heels. I also have a slight phobia of foot spas due to my insanely ticklish feet, adding to the fact that a stranger touching my feet doesn't seem too enticing for me either.
How I Used It:
So to take my foot matters into my own hands, I decided to try Japan's beloved at-home foot peel. The Baby Foot package comes with the following: the two "socks" you have to wear, a few strips of tape, and at least three types of instruction manuals in different languages. It's pretty straightforward.
After showering, I dried my feet off with a paper towel first then proceeded with the peel. I wore the plastic socks over each foot, and secured them with the tape so they won't slip off. Inside the "socks" is a gel solution that feels quite slippery. Hence, you wouldn't want to walk around while they're on. But on the upside, the solution didn't cause any tingling or irritation despite containing a few exfoliating acids. As for the scent, it was very floral and pleasant so I had no problems with that either.
After 30 minutes of soaking, I took off the bags and rinsed the lotion-like substance under running water. My feet felt pretty normal after that, if not more moisturized.
IMAGE Baby Foot
It wasn't until two days later when the skin under my feet began peeling. Like really peeling. I unfortunately had to manually pick at the skin to take them off so I wouldn't leave residue on my shoes. I couldn't help not picking either. Take note that the packaging said not to do this, though!
ADVERTISEMENT - CONTINUE READING BELOW
But still, as I picked, the dry skin on my heels just flaked right off. The skin over them actually turned a shade or two lighter! Some of my callouses became much thinner, too. The peeling lasted for around three more days thereafter, and my feet are definitely smoother and more moisturized.
Conclusion:
Don't pay attention to how scary the peeling seems, because this product really works. The dry spots on my feet are basically gone, while my heels are definitely smoother and less tough. Not to mention how simple the entire soaking process was! It felt like a 30-minute pampering session sans the stranger touching my feet, tickling, and stinging. I can definitely see myself using this every few months. But, it might work better for you if you don't pick at the peeling skin like I did. Try it to see for yourself!