Our biggest trouble with breast cancer is that most of us are not sure how we can avoid it. The disease is too common in women that it rings familiar enough for us to ignore its severity. For some, it takes the loss of a relative or a friend before they take action, which obviously should not be the case. Being free of the illness requires more proactivity, because in actual fact, being a woman alone puts us at risk of it. To add to that, many other factors that go into developing the illness are some we definitely can't control. Here are a few of them:
1. With every first-degree relative of yours that's diagnosed with breast cancer, the probability of you going through the same thing increases.
2. Those without family history of the cancer are at risk as well (around 85% of breast cancer cases) because of genetic mutations that we develop as we age.
3. Starting menstruation before age 12 or going through menopause after 55 increases our chances of developing breast cancer.
4. Never having a full-term pregnancy or having your first one after the age of 30 increases the risk of cancer.
5. One in eight invasive breast cancers develop in women under 45, while two out of three develop in women 55 or older.
6. It is said that around five to 10 percent of breast cancer cases are caused by gene defects from our parents. The most common of these are from mutations in the BRCA1 and BRCA2 genes.
7. Two of the most significant factors that put us at risk of breast cancer are being born female and growing older.
ADVERTISEMENT - CONTINUE READING BELOW
8. Women with a BMI (body mass index) of over 25 are at higher risk for being diagnosed with breast cancer compared to those who maintain a healthy weight after menopause. While in the case of cancer reoccurence, being overweight also increases one's risk. This is because fat cells create more estrogen in the body, which induces hormone-receptor-positive breast cancers to grow.
How to reduce your risk
With all these considered, don't feel helpless. Some of the statistics stated above can be made different if more women incoporate several lifestyle changes! Here are four that should be on top of your list:
1. Quit smoking.
In a study by the American Cancer Society, new cases of invasive breast cancer is 24% higher in smokers than in nonsmokers, while former smokers come in at 13%.
2. Exercise more regularly.
Four to seven hours of moderate to intense exercise per week has shown to reduce the risk of breast cancer. They explain that exercise consumes and controls blood sugar and limits blood levels of insulin growth factor that affects how breast cells grow and behave.
3. Reduce your alcohol consumption.
Compared to non-drinkers, women who have two to three alcoholic drinks per day are 20% more likely to develop breast cancer. Limiting one's consumption to one drink a day to reduce your own risk.
4. Watch what you eat.
It is said that our diet is responsible for 30-40% of all cancers. And although there is no specific food or diet that has been proven to prevent us from developing breast cancer, sticking to whole foods for nutrition helps reduce our risk for the disease.
Outside of preventing your own bout with the illness, spreading the word about breast cancer is a great step forward. For example, the Estée Lauder Companies' Pink Ribbon campaign has raised more than $70 million for cancer research since 1992, with their brands like Clinique, Origins, Estée Lauder, and more expanding their efforts through themed products. You can show your support to them by posting their famous pink ribbon this October with the hashtag #PinkRibbon25.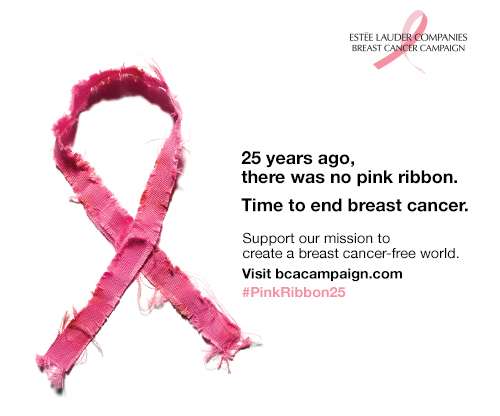 IMAGE Estée Lauder
Related Stories from Preview.ph
Hey, Preview readers! Follow us on Facebook, Instagram, YouTube, Tiktok, and Twitter to stay up to speed on all things trendy and creative. We'll curate the most stylish feed for you!