You've seen the Style Bible girls' beauty kits, now it's time for the Preview girls to show their favorite beauty stash. We've ambushed them at their desks (quite literally!) to get the lowdown on their favorite makeup and why they like it. They reveal their tricks on how to maximize each product they have in their kit. Read on to learn a thing or two from them.
"I love makeup and road-testing new beauty products but I'm afraid I'm also too lazy to try different looks or wear a lot of makeup every single day. For my grab-and-go kikay kit, I have a lot of basics that can take me from a day at the office to a work event or dinner date at night." - Lyca Puno, Managing Editor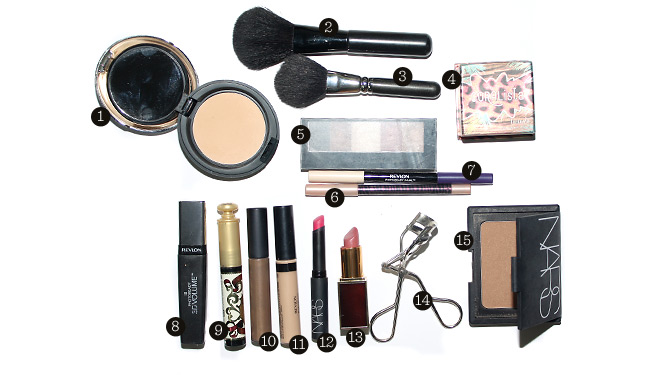 ADVERTISEMENT - CONTINUE READING BELOW
In Lyca's kit:
1. Body Shop All-in-One Face Base "Basic powder for light coverage and perfect for touch-ups."
2. Etude House blush brush "I use the Etude House brush with my bronzer"
3. MAC travel-sized blush brush "I use this to apply blush on the apples of my cheeks."
4. Benefit Box o' Powder in Coralista "This matches any skin tone and gives your cheeks a healthy lift."
5. Revlon CustomEyes eyeshadow palette in Naturally Glamorous "This palette is so basic yet can create so many looks. You can never go wrong with a brown smoky eye."
6. Revlon Photoready Kajal Eyeliner and Brightener "This is a new product I'm trying out. I chose a deep purple to give my usual black eyeliners a break."
7. TonyMoly Perfect Eyes Eyeliner "This nude shimmer opens up and brightens my eyes when I use it on the corner or bottom rim of my peepers."
8. Revlon 3D Volume Mascara "This is the mascara I use during the day to open up my eyes."
ADVERTISEMENT - CONTINUE READING BELOW
Recommended Videos
9. Majolica Majorca Lash King Mascara "At night, I amp up my lashes with this, it really makes a huge difference."
10. MAC Brow Set in Beguile "Grooming brows 'fixes' your face instantly and when I'm extra lazy I just apply this and I'm done."
11. Revlon Color Stay Blemish Concealer "I love this and have used this for years as I find the color fits my skin tone. It covers up dark circles and the occasional stubborn zit."
12. Tom Ford Lip Color in Indian Rose "I often bring a pinkish lipstick and a dark raisin one as an option but my go-to is really this super-moist rosy-nude lip from Tom Ford."
13. Shu Uemura Lash Curler "This is just so easy and comfortable to use."
14. Nars Bronzer in Laguna "I use this everyday to give my skin a subtle glow. Plus it evens out any powdery residue from my compact—I have acidic skin."
ADVERTISEMENT - CONTINUE READING BELOW
"For a beauty girl, I only bring so few makeup. This is because I already plan what I want to use before I leave, or even the night before. This saves space and less risk of losing things - which happens to me all the time! Here is what I carry everyday (but if you ask me what I would take with me, space notwithstanding, that's another story)." - Belle Rodolfo, Editorial Assistant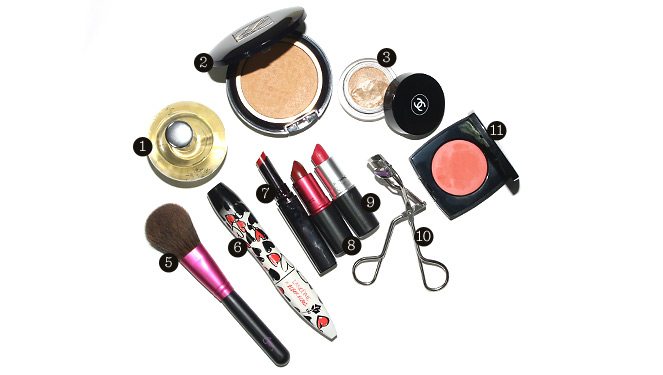 ADVERTISEMENT - CONTINUE READING BELOW
In Belle's kit:
1. Bench Eau Baby "I actually splurge on perfume, but I hate using them up just for everyday. This one is my typical scent - powdery and feminine. I love this because I can buy it anywhere, too."
2. Estée Lauder foundation powder "I only carry this around to keep shine at bay because the foundation I use (Benefit Hello Flawless Oxygen Wow) actually stays on the whole day."
3. Chanel Illusion d'Ombre "It's labeled eyeshadow but it's really a multi-use product—it can be a highlighter and can be applied either wet or dry."
4. Charm Makeup Brush "This brush is originally for blush but the size makes it handy to use for both loose and pressed powder."
5. Lancôme Hypnose Doll Eyes "I love mascara, but I only tend to stick to one at a time. This one is perfect to bring around because you can build up the length and volume."
ADVERTISEMENT - CONTINUE READING BELOW
6. Laura Mercier Rouge Nouveau in Sexy "Just as i have an ultra matte, I also carry an ultra sheer. The perfect shade and slim tube makes for easy, mirror-free retouching."
7. MAC Viva Glam I "Other girls love Russian Red or Ruby Woo, but for me I fell at first swipe for this shade that's old school but glam at the same time."
8. MAC All Fired Up "Bright enough for day, pigmented enough for night. I also love how matte it is."
9. Tweezerman lash curler "It broke my heart to lose my Shu Uemura, so I keep it at home but stash this in my bag—it's just as good."
10. Chanel Creme Blush "The color is vivid without being too garish. Plus, it dries into a smooth powder finish."
"I started collecting make-up early this year, after countless hazy weekend afternoons of obsessively lingering on Youtube beauty channels. Well, those annoyingly seductive beauty and make-up haul videos got the better of me, and these are some of the results. Enjoy!" - Chica Villarta, Editorial Assistant - Special Projects
ADVERTISEMENT - CONTINUE READING BELOW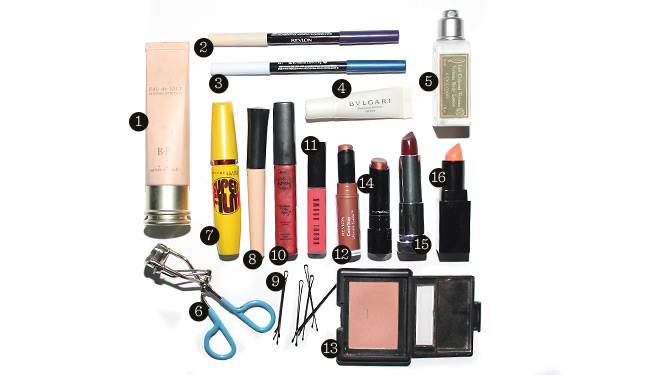 In Chica's kit:
1. Nature Republic Eau de Lily BB Cream "A great base for everyday make-up; the faint floral scent is a delight, too!"
2-3. Revlon PhotoReady Kajal Intense Eye Liner + Brightener in Purple Reign and Blue Nile "Because I'm never one to back down on funky eye liners!"
4. Bvlgari Lip Balm, Bulgari "My pre-beauty sleep prep: moisturizer, lotion, hand and nail cream, and generous swipes of this vanilla-scented baby."
ADVERTISEMENT - CONTINUE READING BELOW
5. L'Occitane Verbena Body Lotion "I consume lotion like water, so having this with me is a must. It has the most soothing scent too, like a spa in a mini-bottle."
6. No-brand eyelash curler "Not gonna lie, I bought this from a two-dollar store when I was living in Singapore, but so far, it's worked for me!"
7. Maybelline The Magnum Volum' Express Super Film- "Light swipes of this plus a non-heavy lengthening mascara is equal to doll-like lashes in an instant. Mascara cocktails for the win."
8. ELF Eyelid Primer "Bought this for a song, and it is just as good as more high-priced potions on the market."
9. Random hair pins "You never know when you need one! Hint: all the time!"
10. NYX Goddess of the Night Lipgloss in Sunrise "I'm a huge fan of NYX lip products, and this super-opaque gloss makes for lips that are perfectly red."
11. Bobbi Brown Lip Gloss in Rosy 22 "I feel a little bit like Nicola Chapman-Haste whenever I put pink gloss over my lipstick. Love her."
ADVERTISEMENT - CONTINUE READING BELOW
12. Revlon ColorStay Ultimate Suede lipstick in Runway "As a fashionphile, I'm amused by the names in this lipstick line—I have other shades in Front Row, It-Girl, and Designer. Cheesy I know. Call it a guilty pleasure!"
13. ELF Blush in Tickled Pink "The quintessential pink blush never fails!"
14. MAC Sheen Supreme Lipstick in Can't Resist "My secret weapon for that warm-faced look, and the texture—divine. Just like butter."
15. Maybelline The Jewels by Colorsensational lipstick in Red Garnet "I've been a sucker for bordeaux lips recently and this one just hits the spot."
16. Laura Mercier Creme Smooth Lip Colour in Iced Melon "Some of my most favorite lip colors have emerged by combining this color with brighter or darker lipsticks."
Hey, Preview readers! Follow us on Facebook, Instagram, YouTube, Tiktok, and Twitter to stay up to speed on all things trendy and creative. We'll curate the most stylish feed for you!