Braiding as an art takes a bit of practice, but once you've mastered the technique, you can do it with your eyes closed. You need not be intimidated because it's pretty simple if you analyze it—it's all about repetition.
There are different types of braids. Some are easy to ace, while some would take a different level of mastery. For this tutorial, we choose to teach you two of the most photogenic plaits: the fishtail and the waterfall. And before we start, we advise you to brush away all the tangles first, so you can braid your hair in peace.
The Fishtail
For girls who embrace boho beauty, the fishtail braid is for them because it exudes a carefree spirit. It looks less complicated than it looks—it is as simple as the regular three-strand braid.
ADVERTISEMENT - CONTINUE READING BELOW
Divide your hair into two equal sections.
Take a quarter of an inch of hair from the outer part of the left section and place it over the right section. You should form an "X" when you do this step. Repeat the same steps on your right side, crossing over the tiny chunk of strands to the left section.
Concentrate on repeating the steps, squeezing the fishtail knot tighter as you go.
When all the hair is gathered, secure the end with a hair tie. Didn't we tell it's easy?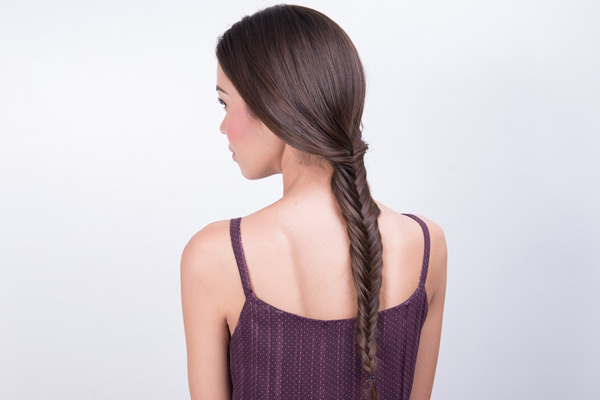 CONTINUE READING BELOW
Recommended Videos
The Waterfall
Its cascading plaits look extremely photogenic, hence its popularity in social media. Although, the strand-dropping technique of this braid makes it trickier than the other types of braid. Plus, you'll need a BFF or a loving sister to do this on you, unless you're a contortionist. Our headmaster, Mark Familara tweaks a more user-friendly version—the waterfall twist.
ADVERTISEMENT - CONTINUE READING BELOW
Get two small sections on one side of your head.
Place the the front section over the back section, then twist.
Drop the front section. The back section you're holding is now the new "front section."
Repeat the second step until you reach the other side of your head.
Secure with a hair elastic.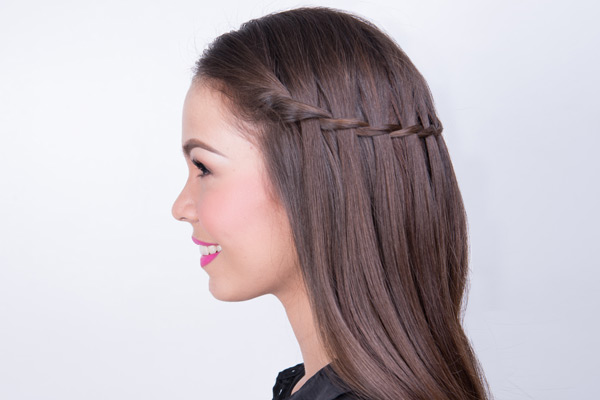 ADVERTISEMENT - CONTINUE READING BELOW
What do you think? No sweat, right?
Produced by Janey Aniban and Ira Nopuente
Photography by Mike Dee
Makeup by Jinky Ureta
Hairstyling by Mark Familara
Model: Samantha Lewis
For more braiding turorials, please visit these pages:
Hey, Preview readers! Follow us on Facebook, Instagram, YouTube, Tiktok, and Twitter to stay up to speed on all things trendy and creative. We'll curate the most stylish feed for you!