For most women, motherhood brings a new sense of purpose and meaning in their life. And while it is one of the most beautiful experiences one could go through, it can also be challenging. One of the issues that are presented to moms is how their body changes after pregnancy, and although it is normal, coming to terms with your new figure can be a work in progress.
Let's get real: Learning to love and accept your body after pregnancy is easier said than done. However, it's possible and you will get there. To help you get started, we called in nine incredible moms to share their own experiences and advice that will inspire you to appreciate your body. Scroll ahead to hear their stories!
Coleen Garcia Crawford (@coleen)
"It was already a struggle to give the love, grace, and appreciation I need and deserve from myself even before giving birth, so I thought that having my body change so much would only make things harder. But bringing this beautiful life into our world and experiencing all the miracles in the process has definitely changed the way I see myself—not just my body and physical appearance, but my entire being.
ADVERTISEMENT - CONTINUE READING BELOW
"It reminded me that everything I have and am has a deeper purpose. We are more than what we see in the mirror. We are valuable, and we mean the world to those who love us. We were made to nurture, to comfort, to share, and give so much of ourselves so that others can also grow from our love. Our bodies are designed to serve a purpose far beyond ourselves, and that's the kind of beautiful you'll never be able to physically see in your own reflection."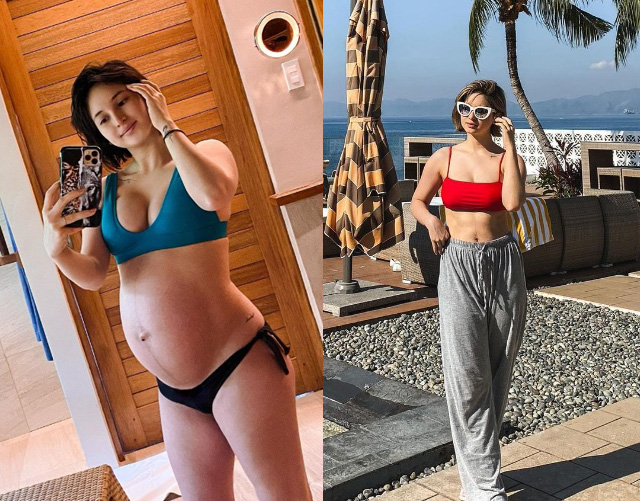 CONTINUE READING BELOW
Recommended Videos
Kelly Misa-Fernandez (@kellymisa)
"I have to admit, I never had a difficult time with my weight. All throughout my teens and my 20s I was naturally skinny. But when I gave birth and started breastfeeding, I started to gain weight and had a hard time losing the extra pounds.
"Back then, I ate whatever I wanted and my diet staple consisted of plenty of carbs and sugary treats. When I learned to cut these out of my diet and start the Ketogenic lifestyle, that's when I began to see results. And while I was cleaning out my diet and learning how to eat whole natural foods, I also started a program at Marie France.
"Actually, the lifestyle change allowed me to feel healthier and happier with my body. The weight loss was actually just a bonus because I felt amazing for the first time in my life. I no longer had brain fog, lethargy throughout the day, and my morning allergies were gone. I appreciated my body more because I knew what it felt like to be healthy. What I learned about myself—my body is sacred and wonderful. I will never take it for granted again. It was able to create life (my son) and nourish my baby (breastfed Tristan for three years) and it is strong enough to carry and play with my son every day."
ADVERTISEMENT - CONTINUE READING BELOW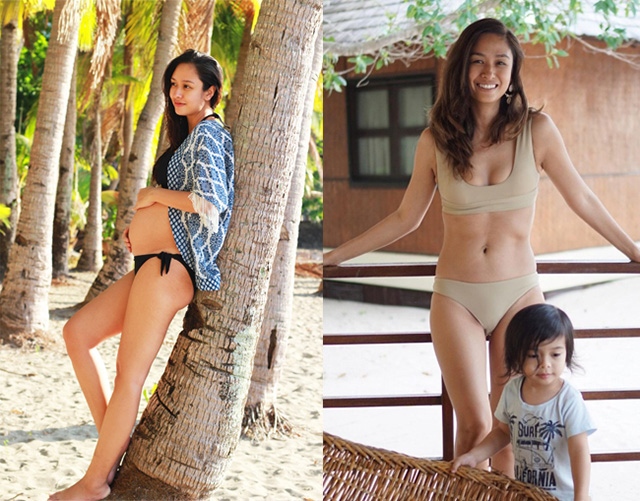 Kryz Uy (@kryzzzie)
"We often put pressure on ourselves and our bodies to 'bounce back' after giving birth. But after going through nine months of growing my tiny belly—the hormones, nausea, the pain—and then pushing out a (very big) baby boy—oh, the pain! I realized the focus was all wrong. We shouldn't pressure our bodies, but thank them. Giving birth is putting your body through an enormous amount of stress. It's like you were run over by a truck three times, and you came out of it alive and still able to breathe, walk, and fully nourish your new baby. It's a miracle! And when you change your mindset like that, you give yourself a break and you learn to love your post-pregnancy body and find even more confidence in it than ever before."
ADVERTISEMENT - CONTINUE READING BELOW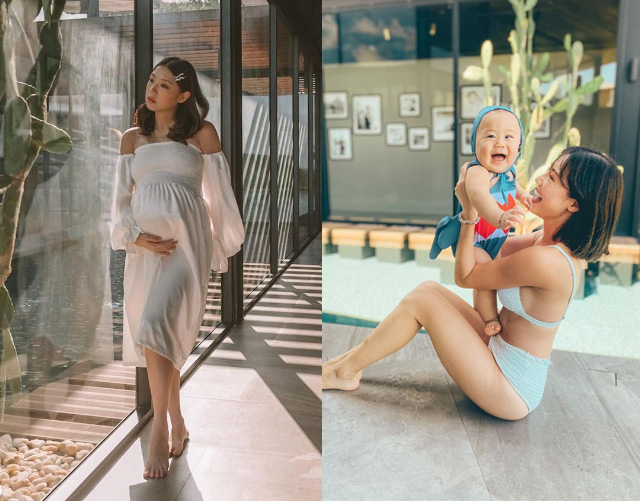 Tricia Gosingtian (@tgosingtian)
"Looking at the mirror was a whole new experience as a first-time mom. I was surprisingly quite accepting on the get-go, probably after seeing my tummy expand exponentially for a whole nine months. The same body kept me alive and Leo exclusively breastfed during the pandemic, making me much more appreciative of my postpartum body. I see my stretch marks and CS scar as permanent reminders of my birthing experience. I show them to Leo from time to time and it makes for a cool story to tell!
ADVERTISEMENT - CONTINUE READING BELOW
"My tip to new moms who are still adjusting to their bodies? Look at your baby and see how much they've grown in such a short span of time. Always remember that your body did that! Be kind to yourself and take all the time that you need."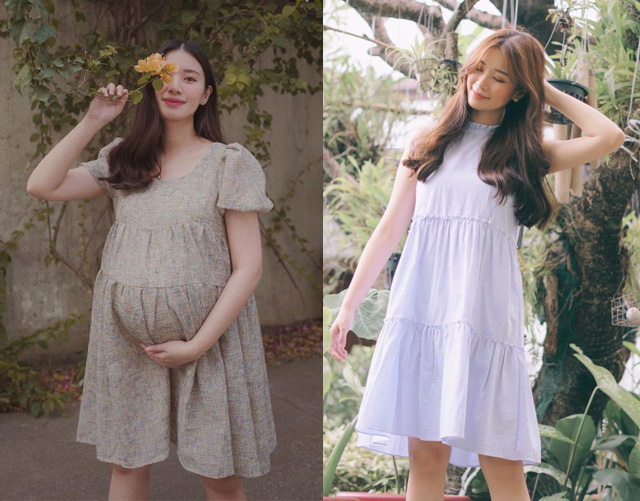 ADVERTISEMENT - CONTINUE READING BELOW
Jacqe Yuengtian-Gutierrez (@jygutierrez)
"On my first pregnancy, I had some complications so I had to drink medicine which eventually made me gain 60lbs! That's more than 50% of my usual weight so it really didn't feel so good on my body. I also had a CS delivery so I couldn't exercise immediately. That period was especially hard for a first-time mom like me, the cut was still painful whenever I carry Raf and the pregnancy weight was all still there whenever you look in the mirror.
"I was allowed to work out 2 months post-pregnancy. I took the 7 A.M. pilates class every single day for about 2 months—this made me lose all the weight & more importantly made me feel like me again. It gave me back my strength and agility which I really lost during that 4th trimester. I think after going through childbirth, your body will never be the same but what's important is the feeling that you have control over your body again. It's very important for a new mom to feel happy about herself especially since so much is expected from you—you have to make sure that you take care of yourself so you have more to give to your baby.
ADVERTISEMENT - CONTINUE READING BELOW
"Childbirth is a major operation (and a miracle) and it takes so much from you physically, emotionally & mentally. The most important thing is you stay positive and in control, being in the right mindset makes whatever your goal is much easier to achieve."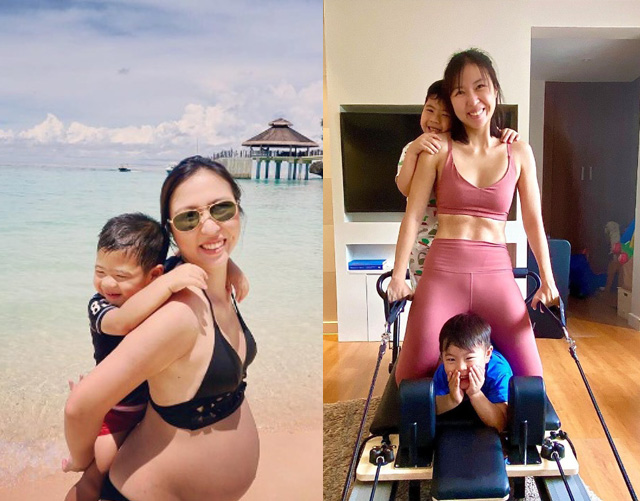 Bea Soriano-Dee (@beibeidee)
"Giving birth has been the most powerful I've ever felt my whole life. Growing a human inside of me changed my mindset on strength, and loving our beautiful body for it. It took a while for me to get used to things that a beautiful birth comes with, like stretch marks and different body compositions. But it's all worth it when you feel and find that strength—and build from that. Now I take care of my body to be strong for my kids and loving all the marks that remind me of those two days that changed my life forever."
ADVERTISEMENT - CONTINUE READING BELOW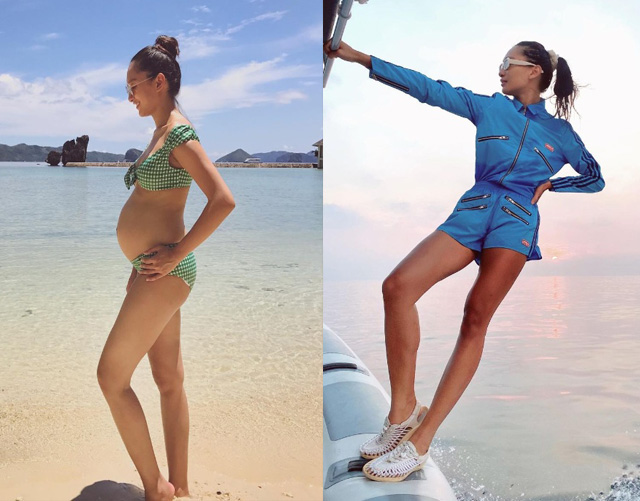 Shari Poquiz (@themistymom)
"It has been eight years since I first gave birth and almost five years since my second childbirth. In both my pregnancies, I enjoyed the perks and didn't restrict myself from food. I gained around 40+ lbs in each pregnancy. I wasn't really in a hurry to get back in shape or try to get back my pre-baby body. I thought to myself, 'I would only be in this stage of being a full-time milk machine and lifeline for my baby for a few years, I will enjoy the ride.'
ADVERTISEMENT - CONTINUE READING BELOW
"It took me three years after my second child to decide I needed to get stronger. And not because of my need to look 'fit and in shape' but more of I needed to be stronger so I could keep up with a hyperactive six-year-old and an always-wants-to-be-carried three-year-old and keep up with them in sports and adventure when they're older.
"To the new moms, first-time moms—your body has gone through a lot of changes. Let it heal, relax, and let go of insistent thoughts of needing to fit back into your old clothes after x weeks. That's not an achievement. Your worth is not tied to being able to fit back into your old jeans. Embrace the chaos of the new mom stage—though it feels like it will never end, it will be over before you know it."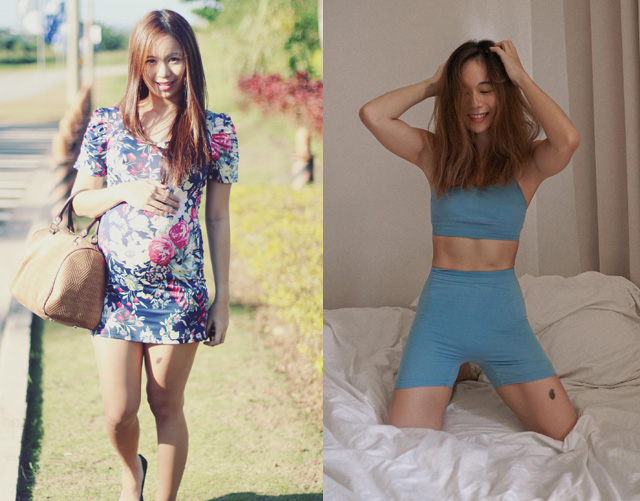 ADVERTISEMENT - CONTINUE READING BELOW
Helga Krapf (@krapfhelga)
"A woman is said to be the weaker sex when it comes to physical strength, because of the things we cannot lift, push, or carry, and although it may be true, I think a woman's body is powerful in its own beautiful way. We carry a child in our wombs for around 40 weeks, nurture them from within, and push through the most painful thing one can experience no matter how you delivered your precious gift. We then continue to care for our little ones 24/7 while also recovering physically and mentally from the past nine months of constant change.
"I know in the age of social media it's easy for moms to compare themselves to each other but remember that every journey and body is different. A thin Mom might be going through sleepless nights while barely eating while another might be happy with a village that's feeding her and taking care of her. We are all struggling in one way or another, but we power through each day with grace and gratitude, and for that alone, every mother is and will always be beautiful no matter what shape, size, and stage."
ADVERTISEMENT - CONTINUE READING BELOW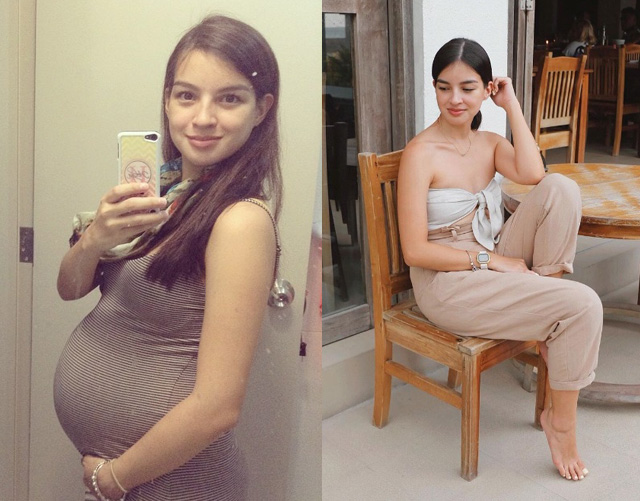 Patti Grandidge Herrera (@pattigrand)
"After giving birth, my mind was not thinking about working out. Some refer to the first three months outside the womb as the fourth trimester, and I was very much consumed during that period. My body was healing, producing milk and breastfeeding took up a lot of my time and energy, that is plenty already in and of itself; not to add everything else that first-time motherhood presents. Coming from someone who used to do pilates and yoga regularly pre-baby, it seemed 'unusual' that I had not returned to exercising. I learned there is no rush to get into it right away.
ADVERTISEMENT - CONTINUE READING BELOW
"This goes for all women: You'll never get the body you want by hating it. I'm so thankful that I had a healthy relationship with my body pre-baby, it helped tremendously to prime myself mentally for all that was to come. As mothers, we have to honor and recognize everything our bodies went through to bring our babies into this world; all that it's capable of. if you start with that mindset, it's easier to put into perspective all the other self-talk and noise that unfortunately, seeps in one way or another. I know it's not as straightforward as it sounds; I went through it myself not being able to button up my jeans or fit into my shorts. This is a reminder that we are enough, loving ourselves as we are when the shift takes place."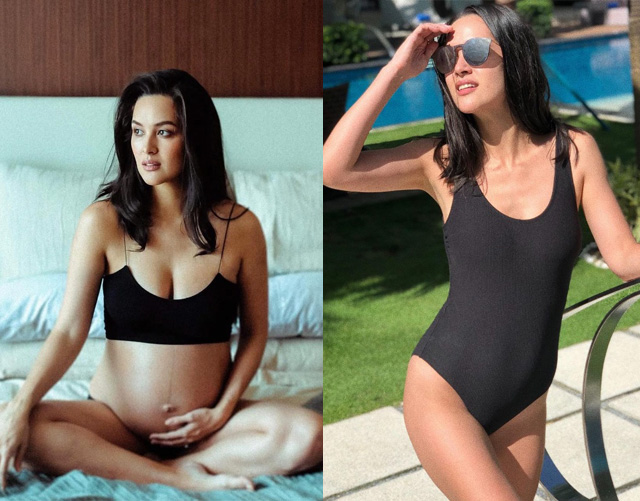 ADVERTISEMENT - CONTINUE READING BELOW
Related Stories from Preview.ph
Hey, Preview readers! Follow us on Facebook, Instagram, YouTube, Tiktok, and Twitter to stay up to speed on all things trendy and creative. We'll curate the most stylish feed for you!