Since it's Pisces season, why not make the most out of it by getting an ink inspired by the sign?
But before that, let's get into what Pisceans are like. According to astrology, Pisces individuals are usually tagged as emotional and moody, but though some can view those as negative traits, it actually entails that they're sensitive to their surroundings and empathetic. Pisceans are also highly romantic, spiritual, and imaginative, which makes them always in tune with their senses. If you need are in need of a friend for advice, a Pisces will shower you with love, empathy, and comfort.
Relate with any of those traits? Ahead, we collected elegant and creative tattoo ideas that'll help you resonate even more with your zodiac sign!
12 Pisces Tattoos Ideas to Consider for Your Next Ink
1.
Koi Fish

The fish is the most popular symbol that's associated to Pisces. Instead of choosing a simple fish design, however, why not pick a koi for your tatt instead? Not only are they considered luxurious fishes, they also represent perseverance which is a common trait seen on Pisceans. No matter what the circumstance, they are always motivated to overcome struggles and become better individuals.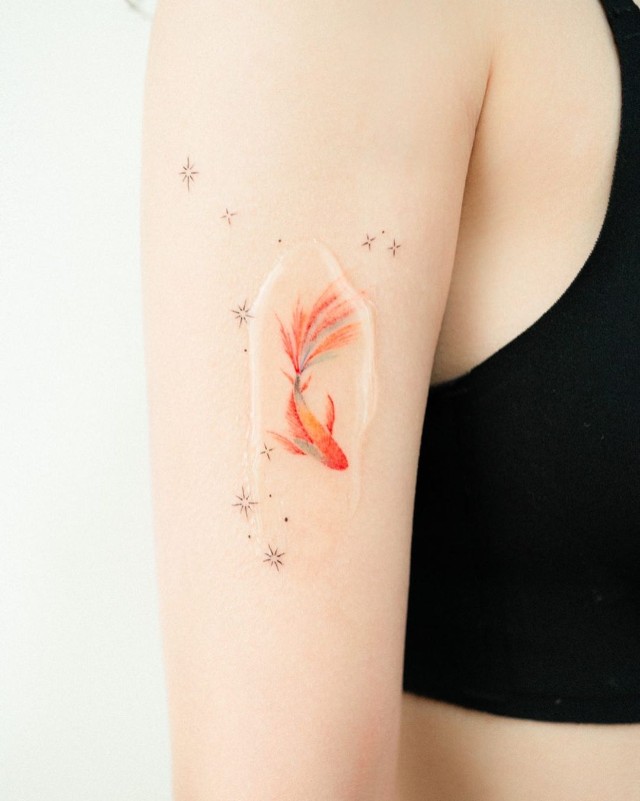 ADVERTISEMENT - CONTINUE READING BELOW
2.
Two Fishes

Another fish tattoo that's a giveaway that you are a Pisces is that of two fishes swimming in opposite directions. Pisceans are highly dreamy and intuitive, and this design represents their ability to see the world from different perspectives. The fishes also balance each other, representing completion and acceptance.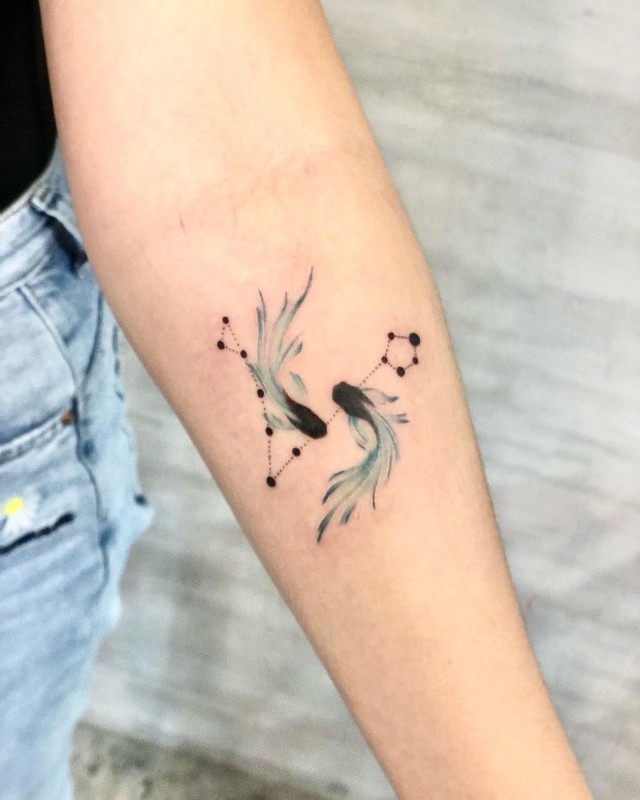 3.
Scales

Instead of having a typical fish tattoo, why not try scales for something more unique? Looking at it will subtly remind you of your inner self, and inspire you to fully embody the best parts of being a Pisces. It's a low-key but interesting way to represent your spirit animal!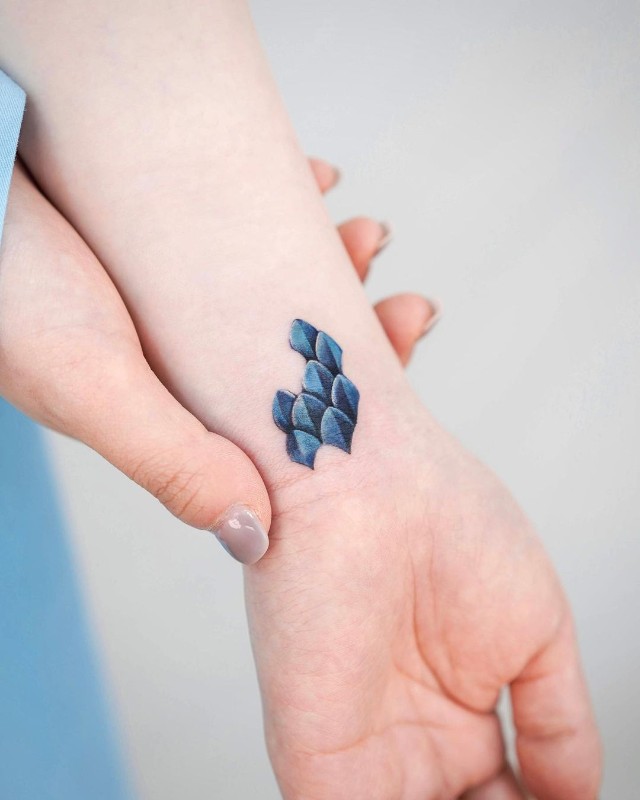 4.
Ocean

Pisces is a water sign, and an intricate watercolor ink of the element is another great choice for this zodiac. After all, water signs tend to always let their feelings flow just like the waves of the ocean. They are very sentimental as well, and like to hold on to people and items that mean a lot to them.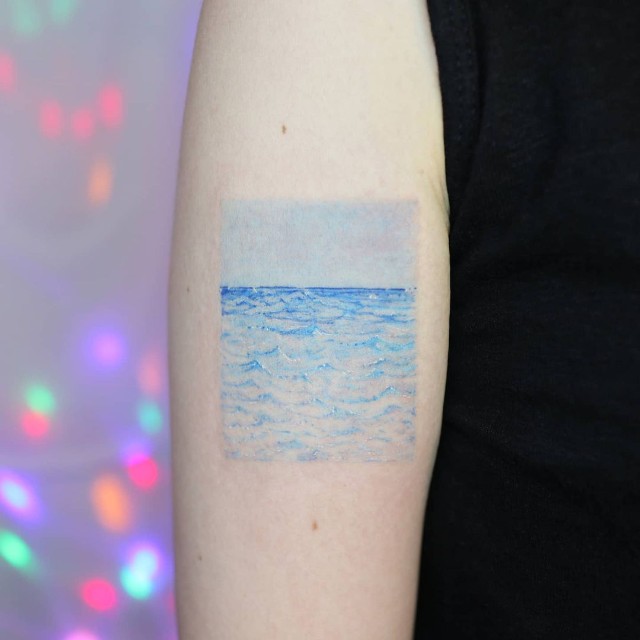 5.
Amethyst

The birthstone of a February Pisces is the alluring purple amethyst. An amethyst stone in particular can symbolize your nurturing of your spiritual relationship on a deeper level. What's more, just like holding the stone itself, having it tatted on your body could call for the healing energy and a sense of calm that you'll need on days when you're feeling sad or anxious.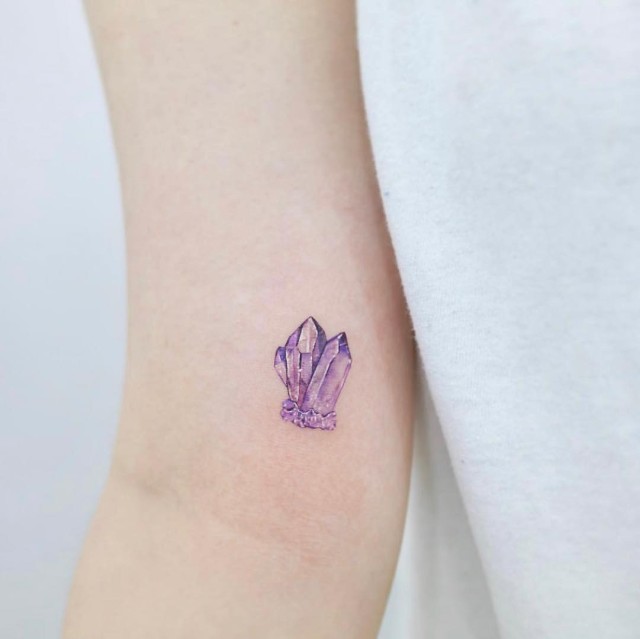 ADVERTISEMENT - CONTINUE READING BELOW
6.
Water Lily

The water lily is the primary birth flower of Pisceans. Because just like how the flower can grow in muddy water, a Pisces person can see and bring the beauty in every situation. Water lilies also symbolize faith, unconditional love, and selflessness, making it such a perfect fit for the delicate water sign.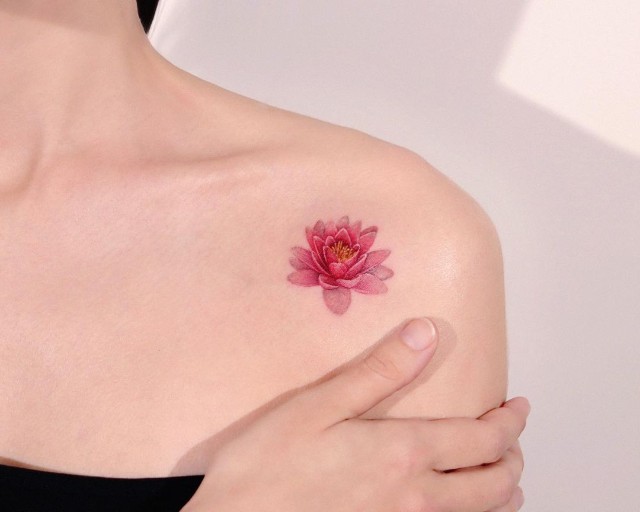 7.
Evening Primrose

The secondary flower for February Pisces babies is the evening primrose. It's a delicate yellow bloom that carries a bright, fun ambience like a sunflower! As for what it represents, the primrose flower will inspire you to unleash your fiery spirit and creativity since Pisceans are known to be highly imaginative. Let this flower remind you to let your artistic talents shine!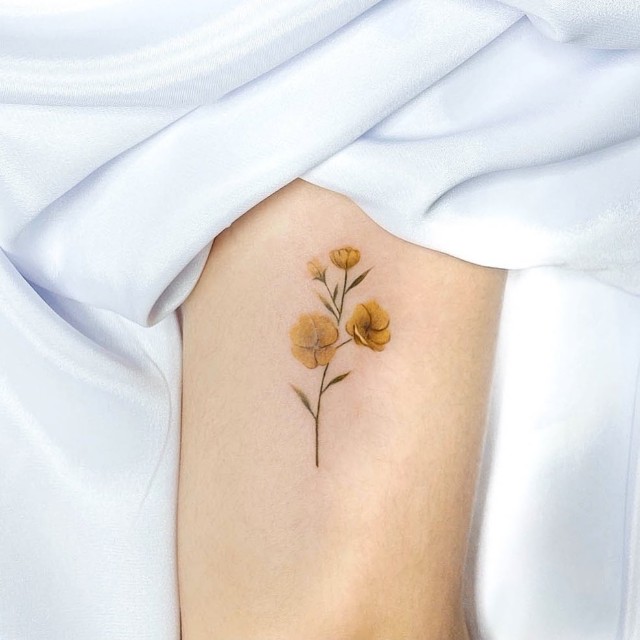 8.
Daffodil

If you belong in the March Pisces troupe, daffodils are the flower tattoo for you. These beautiful blossoms symbolize new beginnings, good luck, and prosperity, which makes it a perfect tattoo to manifest good omens along your path. Daffodils appear during a delightful spring day, too, and this can be associated with Pisces' sweet and compassionate characteristics.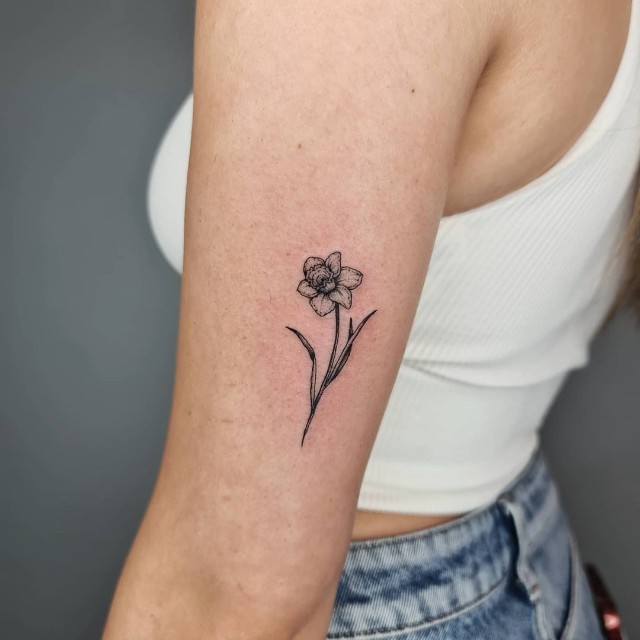 9.
Pisces Symbol

If you're thinking of inking a classic Pisces symbol, considering adding a few elements to make it stand out. Just like this tattoo below, you can add your Pisces birth flower and a fish to personalize the design without losing that minimalist feel.

ADVERTISEMENT - CONTINUE READING BELOW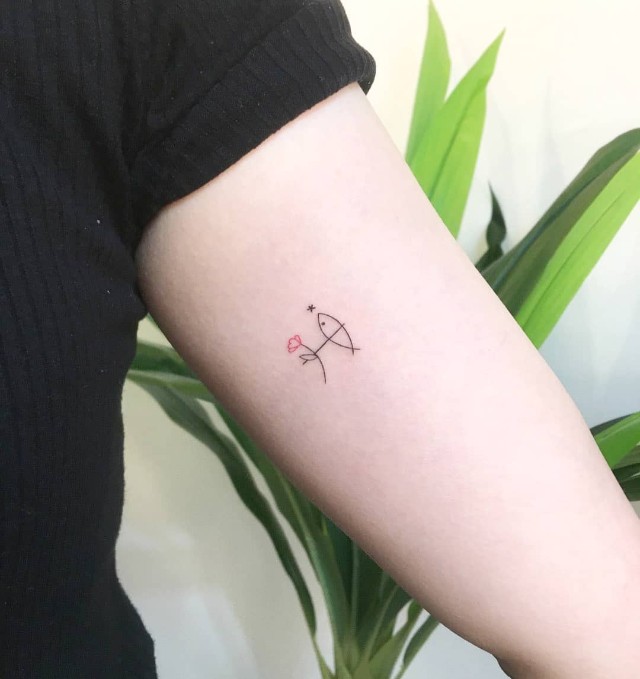 10.
Neptune

ICYDK, Neptune is Pisces' ruling planet. Also called the "psychic" planet, it houses the concept of ideals, spirituality, intuition, and compassion–top traits that are linked to a Pisces. It's also a slow-moving planet, and heavily associated with water because of Roman mythology.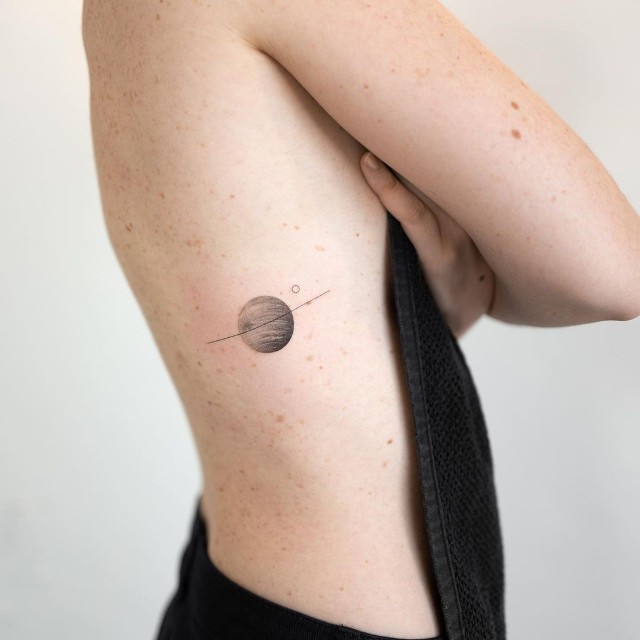 11.
Hand Constellation

The Pisces constellation depicts two fish facing away from each other, and we think it looks so pretty when placed on the back of your hand running through your thumb, just like in the photo below. With the right design, it could make you look like you're wearing statement jewelry! You might even opt to not wear any accessories on this hand because it's already beautiful as it is.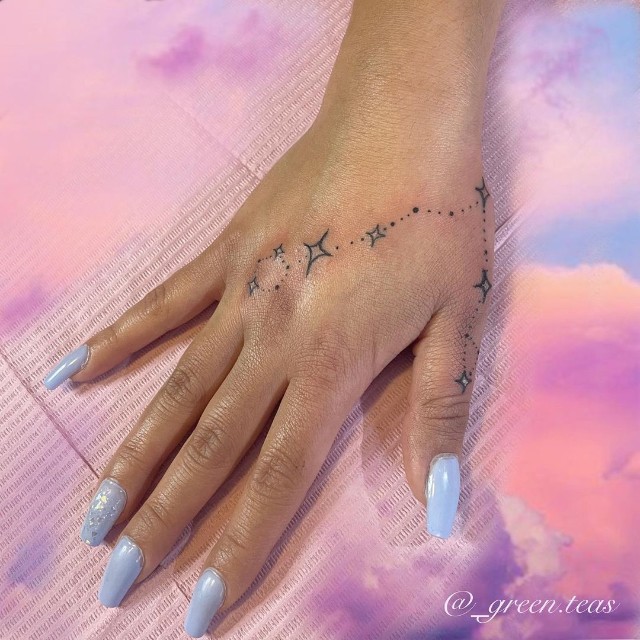 12.
Quirky Constellation

Another way to design your Pisces constellation tattoo is to add other elements of your zodiac sign into it. You can add the date you were born, the Pisces symbol, fish, Neptune, and other motifs you like to have your ink looking extra cute and interesting.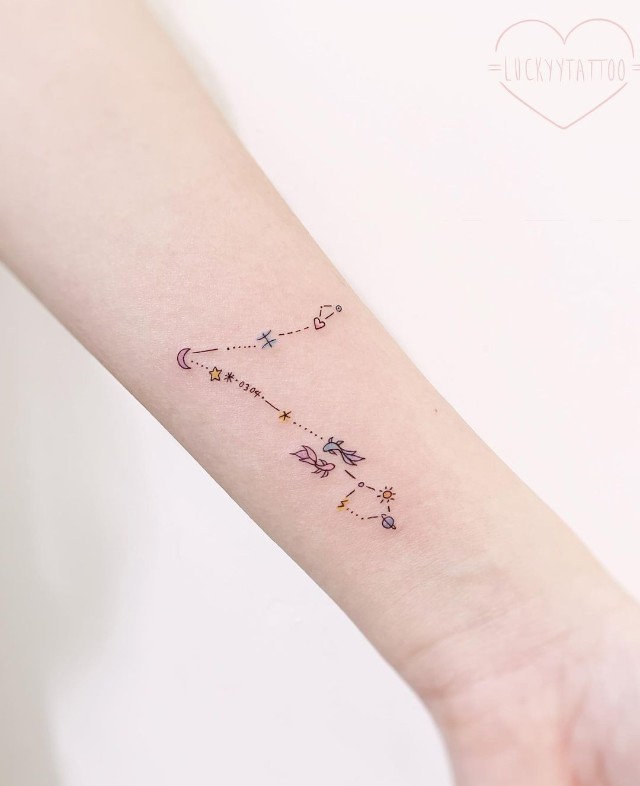 ADVERTISEMENT - CONTINUE READING BELOW
Preview is now on Quento! Click here to download the app for iOS and Android and enjoy more articles and videos from Preview and your favorite websites!
Related Stories from Preview.ph
Hey, Preview readers! Follow us on Facebook, Instagram, YouTube, Tiktok, and Twitter to stay up to speed on all things trendy and creative. We'll curate the most stylish feed for you!