I'm an oily-skinned girl through and through. My teenage days were marked by oil blotting sheets, tissue (for moments when I run out of oil blotting paper), mattifying powder, and clogged pores. So when it came to my skincare, I used to stay away from facial oils thinking that they'd only worsen my breakouts and oil production.
But as it turns out, facial oils aren't something us oily skin types have to avoid. In fact, more often than not, oily skin types are prone to dehydration at a deeper level from using products that purposely strip away oil. If we're not careful, they can be too stripping and deprive our skin barrier from the natural oils that keep it supple and hydrated—which in turn, causes the overproduction of sebum. But that's where facial oils come to rescue!
When I came across the Pili Ani Ageless Concentrate: a weightless facial oil suitable for all skin types—I just had to try this myself. Is this the facial oil oily skin types have been looking for or do we need to continue searching? Keep reading for my full review!
A Review of the Pili Ani Ageless Concentrate with Pili and Elemi Oil
Said to be the "perfect daytime oil," the Pili Ani Ageless Concentrate was made with two star ingredients: pili and elemi oil. The latter is an acne-reducing ingredient that helps normalize overly dry/oily skin; and the former is rich in vitamins A and E which help provide moisture.
Available in 15ml and 40ml bottles, the cruelty-free facial oil takes pride in its lightweight formulation—rich in antioxidants that help fight the signs of aging, smoothens the appearance of wrinkles, and "delivers a deep dose of moisture to repair and restore dull, dry skin."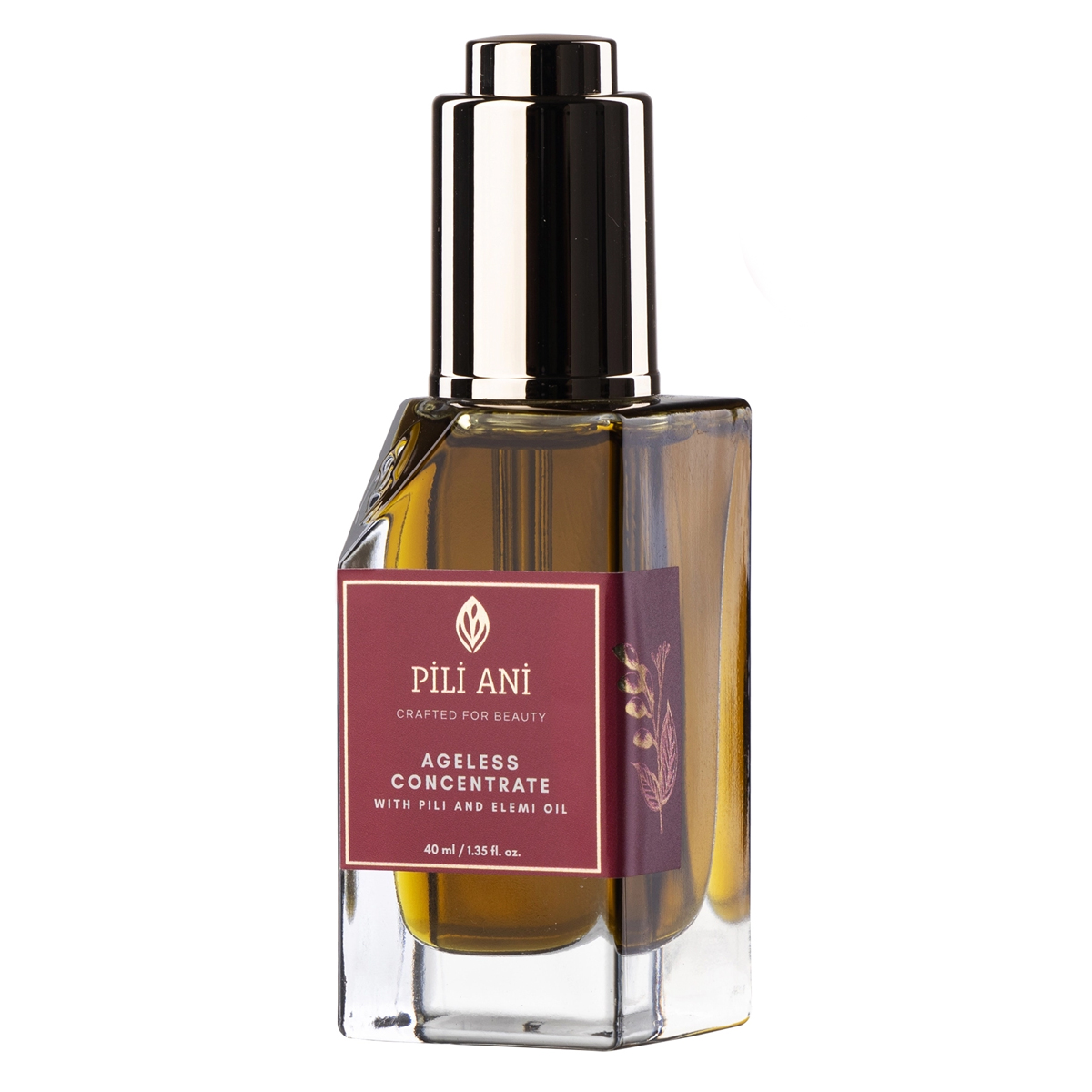 ADVERTISEMENT - CONTINUE READING BELOW
Ageless Concentrate with Pili and Elemi Oil, P2700 (40ml), PILI ANI, piliani.com.ph
First Impressions
Packaged in a glass bottle with a pump drop dispenser, the weight of the bottle combined with the gold colored dispenser exudes class and sophistication. Particularly, the dispenser reminded me of Em Cosmetics' Color Drop Serum Blush. That said, because of the type of dispenser, I was worried that it would be difficult to give me an ample amount of product—as this was a concern for many buyers of the Em Cosmetics product—but thankfully, it wasn't the case with the facial oil.
Pili Ani suggests using two to three drops, then warming the oil with your hands before applying it to your face. And when applied to my skin, I could instantly feel how lightweight the formula truly is. From my hands to my face, the oil didn't feel heavy nor thick; but how would my skin feel at the end of the day or during my nighttime skincare routine?
How I Used It
Application: AM Skincare Routine
Over the course of almost two weeks, I decided to incorporate the Pili Ani Ageless Concentrate everyday in both my morning and night skincare routines. My AM skincare consists of: washing my face with water, Isntree's Green Tea Toner and C-Niacin Toning Ampoule, Daymellow's Houttuynia Cordata Real Soothing Gel, and Isntree's Hyaulronic Acid Watery Sun Gel SPF50 PA++++.
The Ageless Concentrate is said to be comfortable enough to be used under sunscreen. But knowing that my sunscreen already provides a hydrated glow to my skin when applied, I was worried that my skin would not only look too shiny—but would feel clogged after hours of wear.
As I mentioned earlier, the initial feel of the oil on my face is lightweight; but compared to other facial oils, this one is relatively fast-absorbing. After waiting for about a minute for my skin to soak up the product, I was left with a glow-from-within effect. Not only was applying sunscreen on top of the oil a breeze, but it truly was comfortable—not once did my skin feel heavy or congested!
ADVERTISEMENT - CONTINUE READING BELOW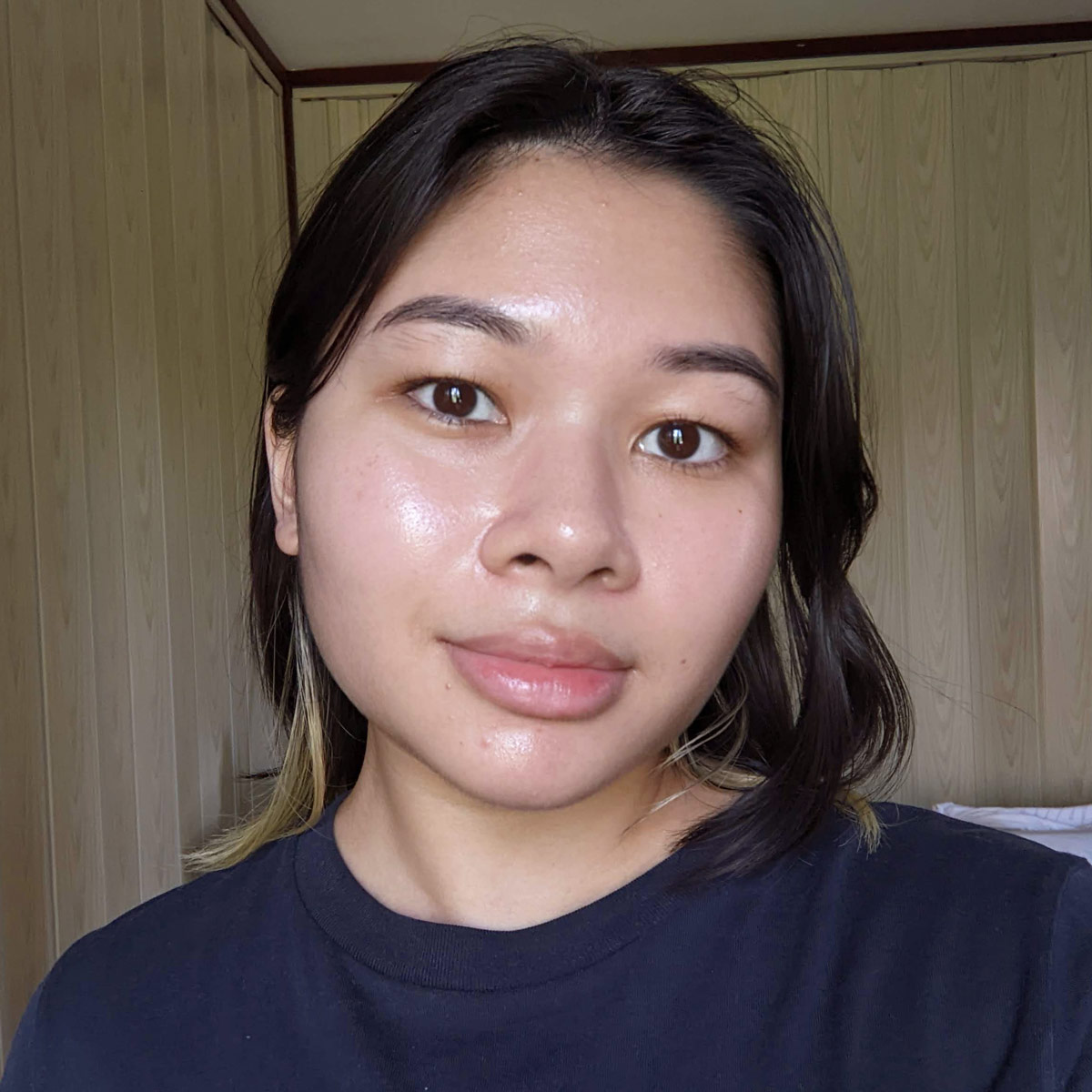 Application: PM Skincare Routine
While marketed to be a great daytime facial oil, I also wanted to try using the Pili Ani product for my nighttime routine. After all, if it helped my skin look radiant during the day, why not try to wake up radiant too!
As the last step to my routine, I applied the Ageless Concentrate after these products: Rovectin's Skin Essentials Conditioning Cleanser, Isntree's Green Tea Toner, Spot Saver Mugwort Ampoule, and Green Tea Emulsion.
ADVERTISEMENT - CONTINUE READING BELOW
Looking at my PM routine, it's obvious that I don't like waking up really oily. More often than not, the oiliness I experience in the morning feels thick and heavy, so I try my best to keep my oil production under control with green tea-infused products. And unlike my morning routine, I was more excited to use this product especially since elemi oil is said to help normalize overly oily skin!
Thanks to the formulation's fast absorbing powers, I could go to sleep without feeling like the oil would slide off of my face and onto my pillowcase. In the morning, I immediately went to the mirror and saw that my face isn't as oily as I thought it would be—in fact, it was less oily and more glowy!
After 11 Days of Using the Pili Ani Ageless Concentrate
Prior to using the facial oil, my skin had some irritation along the center of my face (sides of the nose to the center of my cheeks), but I can say the redness has disappeared. I've also noticed that my skin feels and stays hydrated for longer; and is less oily both throughout the day and night!
ADVERTISEMENT - CONTINUE READING BELOW
When it comes to breakouts, using the oil didn't induce them but rather helped them heal. In the middle of PMS symptoms, the inevitable hormonal breakouts occurred on my forehead and chin—but surprisingly, the spots not only healed at a faster rate, but were not as inflamed!
Conclusion
I can't say that I've stopped using oil blotting sheets, but the Ageless Concentrate has helped keep my oil under control and has never made me look nor feel like a frying pan—even with the summer heat! And since it helped me calm down any irritation, I've never felt like I need to slowly incorporate the product into my skincare routine. Since day one, my skin loved the oil!
So to all the oily skin types out there, this facial oil isn't something to avoid. Especially if you know your skin is prone to dehydration, this product can help keep oil and shine in check while delivering the moisture your skin needs.
ADVERTISEMENT - CONTINUE READING BELOW
But regardless of your skin type, if you're looking to give your skin an extra glow and hydration, say hello to your new best friend! A little truly goes a long way with the Ageless Concentrate, so you're sure to be getting the best bang for your buck.
ADVERTISEMENT - CONTINUE READING BELOW
Shop the Pili Ani Ageless Concentrate from their official website. Learn more about the product on their Facebook and Instagram.
Related Stories from Preview.ph
Hey, Preview readers! Follow us on Facebook, Instagram, YouTube, Tiktok, and Twitter to stay up to speed on all things trendy and creative. We'll curate the most stylish feed for you!