What: Patchology AquaFlash Daily Moisturizer Gel

Patchology AquaFlash Daily Moisturizer Gel comes in a lightweight formula and is loaded with skin benefits.

What It Is
Patchology's AquaFlash Daily Moisturizer is a lightweight concoction in gel form. It promises to deliver maximum moisture and to promote collagen synthesis to smooth lines, thanks to the product's Hyaluronic Acid. It also has Neem trees extract that provides powerful anti-oxidants, as well as Vitamin B5 and aloe extracts to heal, soothe, and repair skin.
The ingredients list also has Saccharomyces Ferment Filtrate. According to the INCI Decoder website, Saccharomyces Ferment Filtrate is "great for skin moisturization and soothing, brightening, and wrinkle repair." This yeast is responsible for many other cult-favorite products—one of which is the Missha First Treatment Essence. (Trivia: Saccharomyces Ferment Filtrate is Missha's dupe ingredient for the luxurious SK-II Essence's Galactomyces Ferment Filtrate). In a study by Chan, Huang, et. al. on the effects of fermented yeast on the uneven production of melanin on the skin, these types of yeasts are found to be effective in evening hypo- and hyper-pigmentation. That's no surprise to me as I've found the overall tone of my skin to be brighter and softer when I first used this key ingredient.
And while I can't vouch for the other ingredients, I do find that incorporating sodium hyaluronate (hyaluronic acid) in every skin care step helps draw significant amounts of moisture to my skin. That's why seeing Saccharomyces Ferment Filtrate and Sodium Hyaluronate so high up the list, along with the usual basic mixture of water, glycerin, and 1-2-hexanediol, I knew Patchology's AquaFlash Moisturizer Gel was in for the big effect.
ADVERTISEMENT - CONTINUE READING BELOW
Current Condition
I have dry, irritated, acne-prone skin. I began using tretinoin a year and a half ago due to the growing number of clogged pores I had on my forehead and cheeks, and the intense acne flare-ups I would experience during that time of the month. While it took me a year to see clearer skin, retinol helped immensely as I barely get any breakouts nowadays. However, the downside of using medical grade retinol is that my skin does, every so often, experience dry patches and irritation. In fact, if I simply forgot to use moisturizer for one night, my skin would end up with dry, scaly patches the morning after.
Prior to AquaFlash, I used to use Cerave Cream, which was very thick as a moisturizer, but contained plenty of ceramides and hyaluronic acid to keep moisture in my skin. On drier days, I would even have to incorporate some good old squalene oil as my last step to prevent my skin from looking patchy at the end of the day when my foundation would start to break. It was great until summer came, the heat came in unbearable waves, and my skin that was constantly dry and patchy ended up very oily and yet still patchy and flaky!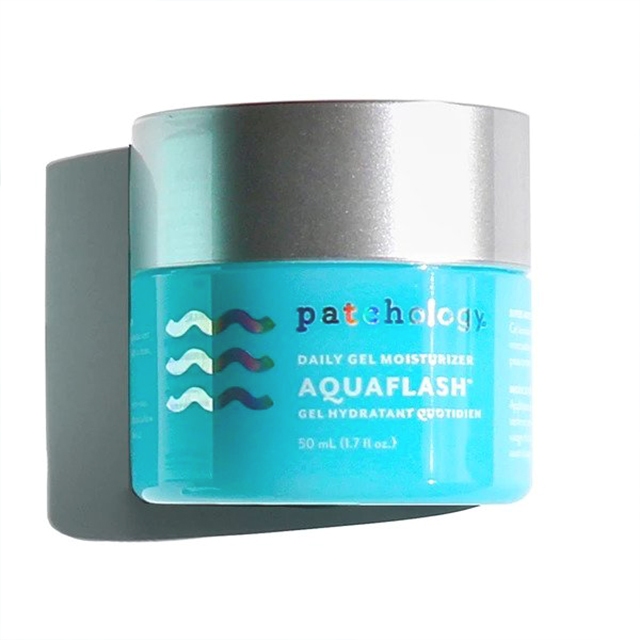 How I Used It
It was the perfect time to try the moisturizer gel as it contained less occlusive ingredients but with a promising amount of humectants and skin-soothing ingredients (hello, Saccharomyces Ferment Filtrate!), particularly during the day. To be fair, my skincare routine is quite intense compared to your average Jane or Joe. A daily morning skincare routine would easily take 10 minutes of my time starting with the following steps:
ADVERTISEMENT - CONTINUE READING BELOW
Step 1: Dear Klairs Supple Preparation Facial Toner
Step 2: Missha First Treatment Essence
Step 3: La Roche Posay Effaclar K+ (to prevent blackheds) and Effaclar Duo+ (on active breakouts)
Step 4: Caudalie Vinoperfect Radiance Serum
Step 5: Baebody Eye Gel (Slather some Matrixyl-3000 for those fine lines and wrinkles)
Step 6: Moisturizer
Optional Step 7: The Ordinary Squalane Oil
When I first began to use the AquaFlash Gel, I still had my doubts about its moisturizing properties and continued to use a drop of squalane oil as my last step. It was good-performing, as I would expect from a decent moisturizer. One day, I had to take a two-day business trip to Bacolod and had no time to prepare. I left my squalene oil at home! All I had with me were my usual toner, essence, serums, and the AquaFlash Gel. Surprisingly, after a 12-hour work day, a three-hour wait at the airport, a delayed flight, a sunburn from a two-day hike, I came home without any dry patches on my skin. I even expected some burns on my face, but I suppose the aloe vera in the moisturizer did well to calm the redness down.
ADVERTISEMENT - CONTINUE READING BELOW
After my first encounter using the AquaFlash Gel without the oil as my next step, I began leaving squalene oil out of my usual morning routine for the next two months. To be honest, I don't know how such a light gel can keep the serial dryness at bay, but I suppose I have to hand it to the well thought of ingredients list.
Conclusion
Did I see any effects? Yes. After an eight- to 10-hour work day inside air-conditioned rooms, I noticed that I didn't have as much dryness and rough patches that usually made my foundation look uneven. Although it must be said that when my eczema and lip chelitis decide to come out, this doesn't do the job in calming such an extreme skin condition down. But as your good ol' regular moisturizer, keeping oiliness to a minimum while bringing in loads of goodies to the skin, this was quite a fun product to use.
ADVERTISEMENT - CONTINUE READING BELOW
I'm already down to the bottom of my jar but I'm looking forward to repurchasing! I would recommend this to people with oily skin and for people who suffer from dry patches (in other words, all skin types!). One extra step I would recommend doing is to place the jar in the fridge overnight during the hot season so that you get a nice cooling effect upon application in the morning. It instantly depuffs my face! My only qualm is that I hate sticking my fingers in the jar and so I have to use a scoop that I sanitize every morning to get some product out. But hey, if Patchology comes out with this gel in a pump version, I am 100% sold.
Hey, Preview readers! Follow us on Facebook, Instagram, YouTube, Tiktok, and Twitter to stay up to speed on all things trendy and creative. We'll curate the most stylish feed for you!