I collect eyeshadow palettes the way people collect books. Mine are stacked neatly in my drawers and shelves, and I admit that looking at them alone sparks a lot of joy. That said, I own a lot of neutral palettes, so I'm in the process of expanding my collection with brighter hues and unique pigments. This is where Pat McGrath Labs' Mothership Eyeshadow Palette comes in, with its duochrome colors and glitter formulas that I've been eyeing since the day it launched. Being a fan of Pat McGrath myself, I just knew that if a product is approved by one of the most influential makeup artists in the world, I'll be hard-pressed to go wrong with it.
Hearing my makeup artist friends rave about the eyeshadows further piqued my curiosity. Every time I asked about the product, I was repeatedly told that the pigmentation and the colors make it worth the 8000-peso price tag. So when Pat McGrath Labs finally launched on Sephora.ph, thankfully, I was sent the II Sublime palette from the collection to test out.
ADVERTISEMENT - CONTINUE READING BELOW
What It Is:
The Mothership Eyeshadow Palette is the biggest eye palette available from Pat McGrath Labs, the eponymous beauty brand of legendary makeup artist Pat McGrath. The artfully-designed printed boxes contain a lacquered black case that contains 10 eyeshadow formulas that range from neutral to high-impact shades. Each of the four colorways has its own unique color mood: I Subliminal for cool, crystal-toned eyes; II Sublime for coppers and pinks; III Subversive for vivid jewel tones; and V Bronze Seduction for classic warm tones with a metallic twist.
CONTINUE READING BELOW
Recommended Videos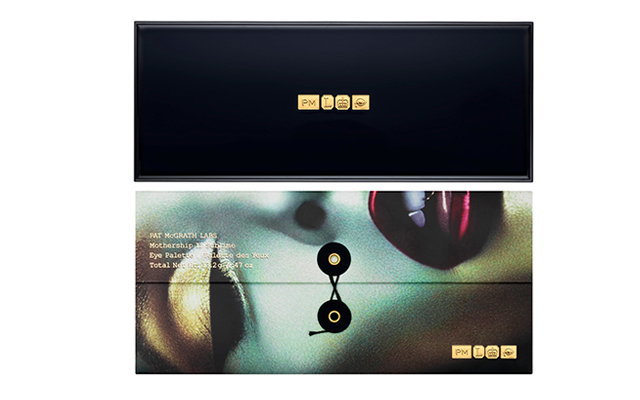 ADVERTISEMENT - CONTINUE READING BELOW
PAT MCGRATH Mothership Eyeshadow Palette in II Sublime, P8000, Sephora.ph
II Sublime, the palette I tested, has six Powderluxe Pressed Eyeshadows in matte, pearl, and sparkle finishes and four hybrid formulas in four finishes (metallic, satin sheen, iridescene, and holographic brilliance). Here's a breakdown of the shades from Sephora:
ADVERTISEMENT - CONTINUE READING BELOW
Shades: Top row (from left to right): Skinshow Glow (champagne pink pearl), Copper Toned (soft reddish brown), Iconic (neutral bronze gold), Bronze 005 (metallic warm brown), VR Nectar (peachy pink with gold pearl)
Bottom row (L-R): Xtreme Black (ultimate black), Dark (rich warm brown), Rose Dusk (soft reddish mauve), Blitz Emerald (blackened green with lilac pearl), Astral Ghost Orchid (white iridescent with pink)
Current Condition:
I'm the kind of person who thinks a look is incomplete without eyeshadow. On the daily basis, I need at least a wash of color on my eyelids. I choose my eyeshadows according to my mood, going back and forth between neutral eye looks and bolder hues. That said, I do prefer to keep application simple, something that can be applied with fingers or requires a maximum of three brushes and 15 minutes to achieve.
How I Used It:
When it comes to application, I mainly use my fingers to achieve maximum color payoff. Usually this leads to the powder looking patchy on the lids, but this technique actually works better for the Pat McGrath eyeshadows. I only picked up a detailer brush to blend colors on my inner tearducts to avoid getting glitter everywhere.
ADVERTISEMENT - CONTINUE READING BELOW
Personally, I think this is a feat for a product, as my eyeshadow skills are nowhere near the level of Pat McGrath's and I still managed to create eye looks that I love and would wear variants of again. This is the first look I created with the palette—a wearable, copper and rose gold eye inspired by a video on the makeup artist's Instagram: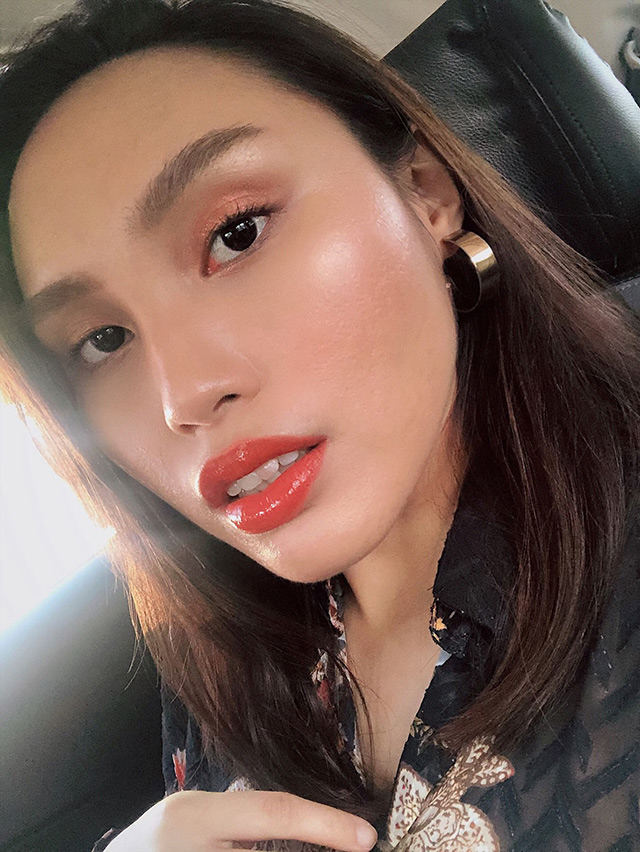 ADVERTISEMENT - CONTINUE READING BELOW
Here, I placed Copper Toned on my lashline towards the crease with my ring finger, lightly blurring the edges with my pinky. For some much-needed sparkle, I picked up VR Nectar (my favorite shade) with another clean finger and gently patted it on top of the copper base. Finishing touches: Skinshow Glow on my brownbone and inner corners for a barely-there sheen and Dark on the lashline. That sounds like a lot, but these shadows are so easy to use that doing both eyes only took me a grand total of five minutes. Go figure.
Of course, we can't only do a "nude" eye. You're probably wondering how the darker shimmers perform, too. Here's a simple green and gold look inspired by this look: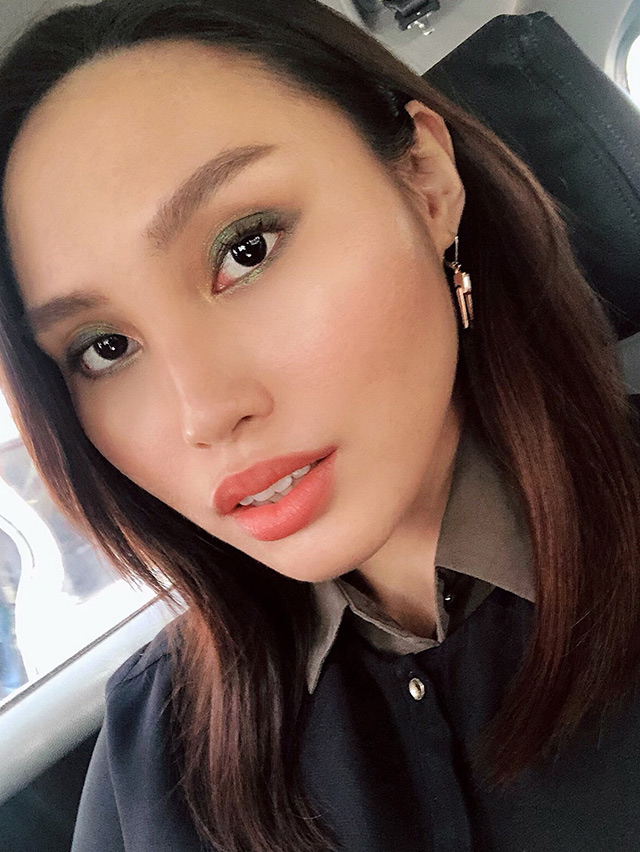 ADVERTISEMENT - CONTINUE READING BELOW
It's makeup protocol to use a light base to have colors like Blitz Emerald look its best, so imagine my surprise when it glided like butter on a primer-free eyelid and appeared as vibrant as it did on the pan. The same applies to the beautiful gold Iconic, which went on my inner corners and my crease to blend out the green. I used flat brush to lightly blend Xtreme Black on my outer corners. That's all I did, and it really made for an easy, high-impact eye.
Conclusion:
The thing I appreciate the most about this palette is that it makes creating a high-impact eye more approachable. While, yes, it does have slightly intimidating shades and intense shimmer, you don't need to own a full set of professional brushes or even the best technical skills to whip up a look. In fact, applying even just one of the duochrome shades on your eyelids can be a solid enough statement!
ADVERTISEMENT - CONTINUE READING BELOW
When it comes to the color range, I appreciate that there are two dark matte colors opposite all the shine. I no longer need to reach for another palette just to complete a look or define my eyes further. Granted that this is definitely more of an accent color lineup and not a do-it-all one, the addition of a dark brown and black helped it feel more complete!
ADVERTISEMENT - CONTINUE READING BELOW
Speaking of which, the formula was as impressive as I was told. There being a lot of glitter shades, I expected there to be at least some fallout from the eyeshadows, which is completely normal. But mother Pat probably doesn't like fallout, so her shadows gave me little to none. I never found myself sweeping away glitter under my eyes, and mind you, I always do my eye makeup after finishing my base! The shades were incredibly pigmented and blendable, although note that some shades aren't meant to deliver intense pigment. Skinshow Glow and Astral Orchid are quite sheer, for example, made to add a sheer hint of shine.
A pro-slash-con that's unrelated to the product is the packaging. This palette is weighted, which is to be expected of such a high-end product, but this also means it's not the most ideal for traveling. That's honestly the only complaint I have, because I would definitely want to bring this palette with me everywhere.
ADVERTISEMENT - CONTINUE READING BELOW
All that said, the overall quality of the Mothership Eyeshadow Palette blew me away. I use the eyeshadows practically every day, whether it's a quick daily look or a dramatic eye. Doing my eye makeup has never been this fun, to be honest! So if you're looking to upgrade your eye makeup collection with interesting colors and formulas, I think II Sublime and the rest of Pat McGrath's eyeshadows are worth looking into.
Related Stories from Preview.ph
Hey, Preview readers! Follow us on Facebook, Instagram, YouTube, Tiktok, and Twitter to stay up to speed on all things trendy and creative. We'll curate the most stylish feed for you!