What: Origins Original Skin line
The products under Origins' Original Skin line all have one active ingredient in common: willowherb. It's a flower known to withstand very extreme environments, so much so that "it's the first plant to blossom on scorched earth." According to studies, this plant restores radiance to skin and helps inhibit a protein change that causes dullness and discoloration.
Under the Original Skin line are five products: a makeup removing cleanser, a retexturizing mask, an essence lotion, a serum, and a matte moisturizer, all of which promise to minimize pores, boost glow, and refine skin texture, resulting in a radiant complexion that offsets the need for makeup.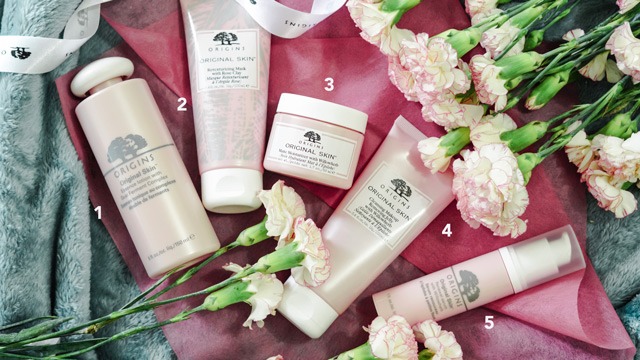 1) Original Skin Essence Lotion with Dual-Ferment Complex, P1700; 2) Original Skin Retexturizing Mask with Rose Clay, P1550; 3) Original Skin Matte Moisturizer with Willowherb, P2100; 4) Original Skin Cleansing Makeup Removing Jelly, P1150; 5) Original Skin Serum with Willowherb, P2950, ORIGINS, all available on Lazada.com.ph
Current Condition
Prior to this review, I already had a go-to skincare routine which I religiously followed. I'm very particular about removing my makeup before hitting the sack so I've always relied on the double cleansing method a.k.a. micellar water plus facial foam cleanser. After cleansing, I apply toner, followed by essence, serum, eye cream, and then I end with moisturizer. For this review, however, I decided to forgo my normal routine and swap it for Origins' five-step skincare regimen featuring the Original Skin line.
ADVERTISEMENT - CONTINUE READING BELOW
How I Used It
Step 1: Original Skin Cleansing Makeup Removing Jelly
Initially, I thought Origins' Makeup Removing Jelly felt a lot like Glossier's Milky Jelly Cleanser, which actually used to be my favorite before I discovered Fresh's Soy Face Cleanser. To use, I applied it on dry skin and gently massage using my fingertips to melt my makeup, followed by a splash of water to work it into a milky emulsion, and then I finish off by rinsing with water. On days I don't wear foundation, one wash is usually enough; but on days when I'm wearing more makeup than usual, I repeat the whole process just to make sure there isn't any makeup residue left. Still, it doesn't leave a "squeaky clean" feeling, which is actually a good indicator of moisture even after patting my skin dry.
Step 2: Original Skin Retexturizing Mask with Rose Clay
I was very intrigued by this mask because it promises an "instant glow." It's dusty pink in color, too, and has Jojoba beads for exfoliating and deep cleansing. This one, however, is only recommended to use once or twice a week. After cleansing my face, I squeeze out some product onto my ring finger and spread it out evenly, avoiding the eye area. Even with the beads, the mask glides smoothly onto my skin and dries quite fast. I leave it on for 10 minutes, as indicated on the instruction label. After which, I wet my fingertips and gently massage my skin in circular motions to exfoliate before fully rinsing my face with lukewarm water.
Step 3: Original Skin Essence Lotion with Dual-Ferment Complex
The third step features the Original Skin line's "potent, multi-tasking essence lotion," which promises to boost glow and moisture while also refining texture and minimizing pores (everything we look for in a toner, in short). Origins recommends it for all skin types, too, so initially I thought this product could either be a dud or a holy grail waiting to be discovered.
ADVERTISEMENT - CONTINUE READING BELOW
Its consistency is a bit thicker than water, albeit a little less dense than gel. To use, you can either pat it on clean skin using your fingertips or soak a cotton pad with enough product and dab it gently on your face—I've tried both, but I'm more of a cotton pad type of gal so I prefer the latter. I also like to check the used cotton pad after to see if it caught any remaining dirt or makeup residue, and usually it does.
Step 4: Original Skin Serum with Willowherb
This serum boasts of chestnut seed extract to refine texture, willowherb to restore glow, and algae to reduce oil and shrink pores. In addition, it claims to also de-stress the skin and blur imperfections. To use, I pump out a pea-sized amount for my face and neck. It dries quite fast and doesn't leave a sticky feeling.
ADVERTISEMENT - CONTINUE READING BELOW
Step 5: Original Skin Matte Moisturizer with Willowherb
This "matte moisturizer" is a new product under the Original Skin line, and it supposedly doubles as a primer, too; it claims to refine skin texture and minimize pores. And for a lazy girl like myself who tends to skip primer before makeup, I'd say that sounds really tempting.
Related Stories from Preview.ph
It's a water-based cream that's a nice translucent pink in color, which makes for a really good first impression. It sure doesn't hurt that it also smells like a bouquet of fresh roses, which doesn't come from a synthetic fragrance. It has a nice cooling effect on my skin, too (I said cooling, not burning—there's a big fat difference, FYI). I usually need about a coin-sized dollop for my face and neck, and while the product takes around a minute to fully absorb, it dries into a matte finish that feels powdery smooth.
ADVERTISEMENT - CONTINUE READING BELOW
Conclusion
I tried this five-step regimen for two weeks, and I know that's probably not enough time to see dramatic results. But I must say, within the duration of this review, I haven't had any active breakouts. I'm taking that as a good indicator that my skin has been reacting well to the ingredients of the Original Skin line. Prior to this skincare experiment, I was nursing also a cystic pimple on my chin area, which has already dried and left only a faint mark.
Overall, I'm quite happy with the Original Skin line and I think I'd use the products for a few more weeks to see if my skin continues to improve. There are a few things I'll change, though, including going back to the double cleansing method—as for Origins' makeup removing jelly, I think I'd save it only for days I'm wearing foundation.
ADVERTISEMENT - CONTINUE READING BELOW
In addition, the Original Skin Matte Moisturizer with Willowherb was a pleasant surprise. I have combination skin, which means I tend to have dry cheeks and an oily T-zone, but for the past two weeks I've noticed my forehead looking less shiny and my skin feeling plump and well hydrated. I will keep using this moisturizer for my morning routine because it does work well under makeup as promised, although for my nighttime regimen, I would have to reconsider my old fave to do the heavy-duty moisturizing.
But if I were to pick a favorite from the entire line, I'd have to say the Original Skin Retexturizing Mask with Rose Clay is the real star. It smells nice, dries easily, and is not a mess to wash off. I also notice my pores look clearer after every wash, so it makes me look forward to masking (and exfoliating) twice every week.
ADVERTISEMENT - CONTINUE READING BELOW
Hey, Preview readers! Follow us on Facebook, Instagram, YouTube, Tiktok, and Twitter to stay up to speed on all things trendy and creative. We'll curate the most stylish feed for you!