When an eight-hour sleep schedule continuously evaded two Filipinas studying and working in London, they—as one naturally would—turned to skincare to save their complexions from the consequences. Fast forward to years later, when they decided create their own skin elixirs, the duo didn't only want products with skin-saving ingredients. They approached it the new-age way and produced products that strike the balance between efficiency and tasteful visuals. The second seems like a shallow requirement, but think about it—aren't you more inclined to use a well-packaged serum than one in a plain bottle? Now combine that with nature-driven formulations and a simple and honest approach to beauty and you'll have rising local skincare brand Bloom & Topiary.
Ahead, we learn more about the brand's beginnings, its philosophy, and why they're the brand to watch—straight from its brand consultant and former Preview.ph publisher Owen Maddela:
What is the concept behind Bloom & Topiary? Where did the name come from and how did it start?
"Bloom & Topiary is a thoughtfully-made skincare solutions brand that is inspired by and created with nature. Each product is made with active ingredients derived from flowers and plants—and so the user directly benefits from nature's nourishing and reparative abilities.
ADVERTISEMENT - CONTINUE READING BELOW
"It started from a casual conversation among Pinay friends studying and working in London about a decade ago. Hyde Park was a favorite escape within the city—the flowers and manicured gardens offered a form of relaxation amidst urban stress. Hence, the name.
"But the name and the business wouldn't happen until the last two years. By this time, these women had already come home to Manila and got married and raised children, and had decided that they wanted to turn their London inspiration into a Manila-based business."
What kind of products does your brand make? What made you decide to pursue creating these products?
"Bloom & Topiary creates skincare products that are natural, vegan, plant-derived, and not tested on animals. The active ingredients in each of the products are taken from flowers, fruits, and plants, and the rest of the ingredients are listed in full on the packaging. It's all part of the kind of experience we want to offer, which is grounded on our values: honest, simple, sincere.
CONTINUE READING BELOW
Recommended Videos
"The brand was borne out of the partners' interest in beauty products that saved them from the effects of late night clubbing and all-night studying during their London sojourn. They attended skincare school on the side during those years but delayed plans of starting a business after returning to Manila.
"After they got married and started raising their respective families, they built a business plan, attended more skincare training, and worked with a dermatologist and pharmacist to create Bloom & Topiary's first products."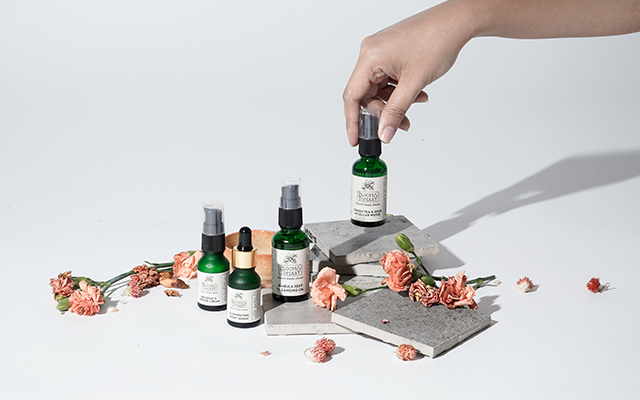 ADVERTISEMENT - CONTINUE READING BELOW
How did you start your business and who are its founders? Could you tell us something about yourselves?
"The co-founders of Bloom & Topiary are two women in their 30s—one is a chef and the other is a furniture importer—who happen to love skincare products. I suppose the act of mixing ingredients and knowledge of good design can benefit skincare products in more ways the we can imagine. However, they prefer to keep a low profile and let the products do the talking."
Who do you have in mind when you create your products? Describe the ideal Bloom & Topiary customer.
"We want to reach out to individuals who know what they want and work hard to achieve their goals and fulfill their passions. The Bloom & Topiary customer could be in her early 20s or her 30s and even more, looking for a better skincare routine than her last. She knows what's in beauty counters—tried this and that—but we'd want Bloom & Topiary to be the end of her skincare search. We also signed up men to join our test group prior to the launch. We think they've never looked more radiant!"
ADVERTISEMENT - CONTINUE READING BELOW
Can you tell us more about your debut product line, 4-Step Nightly Assist?
"We thought of starting out with travel-sized products that come in a box set. The size and design make it a great gifting idea, a travel kit, or a starter set for a new skincare routine. We called it 4-Step Nightly Assist because the routine calls for a cleanser, toner (we offer micellar water and that's even better), serum, and moisturizer. It says 'nightly' because skincare products work their wonders overnight, and a nighttime ritual calls for some sort of discipline and frequency. We made sure to use the word 'assist' because our products work best in conjunction with enough sleep and a healthy lifestyle. We'd love to claim that we make magic but we want to keep it real with our customers, too.
"We also just recently launched the Revitalizing Oil with SPF 15. It's a light formulation that's heavy on Avocado and Rosehip seed oils, Jasmine, and Neroli. With its protective and moisturizing qualities, we'd like to think of it as your new daytime dependable. And the packaging is cute, too."
ADVERTISEMENT - CONTINUE READING BELOW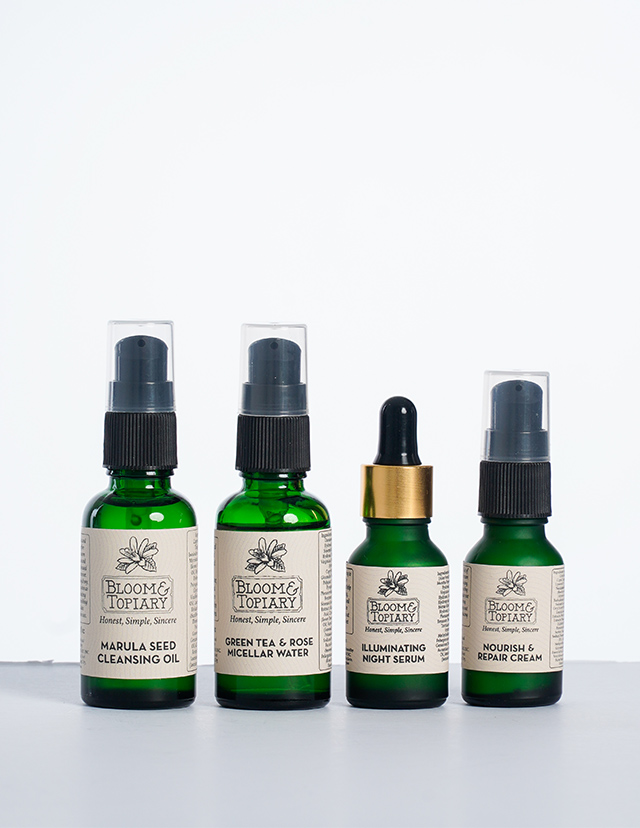 BLOOM & TOPIARY 4-Step Nightly Assist, P1299, Bloom & Topiary
What are your brand's greatest strengths? What sets you apart from other stores?
"We are transparent with our brand values. The words 'Honest, Simple, Sincere' are printed on all our products. It tells you the kind of ingredients, packaging, and experience you should expect from Bloom & Topiary. These values anchor us.
ADVERTISEMENT - CONTINUE READING BELOW
"We also have no qualms about listing our ingredients, especially the natural active ingredients. It's part of the 'honest' experience we'd like you to enjoy. They'd make for good bathroom literature, too, we think!
"We also believe in the power of good design. To create some sort of visual balance and not let our packaging drown in the obvious, we got graphic designer Frank Perez whose packaging work for Joe's Brew and art for restaurants like Ebi10 and The Stockpile are far from floral. For our initial campaign, we got Kitty Bunag and her partners at Craftsmith Guild's. Their work with flowers, wood, concrete, and laboratory equipment—the actual ones we use to create our products—is all sorts of amazing."
What about its weaknesses? How are you able to overcome these?
"We are a startup, and as most startups go, we are still learning as we go along."
ADVERTISEMENT - CONTINUE READING BELOW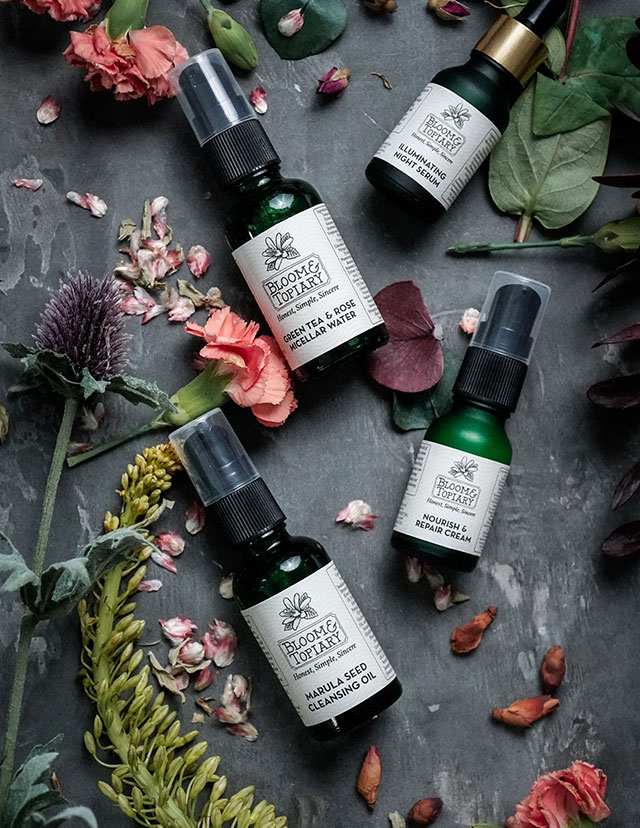 Where do you see your brand in the coming years? What should we expect from Bloom & Topiary in the future?
"After 4-Step Nightly Assist, we are launching the big bottle versions of our cleansing oil, micellar water, serum, and moisturizer. Watch out for our body oil and lip balm, too. They have SPF and are good for use outdoors. That's all due this year.
ADVERTISEMENT - CONTINUE READING BELOW
"In time, we'll launch more products to complete the skincare experience. This early, there is already clamor for eye cream, body wash, and sunblock. Oh, and a brick and mortar in Manila sounds about right.
Of course, we want to establish our global footprint, too. A shop in London is our dream."
Bloom & Topiary is available online at bloomandtopiary.com and offline in Frankie General Store SM Aura and The Naturale Market in Forbestown.
Related Stories from Preview.ph
Hey, Preview readers! Follow us on Facebook, Instagram, YouTube, Tiktok, and Twitter to stay up to speed on all things trendy and creative. We'll curate the most stylish feed for you!