I'm no stranger to diets and detox programs and figured the start of July was an opportune time to do another—not only is it a mid-year point, it's also birthday month. Detoxing before I turned a year older was poetic justice to both body and soul.
Nadine Tengco's Ultimate Detox program under Neo Day Spa seemed like the perfect fit; the fact that I had to fax in a signed waiver before starting only got me even more excited. This sounded like serious stuff, as if I already hadn't gotten the hint from its name.
The three-day program isn't actually that harrowing (on paper): Day 1 (a.k.a. Pre-Spa Day) started off with vegan meals and detox juices delivered to my house, which included a heavier-than-what-I'm-used-to breakfast of banana flaxseed pancakes (with syrup!), vegan sushi and miso soup, crudités, and veggie pad thai. Not bad, I thought, only to realize after downing my first "snack" of Spicy Lemonade that it was a Cleanse Formula. I felt woozy immediately after the drink, which I expected anyway and tempered with some water. Some feel weak on different days of the program and I felt it on the first; apparently my body was doing a toxin purge and drawing it all to the surface to be expelled the next day.
ADVERTISEMENT - CONTINUE READING BELOW
CONTINUE READING BELOW
Recommended Videos
Day 2, a.k.a. Spa Day, is where we talk business. Breakfast was a weight-loss banana shake; lunch was a raw pad thai salad—a lot of raw carrots, turnips, and beets—and a detox drink. The drinks are surprisingly tastier than those I've tried in previous programs. My session started after lunch, where I had to drink a Chili Lemongrass weight-loss formula before stepping into the sauna. After 20 minutes I drank another one, the Toxi-flush, and dipped into a brown algae/seaweed Jacuzzi bath for 30 minutes. This was followed by the Grasshopper Drink (I was very happy to know no grasshoppers were involved, just organic greens) again for weight loss, and an exfoliating scrub. I was then slathered with a brown algae/seaweed treatment and wrapped in plastic from neck to toe for another 30 minutes.
Then came the star of the show: the coffee colonic. Coffee apparently stimulates the liver and gallbladder to release toxins for flushing and also thoroughly cleanses colon walls of accumulated waste. It was definitely a unique and unglamorous experience; it is what it is, which is a coffee enema. You have to flush out around 5-6 cups of coffee, which took around an hour. I was given some rice crackers and an electrolyte drink afterwards to rehydrate. Spa Day finished off with a lymphatic massage, and I was sent home and had my raw tom yam Cleansing Soup and ginger weight-loss limeade for dinner. I slept for 10 hours, a first since 2012!
ADVERTISEMENT - CONTINUE READING BELOW
Day 3 was Post-Spa day and, like Day 1, involved vegan meals and juices delivered to your door. Lemon water started my day, followed by malunggay rice, another detox cleanse juice, some fresh spring rolls, a pomelo salad, mango trifle, and japchae for dinner—not bad for a "diet."
The focus of the program is a "gentle" system detox, to eliminate bloating and facilitate weight loss (Note: I lost 2 lbs on the Spa Day alone in water weight.). The ingredients are organic, anti-inflammatory, and rich in nutrients, and just like any cleanse, gives skin a glow too. After going back to original home-cooked meals afterwards, I could feel the difference in my body (even fish in olive oil felt "unwell"), which made me more conscious of what went on my plate. Feeling the change and finally adopting healthy eating habits is, I guess, its biggest takeaway. Most useful birthday gift ever!
Neo Spa Ultimate Detox, 2 days home program + 1 day spa program (5-6 hours), P21,000; 1-day detox at Neo Spa, P15,000, Neo Day Spa, Bonifacio Global City
ADVERTISEMENT - CONTINUE READING BELOW
See the Salons and Spas Directory for details.
Hey, Preview readers! Follow us on Facebook, Instagram, YouTube, Tiktok, and Twitter to stay up to speed on all things trendy and creative. We'll curate the most stylish feed for you!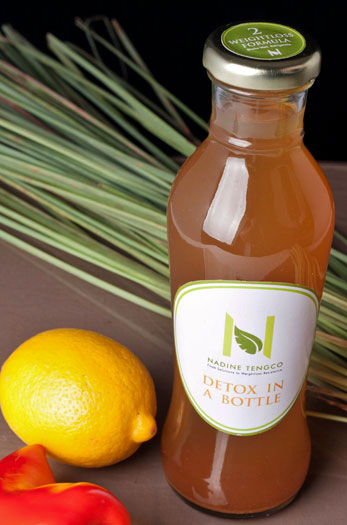 Hey, Preview readers! Follow us on Facebook, Instagram, YouTube, Tiktok, and Twitter to stay up to speed on all things trendy and creative. We'll curate the most stylish feed for you!