Choosing a tattoo design that best resonates with you is only half the chore—you'll have to think about the ink's placement on your body, too. If you want your ink to be easily hidden, consider getting inked behind the ears and on the ankle area. But, if you prefer yours to be more visible, then a neck tattoo should be your best bet!
The whole 360 degrees of the neck region is marked on the warmer zone of tattoo pain charts. It's considered as one of the more sensitive areas to place a tattoo because of the area's thin skin, muscles, and nerve endings. Getting inked on the frontal area will be more painful as compared to the nape and the side of the neck since it's filled with lots of nerve endings. Sure, the pain can be a little disheartening, but seeing the final product will definitely be worth it in the end. If you're convinced to get one, keep on reading!
Here are 12 curated neck tattoo designs to help you pick your next ink:
1. Blue Lotus
A lotus flower is regarded as the "flower of life" because it represents rebirth, purity, and enlightenment. The rare blue color of the lotus also makes for a beautiful representation of wisdom, knowledge, self-control, and aspirations.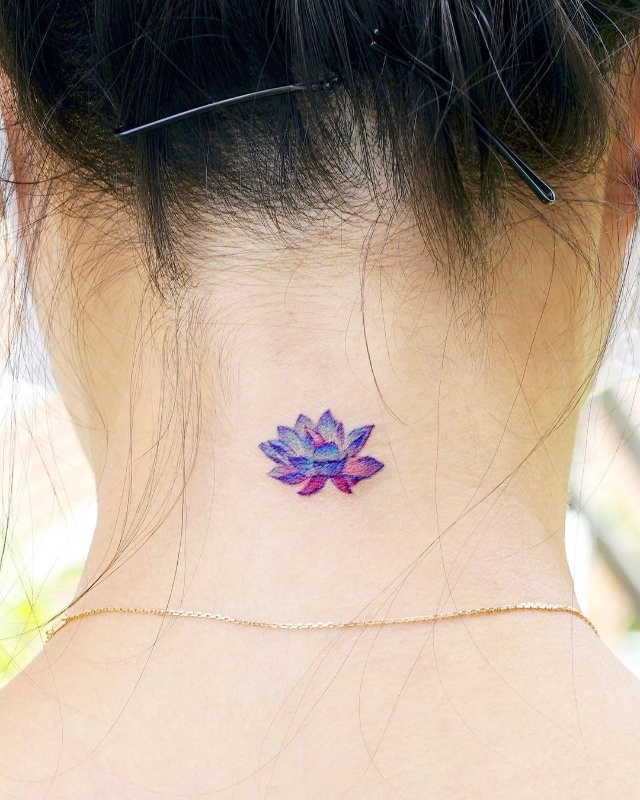 ADVERTISEMENT - CONTINUE READING BELOW
2. Flower Bouquet
A minimalist bouquet is a charming choice if you can't pick just one flower. The delicate combination of colors are also perfect for people who prefer to highlight their femininity, while the nape placement also completes the fresh and dainty look. After all, flowers (tattoos) are forever!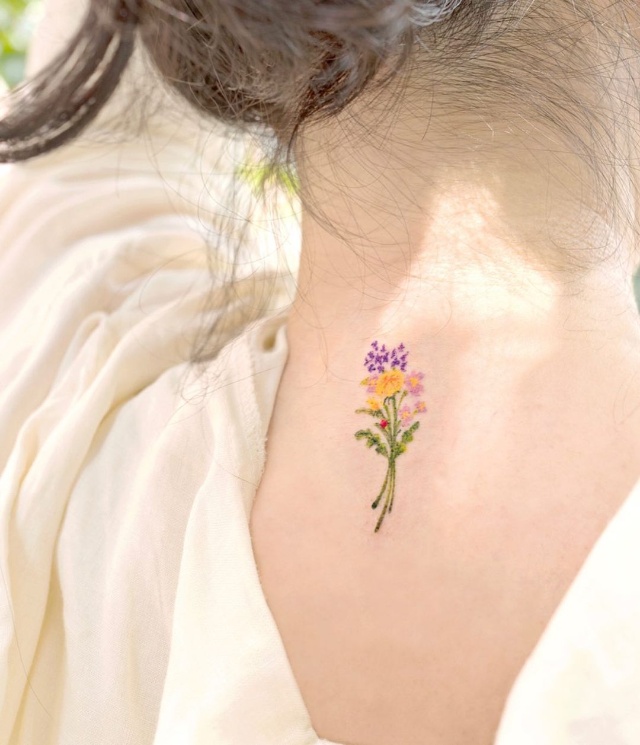 3. Colorful splatters
Your favorite colors combined into a visually abstract design can definitely make a statement. Its mix of strokes in lighter hues and saturated colors can create such an ethereal vibe that resembles the cosmos.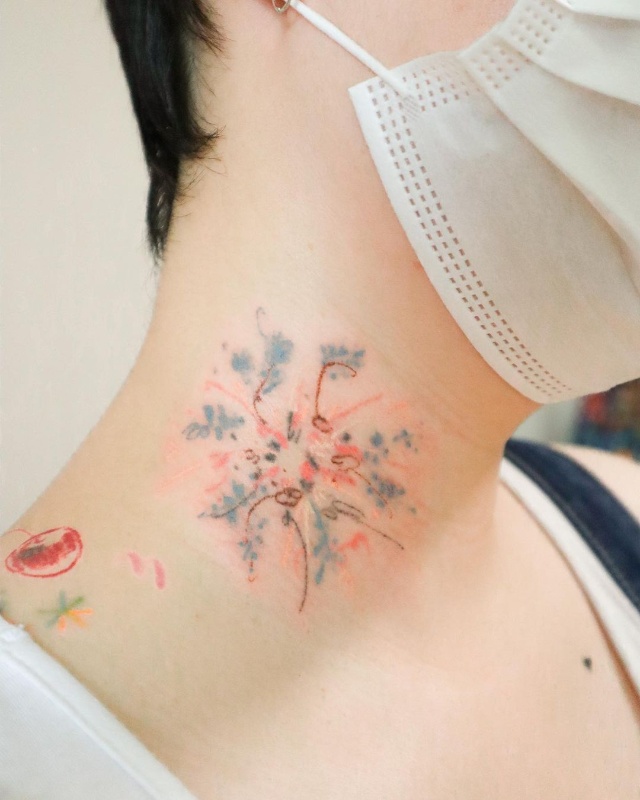 4. Long scripts
You can always opt for a statement ink if you're not a big fan of colors and defined shapes. Script tatts, for one, are a fun and captivating way to express your profound thoughts without uttering a word.
ADVERTISEMENT - CONTINUE READING BELOW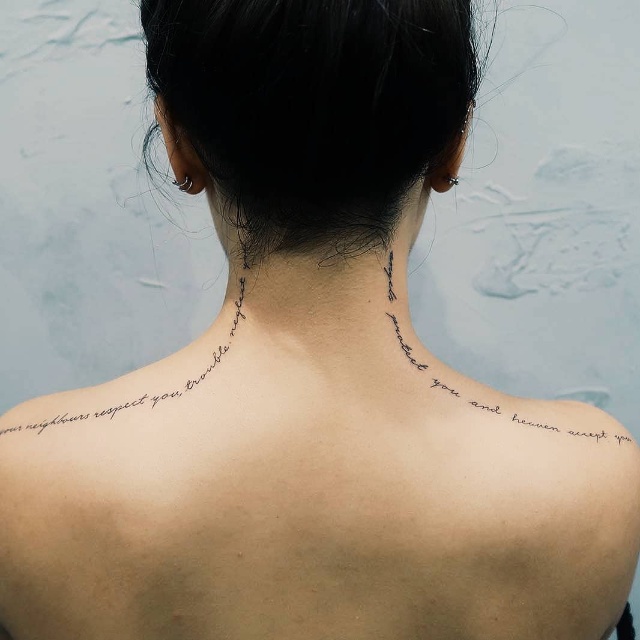 5. Moon
Any lunar phase is an instant winner to first-time tattoo getters! For small inks, it's a brave choice to have a shaded piece placed on one of the most sensitive areas of the body. Not only that, the boldness and simplicity of a crescent moon design makes for a good conversation starter.
ADVERTISEMENT - CONTINUE READING BELOW
6. Purple rose
Sure, red is a classic go-to when it comes to roses, but if you want to switch it up a bit, then you can try a purple rose for a change! The flower's mood-boosting hue is associated with splendor and enchantment. It's also linked to a sense of royalty as the flower has a real aura once it blooms. No wonder it's also called the "mystical rose"!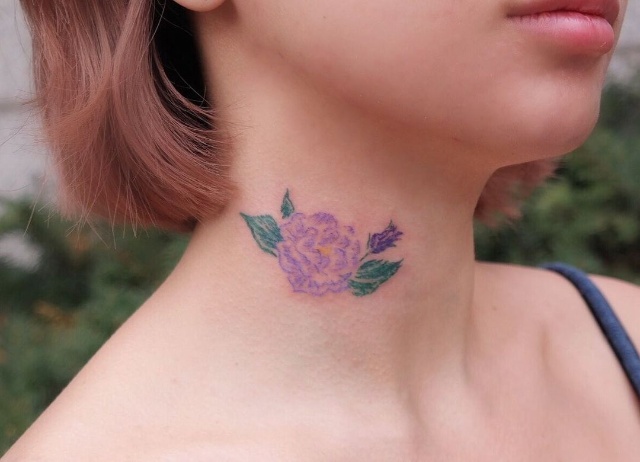 ADVERTISEMENT - CONTINUE READING BELOW
7. Initial
Want to go a tad sentimental? Choose a tattoo that adds a literal personal touch! A simple alphabet character in a minimalistic typeface can completely seal the deal.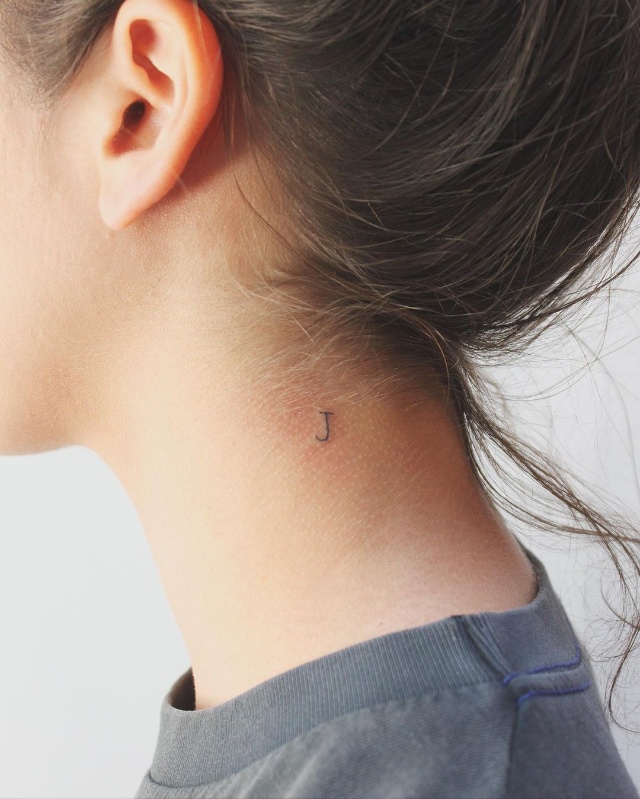 8. Gradient script
There's no better way to remember a carefree mantra than to have it inked on your skin. Add the phrase in a script and consider a cool gradient hue to make your version stand out!
ADVERTISEMENT - CONTINUE READING BELOW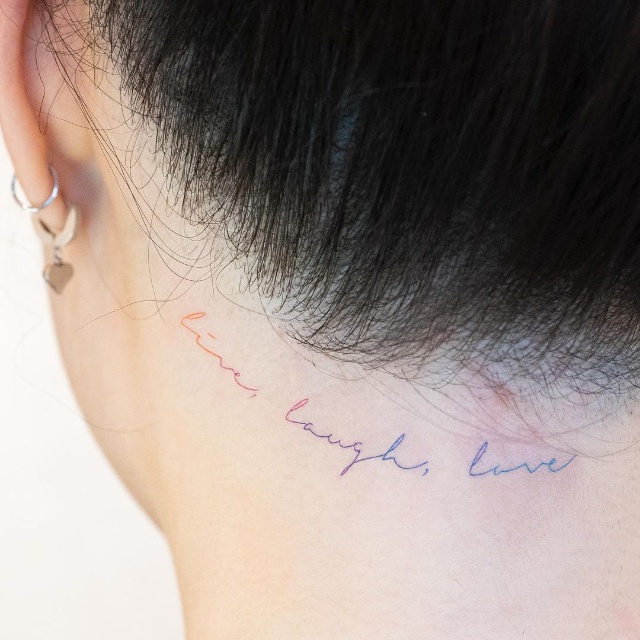 9. Magnolia
The magnolia is one of the earliest flowers to have existed on the planet. Its primitive roots led it to signify endurance, long life, and dignity. What's not to love?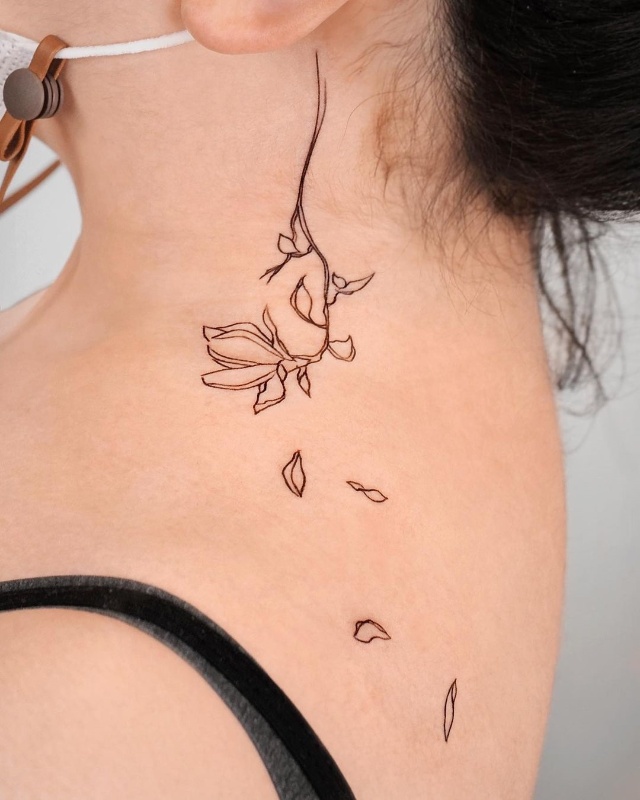 ADVERTISEMENT - CONTINUE READING BELOW
10. Sun
The sun is a popular tattoo style for a reason. It's an eye-catching design that holds a meaningful symbolism for light, strength, and rebirth. If you want your ink to speak volumes, then consider getting this bold tatt on the frontal neck area and let it serve as the crown jewel among your other tattoos!
11. Crawling flowers
Getting a tattoo is a lifetime commitment, so might as well choose a design you won't regret in the long run. And while small or minimalistic inks are your safest options, this doesn't mean large tattoos should be out of the picture entirely. After all, your body is a blank canvas, so don't be afraid to get creative! Just take a look at the beautiful sketch of large flower patterns below and be inspired!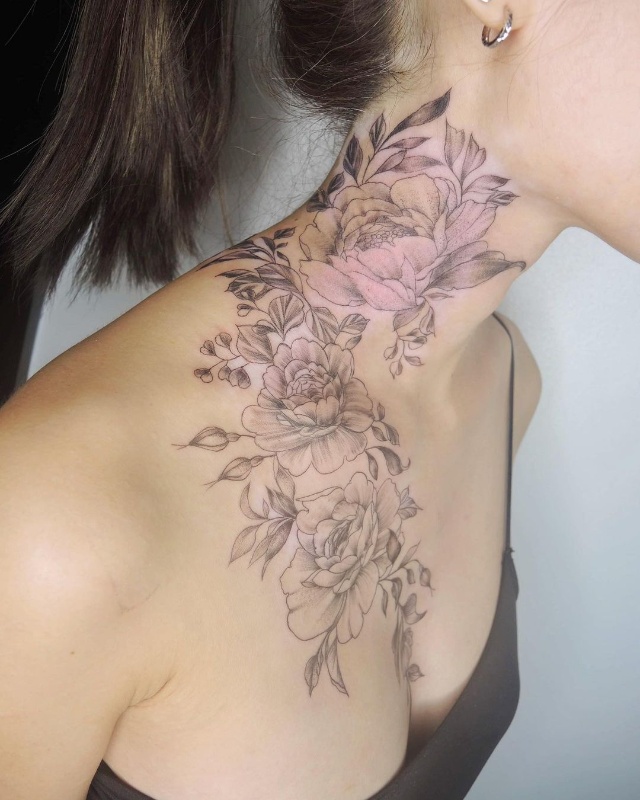 ADVERTISEMENT - CONTINUE READING BELOW
12. Constellation
The celestial bodies are a clear favorite for tattoos. But if you want yours to be low-key, give your own spin to this nape ink that mimicks the placement of the constellation, Orion's belt. Opting for a simple single-colored look can make even the smallest design shine!
}
Hey, Preview readers! Follow us on Facebook, Instagram, YouTube, Tiktok, and Twitter to stay up to speed on all things trendy and creative. We'll curate the most stylish feed for you!