The idea behind celebrities and influencers launching their own beauty products is nothing new. Still, it still came as a surprise to many when Michelle Dy revealed her brand Michelle Dy Basics and released makeup tools such as brushes and sponges rather than lipsticks or eyeshadow palettes (which is usually the case with beauty vloggers lauching namesake labels). That said, we don't know if Michelle does plan to expand her product line to actual makeup in the future, but her brushes almost immediately went viral upon release. Given how it's garnered a mix of positive comments and controversial remarks from the internet, people just couldn't stop posing the big question: "Is Michelle Dy Basics worth it?"
We heard you and we've got the tea. Scroll down to find out how Michelle's brushes fared after we put 'em to the test.
WHAT: Beauty Sensations X Michelle Dy Basics Eye Brush Set (P999) and Duo Makeup Blender (P499)
By: Maura Rodriguez, Associate Social Media Editor
ADVERTISEMENT - CONTINUE READING BELOW
The Eye Brush Set comes with six brushes and one rectangular faux leather makeup organizer. It contains the following: one angled blending brush, a flat concealer brush, a fluffy blending brush, a buff and blend brush, a bullet brush, and an eyebrow brush with spoolie. Meanwhile, the Duo Makeup Blender includes one edgeless makeup sponge and one micro fibre multifunctional makeup sponge (perfect for liquid or powder products).
ADVERTISEMENT - CONTINUE READING BELOW
Recommended Videos
Current condition:
I love putting on eye makeup. I'm a fan of either bright colored lids or a soft brown look with my under eyes a little smokey. I usually wear eyeshadow at least once or twice a week for events or when I want to look a little more dressed up or put together. I don't have a particular brush set that I stick to, but I tend to use my Sonia Kashuk brushes most often since they're natural hairs and pick up and transfer pigment a lot easier. I also love my Estee Lauder blending brush—I could survive with just this one brush whenever I'm traveling, to be honest!
When it comes to applying foundation, I prefer sponges. My skin is super oily and my pores are visible on my nose and on the middle of my cheeks. I feel like sponges press the product in better and blend out even my most full coverage foundation to look like skin.
ADVERTISEMENT - CONTINUE READING BELOW
How I Used It:
To fully utilize the Michelle Dy Basics brush set, I opted to do a full-on smokey eye. But instead of a safe and neutral color story, I went for a red and purple look that's a mix of both matte and glittery shadows. Then for my base, I went with the micro-fiber sponge to apply both my BB cream and finishing powder.
I primed my skin with Pixi by Petra Flawless & Poreless Primer using my fingers before going in with the sponge (which I wet and drained out with a towelette) and my BB cream. I've used a micro fibre sponge before, but what I noticed is that Michelle's doesn't absorb a lot of product, which is great for the airbrushed and blemish-free look. I used the same sponge to apply my setting powder. The sponge applied the power pretty evenly and smoothly.
ADVERTISEMENT - CONTINUE READING BELOW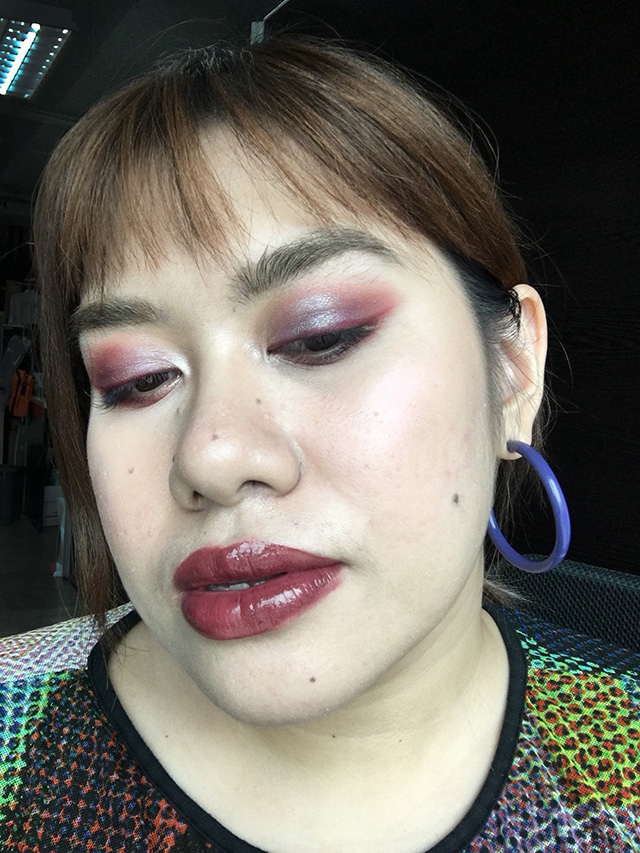 I moved on to my eye makeup while leaving a thick layer of powder under my eyes to sweep away possible shadow fallout later on. I prepped my lids with Zoeva's Matte Eyeshadow Primer before dipping into the Anastasia Beverly Hills Modern Renaissance Eye Shadow Palette. I used the flat concealer brush to stamp on a nudish brown transition shade before blending it all over my lid with the fluffy blending brush. For the red and deep pink shades, I opted for the buff and blend brush. I used my fingers to add some purple tones. To top it off, I used the brow brush as a liner instead and sprayed it with setting spray before dipping into a deep pink shade to create a defined crimson wing. Once I was done with my lids, I swept off the powder on my undereye area so I can smoke out my lower lash line with the bullet brush. Then, I wiped off the excess shadow from the bullet brush before highlighting the inner corners of my eye with a creamy sequin shadow.
ADVERTISEMENT - CONTINUE READING BELOW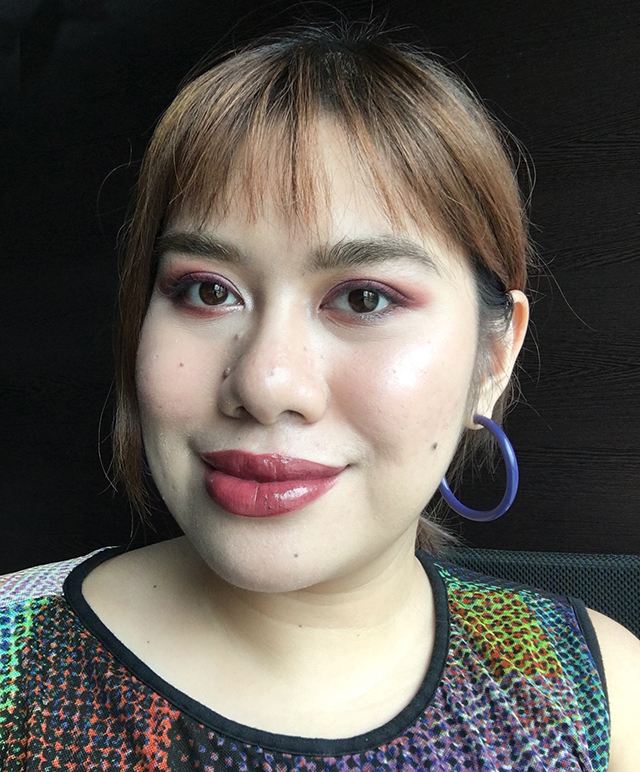 Conclusion:
I deliberately tried Michelle Dy Basics with products I knew worked well for me with the current makeup tools I had. What stood out for me the most were the beauty sponges. They applied my liquid makeup flawlessly and didn't turn out patchy at all. Also, P499 for TWO sponges is such a steal! I also feel like the quality of these blenders are worth more than its price (I own a lot of beauty sponges in the same price range and they're not as impressive as this) and I'll definitely be reaching for them again—especially the microfibre one!
ADVERTISEMENT - CONTINUE READING BELOW
For the Eye Brush Set, I particularly liked the Buff & Blend brush and the Fluffy Blending Brush. They both worked really well with the Anastasia Beverly Hills formula; there wasn't a lot of fallout, too, and the brushes applied the pigment really well and with enough precision. The concealer brush is oddly too stiff for my liking and I would've prefered if she included a dense but semi-fluffy stamping brush instead. I also did not use the Angled Blending brush because I found it unnecessary for the look. In terms of quality, I really like how they applied the eye shadows, and how they feel solid and weighty to touch. The eyebrow brush might be too thick for some girls with less brow hair, but it works great as an eyeliner brush in my opinion.
I'm pretty impressed overall. But I still think the eye brush set is a little bit pricey for P999, although it does perform as good as it promises. I'd probably want each brush name to be printed on the handles, though. It would definitely help a beginner figure out which brush to use for what without looking at the name card inside the packaging.
ADVERTISEMENT - CONTINUE READING BELOW
WHAT: Beauty Sensation x Michelle Dy Face Brush Set (P999)
By: Nicole Arcano, Beauty Assistant
The Face Brush Set comes with five brushes and one rectangular faux leather makeup organizer. Here's the breakdown: one fluffy angled brush, a round foundation brush, a contour brush, a blush brush, and a highlighter brush.
ADVERTISEMENT - CONTINUE READING BELOW
Current Condition:
I'm the type of person who never uses her fingers to apply makeup. I exclusively use brushes for everything, so I'm quite particular with how my tools perform, particularly with my face brushes. I've already invested in a set that I swear by, but I found it interesting that Michelle Dy opted to release a set of brushes for her beauty line instead of actual makeup and wanted to try them myself.
How I Used It:
When I first saw the brush set, I thought it had a nice range of sizes and shapes for the products I usually use. The bristles felt soft to the touch and didn't scratch my skin, while the brush handles had a decent grip.
The first one I used from the set was the rounded foundation brush, which immediately felt flimsier than my usual foundation brush, the Zoeva Silk Finish. The lack of tightly-packed bristles made it quite difficult to effectively stipple products on my skin because the brush would sway as I pressed, but it did buff my foundation and concealer well enough without much streaking. Next, I used the medium-sized tapered brush to set my makeup with loose powder, the smaller version for my highlighter, and then the angled brush for my powder contour. All three had the right amount of fluffiness to them to just lightly sweep on the powders. However, I do think they'd blend products better if they had more bristles. Lastly, I decided to use the thick contour brush with my blush for faster application. It did the job, but I can imagine it working better with cream products because the bristles are so dense.
ADVERTISEMENT - CONTINUE READING BELOW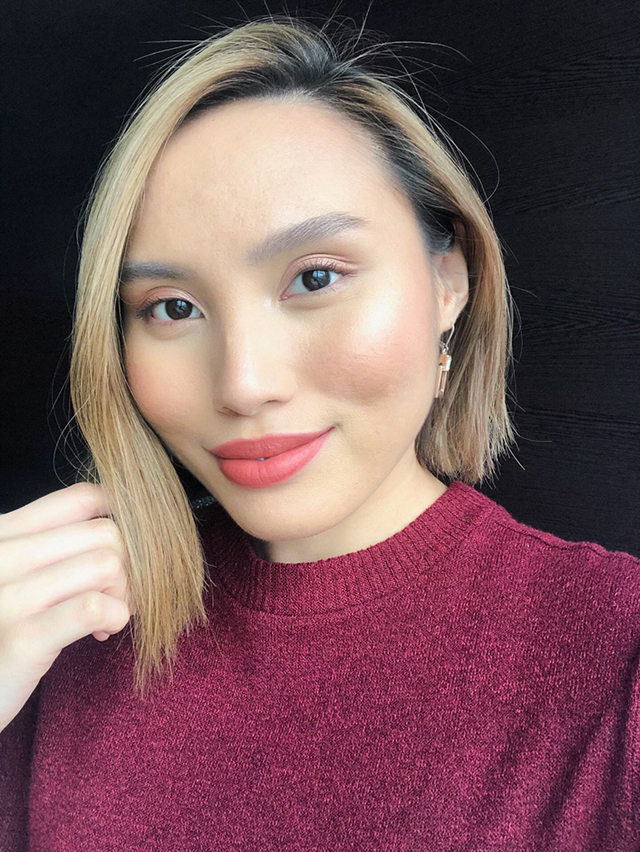 Conclusion:
Overall, all the brushes applied my makeup quite well. I think someone who's just starting out with makeup would love this because it's affordable and has most of the tools you need for a full face. However, I do wish it had a big face powder brush instead of a small one to make things just a little bit easier. It would be helpful to beginners if the brushes were labeled with their function, too. In my case, I still prefer my usual face brushes over these, solely because I already know the kind of tools that work for me. That said, I do consider my experience with this brush set quite positive. It's definitely worth looking into if you want to have a full set of brushes without breaking the bank.
ADVERTISEMENT - CONTINUE READING BELOW
Beauty Sensations x Michelle Dy Basics is available on www.watsons.com.ph.
Related Stories from Preview.ph



Hey, Preview readers! Follow us on Facebook, Instagram, YouTube, Tiktok, and Twitter to stay up to speed on all things trendy and creative. We'll curate the most stylish feed for you!