"Gone are the days when only girls take care of their skin," says stylist JL Crespo—and we couldn't agree more. JL, who runs the Instagram account @guy.skin, is one of those men who are simply unapologetic about their love for beauty. While his feed is definitely worth a follow for the gorgeous product shots, it's his in-depth reviews of both cult-classics and unique finds that keep his audience engaged. It's accounts like his that prove how skincare—or beauty in general—knows no gender.
That said, you might be wondering: What exactly does a skincare savvy guy's routine look like? Below, JL talks to Preview about his K-drama-induced beauty curiosity, his current skincare routine, and his must-follow Instagram accounts.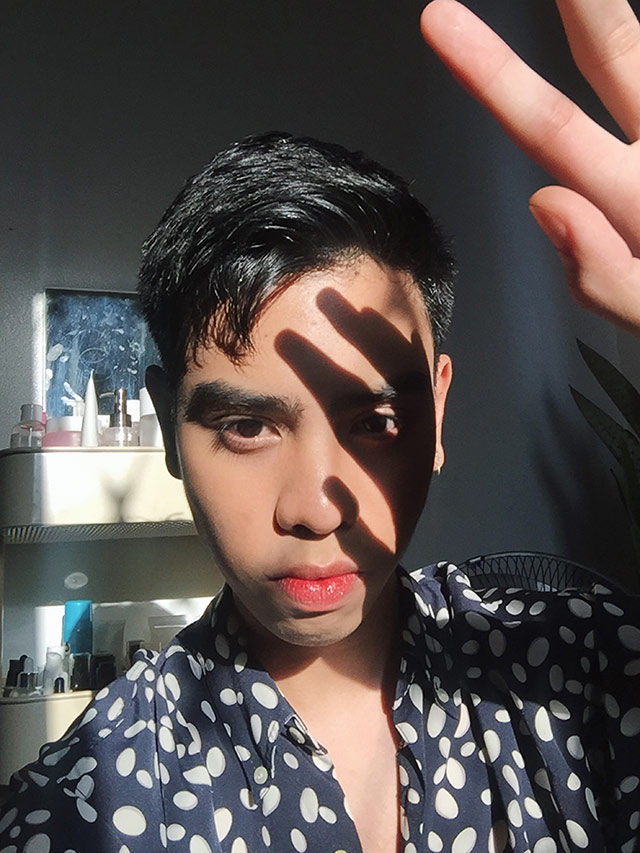 Hi JL! Have you always been into beauty? When and how did you get into skincare?
"Skincare and beauty have always been something at the back of my mind that I was interested in. It started when I was around 15 or 16 and obsessed with K-pop and K-dramas. Seeing all these Korean celebrities with almost perfect skin had me wondering how that was possible.
ADVERTISEMENT - CONTINUE READING BELOW
"At that age, I couldn't really afford to buy what I wanted so I only used what my mom was using. Fast forward to when I was 18 and already had a job, I could already buy some of the stuff that I wanted but I didn't really know what worked for me, so I was just getting random stuff without knowing what they did. It wasn't until the end of 2017 when I really started doing my research and learning more about skincare."
Why did you decide to start your skincare Instagram @guy.skin?
"As a freelance fashion stylist, I have a lot of time on my hands. There will be days where my week would be full and other days where I literally have nothing to do. When the latter happens, my anxiety kicks in, making me feel like I'm not doing anything with my life, so I figured why not do something about that? It was the beginning of 2018 when I finally decided to make an outlet where I can share my passion and love for all things skincare and that's where @guy.skin was born (which was previously @allthings.skin)."
You seem to have a huge product collection. How do you usually shop for skincare and where do you find your underrated picks?
"Before I started making content, I mostly bought skincare products online from websites like Althea and Style Korean. Although now that I blog, I do receive quite a number of PR gifts from brands, hence why I don't buy as much anymore. Whenever I do though, I mostly just get what I need at the moment. I try not to hoard as much anymore since I tend to have a lot of open products to test out. I've also been trying to lessen my carbon footprint even with just the little stuff so I'm trying to make a conscious effort [to buy less].
"For my underrated picks, there are a lot of indie brands online from all parts of the world that not a lot of people know about so for me, it's mostly just Instagram where I discover them."
ADVERTISEMENT - CONTINUE READING BELOW
How do you store your products?
"I have a shelf where I put new products that I just received so I can keep track of what I need to try and review and then I also have a trolley where all of my opened products are so nothing special, although skincare mini fridges are very in nowadays! I don't own one yet but I've had my eye on it for a while, products like vitamin C and masks just to name a few are better stored chilled to prolong their use and to keep them as fresh."
Can you walk us through your current skincare routine?
"In the morning, unless my skin feels oily or I used a chemical exfoliator the night before, I don't use a cleanser anymore—I just wash my face with cold water and proceed with my routine. It consists of the Dear Klairs Supple Preparation Unscented Toner (P1150, Watsons) to balance my skin, Hanskin Real Complexion Hyaluron Skin Essence for moisture, Drunk Elephant C-Firma Day Serum (P4175, Sephora.ph) for brightening and targeting my dark spots, Ole Henriksen Banana Bright Eye Creme and C-Rush Brightening Gel Creme, and then the most important part—Dear Klairs UV Soft Airy Essence (P1200, Althea) as my SPF.
"At night I use the Then I Met You Cleansing Duo to make sure that the gunk that accumulated on my face throughout the day is washed off—join the double cleansing train if you haven't yet! I also make sure to drink water in between doing my routine to stay hydrated. When I'm feeling extra, I'll use a wash-off mask like The Fresh Umbrian Clay Purifying Mask (P1464, Sephora.ph)or Farmacy Honey Potion Renewing Antioxidant Hydration Mask (P2330, Sephora.ph), depending on what my skin needs. If I see some texture I'll use the Purito ABP Triple Synergy Liquid, the only chemical exfoliator that has worked for me so far. Followed by the same routine but maybe with an additional serum or two and then wrap it off with Drunk Elephant's Virgin Marula Oil (P2360, Sephora.ph) and then last but not the least for my perpetually dry lips, the Laneige Lip Sleeping Mask (P950, SM Makati)."
That said, if 90% of your collection were to disappear tomorrow and you can only keep five products, what would you keep?
"Basing on what my skin needs right now it would have to be my Then I Met You Cleansing Duo (Living Cleansing Balm and Soothing Tea Cleansing Gel), Youth To The People Adaptogen Deep Moisture Cream, Dear Klairs Soft Airy UV Essence, and Aesop Seed Lip Cream."
ADVERTISEMENT - CONTINUE READING BELOW
What kind of skincare advice can you give to guys who are just starting out or are a bit hesitant to delve into products?
"Gone are the days when only girls take care of their skin, don't be afraid to break the norm and just dew it—as simple as that."
Aside from improving your skin, in what ways has skincare (or beauty in general) helped you?
"As a person with insecurities, skincare, and beauty in general helped me a lot with boosting my confidence. When I look good, I feel better, and so taking care of my skin makes me feel like I'm taking care of my self overall."
If you were to recommend five beauty Instagram accounts to follow, what would they be?
"Being in the skincare community on Instagram for more than a year already, I've met and engaged with so many wonderful people all around the globe who are such amazing creators so there is so many I could mention but if I could only choose five, they would be @lobo.indigo, @overglowedit, @sortofobsessed, @christina.kassi, and @dirtyboysgetclean."
*This interview has been condensed for clarity.
Related Stories from Preview.ph
Hey, Preview readers! Follow us on Facebook, Instagram, YouTube, Tiktok, and Twitter to stay up to speed on all things trendy and creative. We'll curate the most stylish feed for you!