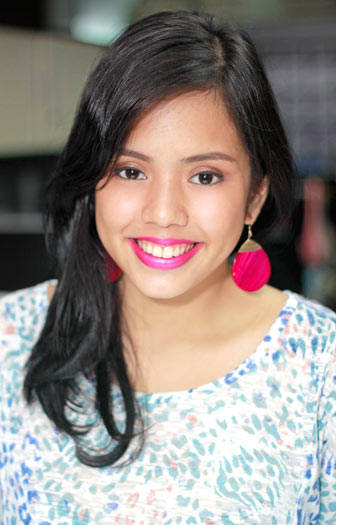 DAY 1—SUMMER BRIGHTS
"I usually wear red lipstick, but I've been feeling pretty 'summer' lately, so I've been mixing in some of my fuchsias, corals, and oranges. The lipstick I used was MAC Show Orchid, which is a lovely violet-fuchsia with a touch of shimmer. I accompanied Happy Lopez (our fashion editor) to one of her shoots that day, and John Pagaduan from Shu Uemura did my eye makeup for fun during the downtime.
ADVERTISEMENT - CONTINUE READING BELOW
Insider Tip: "If you're cursed with an overbite like me, lipstick on your teeth is probably a common problem. I like to rub a little petroleum jelly on the front of my teeth to keep the lipstick from sticking. (It also makes it easier to lick it off with your tongue if some of it gets stuck anyway.)"
Click here to view the products you need to cop the look.