Just a few days ago, our country was given the honor of hosting the Miss Universe 2016 pageant. While we may not have taken home the crown this year, all the contestants definitely took home a piece of the Philippines back to their home countries. They were able to tour Baguio, Cebu, and Vigan, and even wore gowns by a long list of local designers. What's more, they received a bag of goodies from MAC Cosmetics Philippines, along with the pleasure of sitting in the makeup chair of the beauty brand's talented artists.
And since we're all curious about what went on backstage, we asked MAC artists Emer Buenaventura, Apple Faraon, Ria Aquino, and Mikee Raymundo to tell us about their Miss Universe stints. Below, they reveal what it's really like to glam up the most beautiful women in the universe!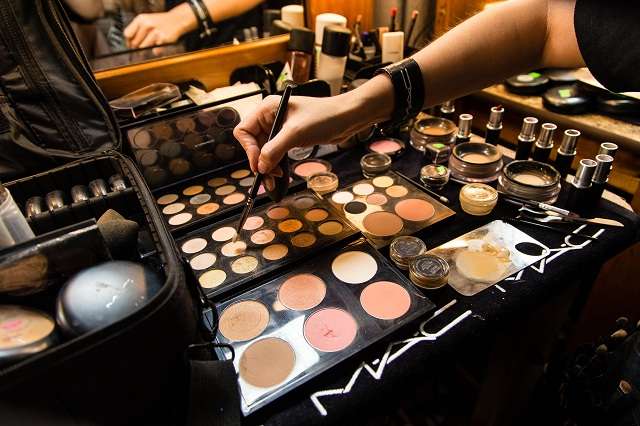 IMAGE MAC Cosmetics
A MAC makeup artist's set-up for the candidates
Could you describe what it was like from backstage?
EMER BUENAVENTURA: "It was organized chaos. It was organized because the traffic of the girls was not as bad as I expected. It was chaotic as well because we were pressed with time and other girls were doing both hair and makeup at the same time."
APPLE FARAON: "Relaxed, actually! However, during the day itself, we felt the pressure. They were all scrambling to get the artist they wanted or they were rushing to dress up or to get their hair done as well. But overall, it was fun and a great experience!"
RIA AQUINO: "The backstage scene was very fast. Time goes by very fast. There was a lot of energy. It was very lively backstage even during prep time people were dancing and singing backstage."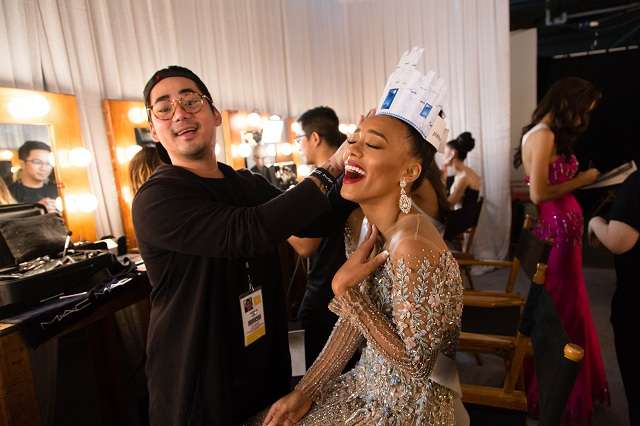 IMAGE MAC Cosmetics
MAC Artist Kusie Ho and Miss Brazil Raissa Santana showing us what a crowning moment looks like
ADVERTISEMENT - CONTINUE READING BELOW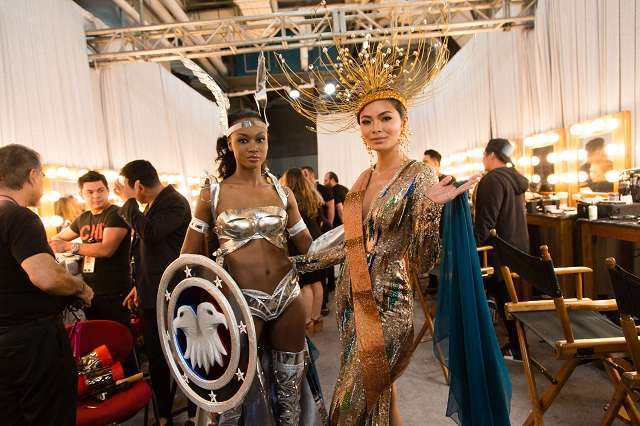 IMAGE MAC Cosmetics
Miss USA Deshauna Barber and Miss Philippines Maxine Medina pose together in their national costumes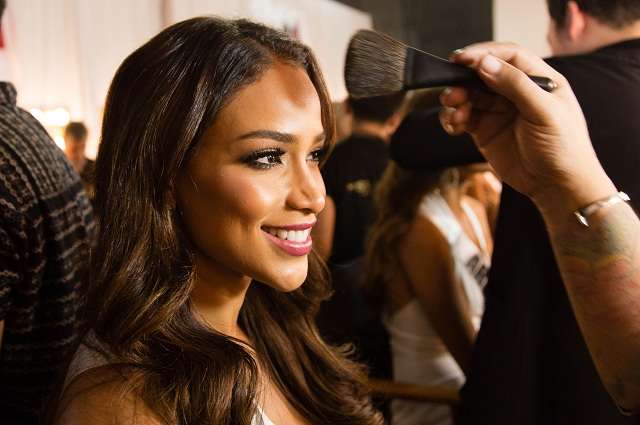 IMAGE MAC Cosmetics
Miss Colombia Andrea Tovar
IMAGE MAC Cosmetics
Miss Thailand Chalia Suansane poses for a photo in her evening gown
How was it working with the candidates?
RIA: "All the girls were very easy to work with and are very appreciative and very sweet. The girls really know what they want. They also value our input and they would come to us and ask if we like their ideas."
IMAGE MAC Cosmetics
The "organized chaos" backstage at Miss Universe
EMER: "It was really fun! It was an honor, especially Miss Haiti, one of the girls I did, was first runner up. Most of the girls I did in the previous days looked for me during the finals, so I was very flattered by it."
APPLE: "It was great to talk to these candidates. Sadly, we could not get to know as much as wanted because that will prolong the makeup process and we were already pressured with time. In addition, it was good that the girls already knew what they wanted for themselves so it was easier to enhance their features."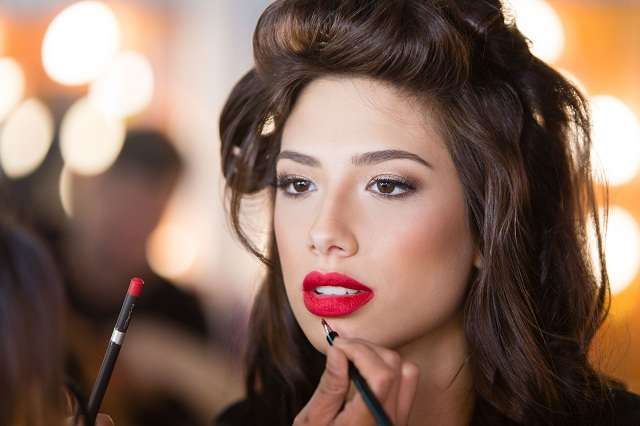 IMAGE MAC Cosmetics
Miss Uruguay Magdalena Cohendent wearing MAC's classic red lip, Ruby Woo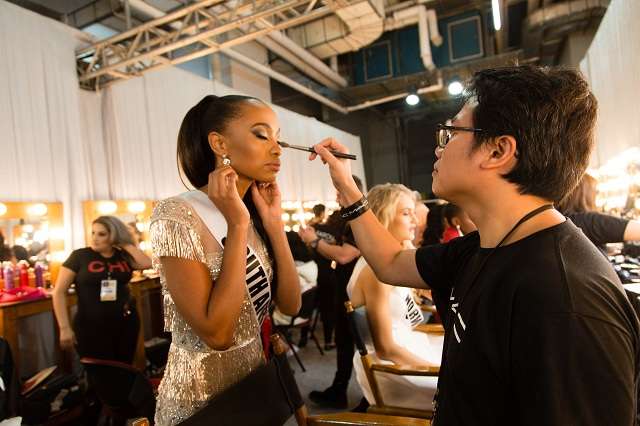 IMAGE MAC Cosmetics
Miss South Africa Ntandoyenkosi Kunene
IMAGE MAC Cosmetics
Miss Iceland Hildur Maria takes a selfie with MAC Artist Kusie Ho
Do you have a favorite look? Which candidate?
RIA: "I really liked Miss Japan's [look]. She always had one look every time I did her makeup. She is very consistent. We would use double layers of lashes, nice contour and highlights and then very minimal blush. Brows were defined but with a natural look."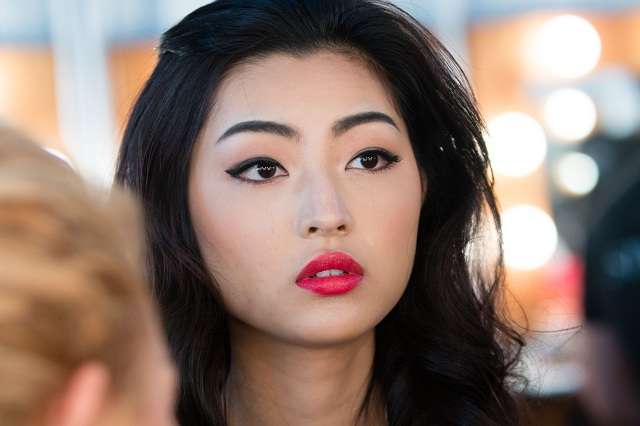 IMAGE MAC Cosmetics
Miss Japan Sari Nakazawa by MAC Artist Ria Aquino
ADVERTISEMENT - CONTINUE READING BELOW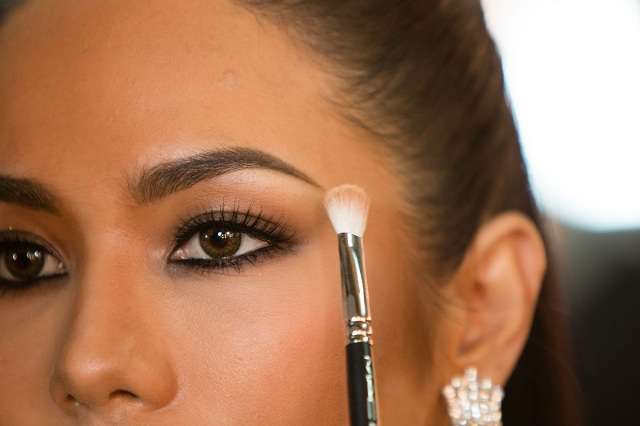 IMAGE MAC Cosmetics
Miss Thailand Chalita Suansane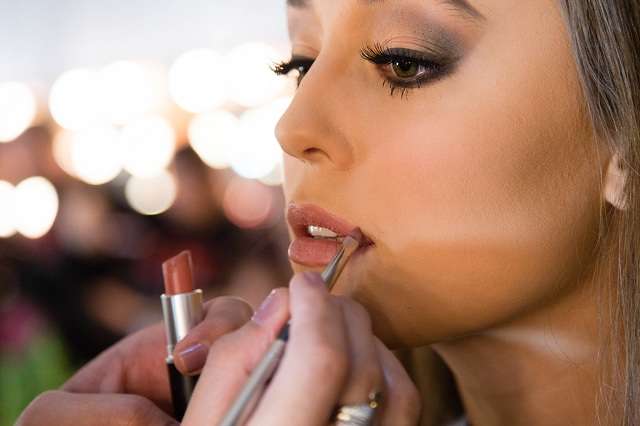 IMAGE MAC Cosmetics
Miss Poland Izabella Krzan wearing a perfectly sculpted nude lip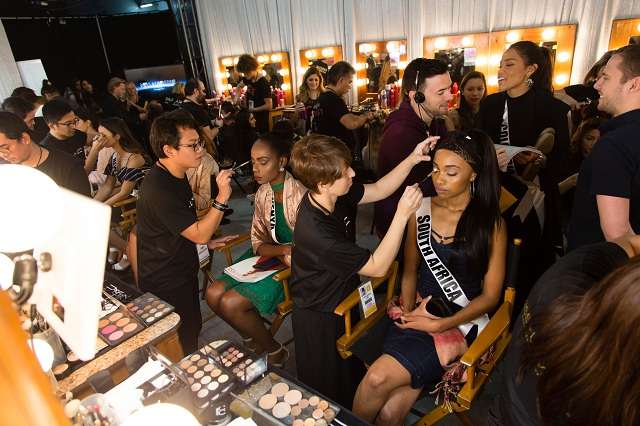 IMAGE MAC Cosmetics
Backstage before rehearsals
What were some of your favorite moments?
MIKEE RAYMUNDO: "I guess I have top three favorite moments. I was given the chance to doll up humble and kind beauty queens. I was also given the chance to do the President of Miss Universe Organization Paula Shuggart's makeup, and of course, I was assigned to do the makeup refresh for Miss Universe 2015 Pia Wurtzbach."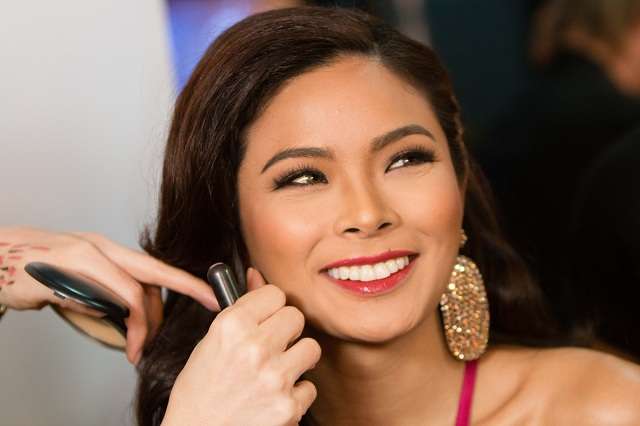 IMAGE MAC Cosmetics
Miss Philippines Maxine Medina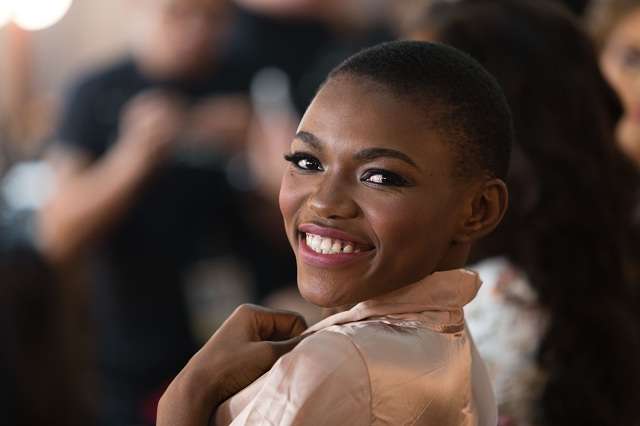 IMAGE MAC Cosmetics
Miss Sierra Leone Hawa Kamara
EMER: "Well, the announcement of the winners was one of my favorites since Miss Haiti was one of the last two candidates, and I was supportive of her because I did her makeup! Also, the prepping of the girls and doing their makeup even as early as 3am was exciting."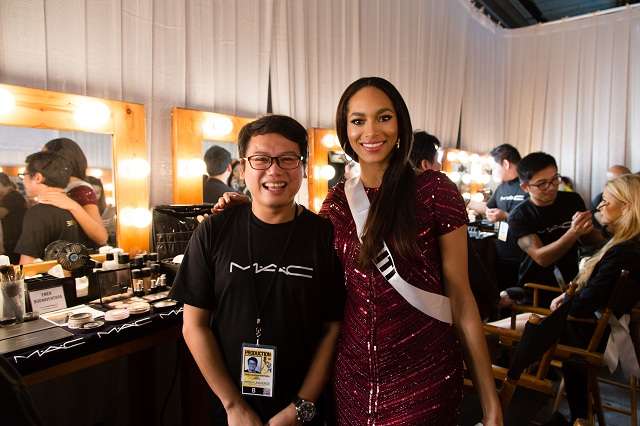 IMAGE MAC Cosmetics
MAC Artist Emer Buenaventura with Miss Haiti Raquel Pelissier
IMAGE MAC Cosmetics
The MAC Cosmetics Philippines team for Miss Universe 2016
APPLE: "I think all of it was my favorite! The overall experience! It was all part of the package–the stress, the laughter, the excitement. It was definitely an experience to remember."