What makes you pause when you're scanning the shelves at the supermarket, trying to figure out which product will make it to your shower shelf? Apart from how a formula makes your hair and skin look and feel, it's nice when they tick other concerns off our mental lists, like the impact of of our beauty choices on the environment.
Unilever Philippines has taken a big step in the direction of sustainability with their newest brand Love Beauty and Planet. This range of hair and body care products have a two-fold purpose: to give both your body and the environment a whole lot of love. It will officially be available online at Lazada, BeautyMNL, Zalora, Beauty Bubble, Shopee, and Watsons Online on January 21 and in select drugstores and departments stores starting February 1. So here are a few points that might make you think of opting for Love Beauty and Planet the next time you replenish your bath goods.
ADVERTISEMENT - CONTINUE READING BELOW
Naturally-derived ingredients are the star components.
Nourishing argan oil, tea tree oil, or murumuru butter have been combined with fragrances from rose and sustainably-sourced lavender and vetiver in each of the three available lines. The company's goal is that by 2020, every natural component in the product should come from a certified sustainable source.
Reducing the amount of water used when you bathe.
Thanks to an innovation Unilever calls fast-rinse technology, the conditioners break down into smaller molecules when wet in order to wash off quicker, and keep you from staying longer under the shower.
The bottles are not just recycled, they're easily recyclable, too.
If you've observed that the plastic of the packaging is more greyish than crystal clear, that's because it's made from 100% recycled plastic. According to Marlo Mangilin, director for personal care, research and development of Unilever Philippines, Australia, and New Zealand, the design was made with recycling in mind. The opaque black caps are easy to unscrew for reuse or recycling (because most recycling companies separate these from clear plastics). And while the labels are humidity resistant for the bath, they are easy enough to peel without leaving residue on the bottle, which is a necessary step when recycling plastic containers.
CONTINUE READING BELOW
Recommended Videos
Prepared for proper disposal.
As an initial step to closing the loop, Unilever Philippines has teamed up with Linis Ganda whose Eco-Aides are tasked with recovering recyclable plastics from the city's waste, so that these can be sold as inexpensive raw materials to industries like hard plastic producers and packaging manufacturers. "We are also looking for companies that can do the recycling locally," adds Apples Aberin, head of public relations for Unilever. In it's website, the global brand also goes more in-depth about plans and steps it has taken to reduce its carbon footprint.
It's vegan and cruelty-free.
Certified by PETA and Vegan Action, Love Beauty and Planet products are an easy choice for those of you who are consciously switching your beauty regimen in that direction.
Related Stories from Preview.ph
It won't break the bank.
In the beauty realm, words like sustainable, natural, and eco-friendly often come with a hefty price tag, but with prices that range from P290 to P390 for 400mL bottles make it less expensive to make that conscious choice.
ADVERTISEMENT - CONTINUE READING BELOW
The Preview editors review Love Beauty and Planet.
Of course, at the end of the day, the effect on your tresses and skin could trump everything else. We've reviewed the three variants to see if these products can really address your needs.
ADVERTISEMENT - CONTINUE READING BELOW
LOVE BEAUTY AND PLANET Radical Refresher with Tea Tree Oil and Vetiver Aroma conditioner, P390; shampoo, P390; and body wash, P290; leading supermarkets
Who Reviewed It: Isha, Editor-in-Chief
What It Is: This gently cleanses, conditions, and nourishes as it purifies your scalp, hair, and skin
Current Condition: I've worn my naturally wavy hair short for sometime now, which requires more diligent styling everyday. I've also refrained from chemical texture and color treatments for over a decade now. Like the skin on my face, my scalp gets oily at the end of the day, so it's imperative I wash it daily or risk hair fall (true story!). As for the skin on my body, it tends to dry easily so I do like gentle nourishing formulas.
How I Used It: I shower twice a day and usually wash my hair on both occasions: after I work out in the morning, and to clean out my styling products at night. To test the effects of the shampoo and conditioner, I tried wearing my hair air-dried and sans product one day, and used it to wash off three layers of styling products—I use hair oil, gel, and hairspray to achieve a slicked back wet look—on another night.
ADVERTISEMENT - CONTINUE READING BELOW
Results: On the day I went styling product free, my hair was soft with its natural wavy texture surfacing in a very wearable way. Meanwhile, I found that the shampoo managed to wash out all the layers of wet look products, leaving my hair with a nice clean and moisturized feeling after conditioning. As for the body wash, it didn't lather into fluffy foam, which I actually prefer, but the consistency spread easily and evenly over my skin.
Conclusion: I really appreciate how my hair and scalp don't feel stripped of moisture, even if I give it a full scrub down twice a day. What delighted me was how my hair still looked good (not fluffy or frizzy) even without me having to blow-dry or use styling products. It gave me wash and wear hair, quite literally. The vetiver scent of the product trio really makes me look forward to taking a shower, the earthy aroma is very therapeutic and calming. I would love a lotion for this line to be made available so I can really layer the fragrance on my skin.
ADVERTISEMENT - CONTINUE READING BELOW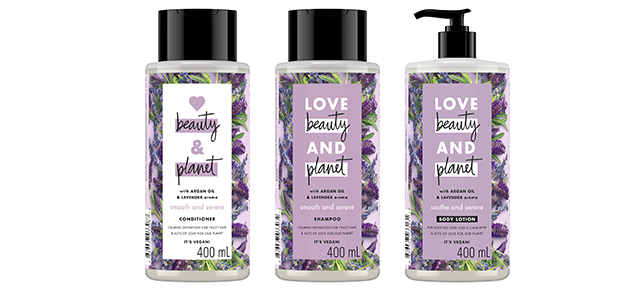 LOVE BEAUTY AND PLANET Smooth and Serene with Argan Oil and Lavender Aroma conditioner, P390; shampoo, P390, and body lotion P390; leading supermarkets

Who Reviewed It: Nicole, Beauty Assistant
What It Is: Relax is the key word for this line as Moroccan argan oil and French lavender work to smooth frizzy hair and refresh skin
ADVERTISEMENT - CONTINUE READING BELOW
Current Condition: I struggle with frizz and a dry scalp, so I tend to use gentle and hydrating shampoos that won't aggravate those issues even if I wash my hair daily. I'm particular with my hair products' scent, too, and prefer it to linger a little after I shower. Unlike my face, the skin on my body is terribly dry. I always hydrate it with thick creams, because if I don't, I easily develop dry patches. I'm also quite sensitive to scented body products, so I limit my use of fragranced body products.
How I Used It: To put the products to the test, I used them in the same way I would my normal shampoo and conditioner. I used both daily, focusing the shampoo mainly on my scalp and the conditioner on my ends.
Results: The shampoo lathers incredibly well as expected and was easy to rinse off, but unlike many high-lather ones that I've tried, it didn't leave my hair feeling so squeaky clean that it dried it out. It actually achieved that perfect in between of cleansed and hydrated—presumably the work of the argan oil. Meanwhile, the conditioner has a thicker consistency than what I'm used to, so I used a very small amount to help detangle my hair without weighing it down. It worked, because brushing my hair out was a breeze and oddly enough, it didn't get frizzy throughout the day. As for the scent, I fortunately adore the scent of lavender. However, I appreciate that it wasn't overpowering. It did, however, linger on my hair for the rest of the day, which is always a plus.
ADVERTISEMENT - CONTINUE READING BELOW
For the body lotion, one full pump was enough for my entire upper body, and the same for the the other half. The consistency is quite similar to my usual body creams, although this absorbs really fast. It doesn't make my skin feel tacky at all. Also, even though I love the lavender scent, I find that it doesn't stay on my skin and disappears once the lotion absorbs. That said, I don't mind it because it moisturizes but also lets my perfume's scent shine.
Conclusion: I think the shampoo and conditioner do live up to their claims. My frizzy strands and dry scalp have been faring well since I started using the combo daily. I kid you not, my usual frizz rate has gone down to the point where I don't have to apply hair oil or leave-in conditioner in the middle of the day. My scalp hasn't reacted negatively either—no itchy spiels and additional flakiness. As for the lotion, my skin didn't react negatively to the scent, which I loved, and it moisturized my skin without being too heavy for our humid weather. Overall, I think I'll continue using the shampoo and conditioner. It's not every day that I encounter a hair combo that's affordable, effective, and sustainable at the same time, so I really appreciate that.
ADVERTISEMENT - CONTINUE READING BELOW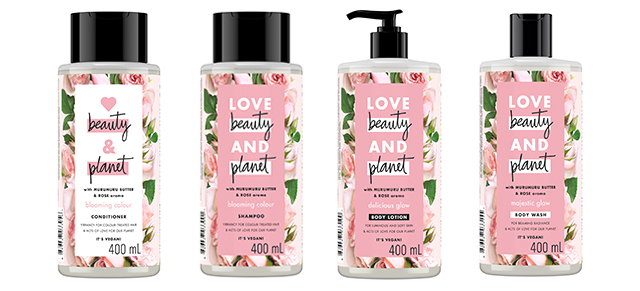 LOVE BEAUTY AND PLANET Blooming Colour with Murmur Butter and Rose Aroma conditioner, P390; shampoo, P390; Delicious Glow body lotion, P390; and Majestic Glow body wash, P290; leading supermarkets

Who Reviewed It: Maura, Associate Social Media Editor
What It Is: The shampoo and conditioner have been formulated to give color-treated hair nourishment and shine, while the body wash and lotion keep skin supple.
ADVERTISEMENT - CONTINUE READING BELOW
Current Condition: I currently sport a layered blue ombré with my roots in my natural hair color. My hair has been bleached twice to get this effect. I normally shampoo after two days to preserve the color and keep my scalp well-moisturized. I only use sulfate- and silicon-free shampoos to keep my hair looking and feeling healthy and prevent breakage, excessive dryness, and frizziness.
How I Used It: I normally do a quick shampoo as to not agitate the color and then heavily condition after. Right after applying, I could say that the shampoo smelled heavenly! It has a sweet rose scent that's not too overpowering. But since the shampoo contains a little bit of sulfate in the form of sodium laureate sulfates, my hair color bled a lot more than usual. This is normal however when you've dyed your hair a crazy color and is washed with any kind of shampoo with sulfates in the ingredients. Yet my hair still felt super soft and not coarse or dry right after rinsing. I proceeded to condition and let it sit for about 5-10 minutes as I tried the Blooming Body Wash. The lather's scent filled up my shower and stayed even after I left the shower. Murumuru butter, the line's main ingredient, is said to be a powerful moisturizer—and it definitely is. My skin felt so soft and smooth. But to finish off the Blooming Murumuru Butter and Rose line, I also tried its lotion. Admittedly, applying lotion in our humid weather is tricky. But the Blooming Body Lotion has a non-sticky formula that's definitely comfortable to wear all day.
ADVERTISEMENT - CONTINUE READING BELOW
Results: The shampoo and conditioner left my hair smelling great (thanks to the Bulgarian Rose oil!) and relatively easy to comb. My tresses also dried sans frizz—tame and straight! Really rare when you have hair as chemically treated and colored as mine. The body wash and lotion are also a power combo if you want to skip the cologne or perfume on days where you're in a hurry. The scent lasts the whole day and not just while you're bathing.
Conclusion: My faves would definitely be the body wash and lotion. I love how the floral scent and the effect of the Murumuru butter on my skin, leaving it supple and smooth. The conditioner also did wonders for my hair by keeping it manageable even in the following days. I want to love the shampoo just as bad but I'm hoping they create a sulfate-free variant. That would be the perfect product!
ADVERTISEMENT - CONTINUE READING BELOW
Related Stories from Preview.ph
Hey, Preview readers! Follow us on Facebook, Instagram, YouTube, Tiktok, and Twitter to stay up to speed on all things trendy and creative. We'll curate the most stylish feed for you!