Tattoos with clean and crisp outlines are sure hit for individuals who love a minimalist spin to their designs. If you're someone who isn't a big fan of colors and heavy shading, then a fine line tattoo may just be for you, too!
Here's a cardinal rule to everyone before getting inked: do your research! The process of getting regular tattoos may seem the same to fine line inks, but there are actually subtle differences when it comes to both styles. If you're looking for pointers, you're in the right place! Ahead, professional tattoo artist Ally Campollo of Al Campo Tattoo answers six frequently-asked questions about fine line tattoos:
Everything You Need to Know About Line Tattoos
What is a fine line tattoo?
According to Ally, line inks are characterized by clean shapes and lines. Usually, it strays away from bold shading and coloring. On the more technical side, fine line tattoos make use of either a single needle or three-round liners (three combined needles) as inking tools to create precise and delicate designs.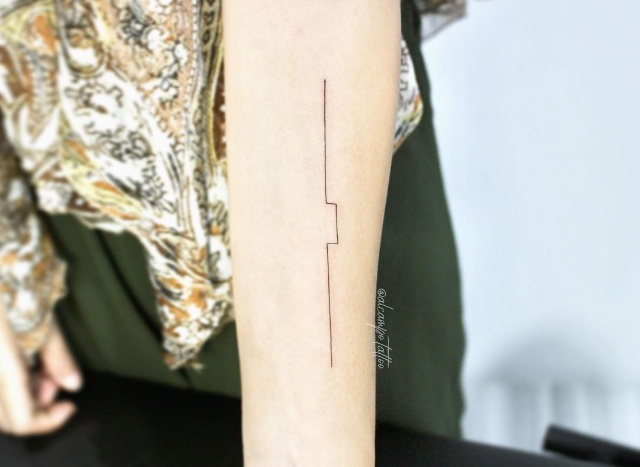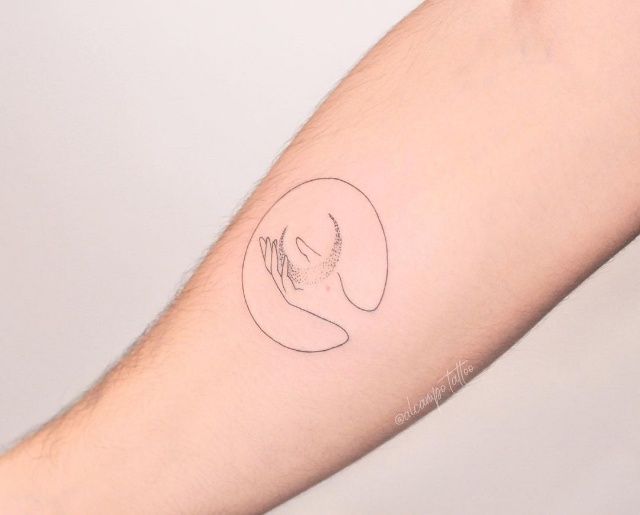 ADVERTISEMENT - CONTINUE READING BELOW
Do line tattoos fade faster?
The fading of the tattoo depends heavily on the subject's skin and the tattoo method used. Its healing process also affect the way our body accepts and rejects the ink in different manners. Placement also plays a role in how fast a tattoo dulls as there are areas in the body that are prone to fading faster such as the fingers and elbows.
Ally explains that a single-lined needle is generally harder to control compared to three-round liners since it's prone to blowouts. When you deepen the needle into the skin, its ink will lightly scatter around the edges. However, if you don't penetrate it deep enough, then the ink will just fade. Even if you pierce the needle at the optimal skin layer, fading is still inevitable due to the small amount of ink that gushes through the skin surface. That's the reason why line tattoos dull faster than your regular, heavy-inked tatts.
That said, don't fret because there are actually ways to prolong the ink of fine line tattoos! Just like for other tatts, avoid sun exposure and retouch when needed. "Another thing you can consider is going a little thicker," says Ally. Essentially, the thicker or heavier the line is, the longer the ink stays on the skin.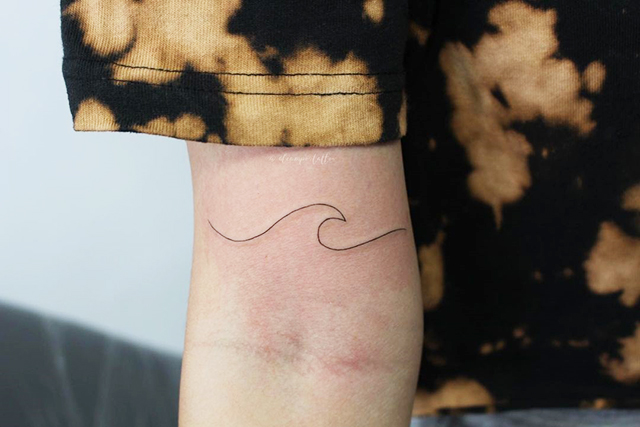 ADVERTISEMENT - CONTINUE READING BELOW
How long does a fine line tattoo take to heal?
"It heals the same like any other tattoos, sometimes faster," answers the tattoo artist. But ultimately, it depends on how big the tattoo is. On average, it takes around two to four weeks to fully recover.
If you're on the scabbing stage during your second week of healing, Ally advises, "Avoid sun exposure while it's healing. You have to avoid any activities that can make you sweat, such as working out (for two weeks). While it's healing, it gets super itchy, so scratching and picking the scarred area should be avoided. I highly suggest applying a small amount of any mild or unscented lotion on the tattooed area [to prevent further irritation]."
What are pre-existing medical conditions or skin types that are not recommended for a line tattoo?
The expert says that tattoos in general are not advisable for people with diabetes. You can't get tattooed on surfaces on the skin with acne and open scars, too. However, Ally clarifies that getting inked over a keloid is totally safe. "It's okay to tattoo over a keloid. A keloid is a scar. Just make sure it's fully healed," she notes.
ADVERTISEMENT - CONTINUE READING BELOW
Is getting a line tattoo less painful?
The pain depends on the person's tolerance, according to Ally. "A lot of people will say that it is actually more painful, and I agree with it. But, I've handled clients that say shading hurts more compared to lining, so I guess it's really different for everybody."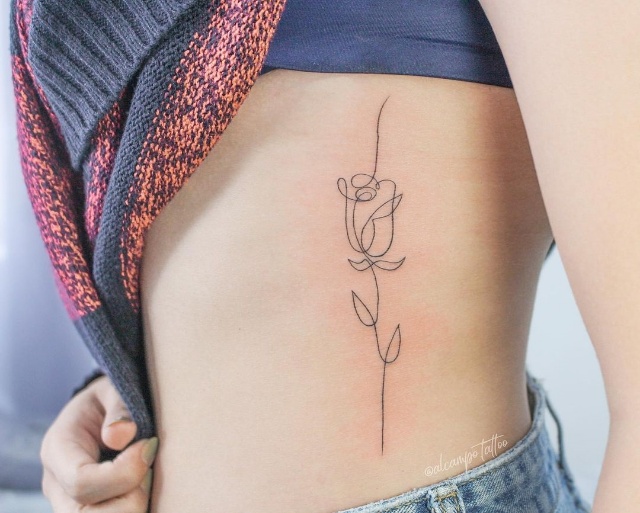 ADVERTISEMENT - CONTINUE READING BELOW
How does the pricing go for line tattoos?
"I price relatively low compared to other tattoo shops. I want my art to be accessible to a lot of people, but at the same time give quality. The simpler it [the design] is, the cheaper it [cost] is. My starting price is 900 [pesos], usually for small pieces around 1x1- 2x2 sizes," Ally says. She also mentions that designs that involve shadings can cost more since it requires more time and effort.
What are your tips for someone getting a fine line tattoo for the first time?
"Research about fine line tattoos [and] how long they last. They should already know it's not going to be as crisp when it heals. Those pictures [from Pinterest and Korean-based tattoo parlors] are fresh tattoos, so they look really good. They don't know that the lines blur and fade a little when it's healed," Ally emphasizes.
ADVERTISEMENT - CONTINUE READING BELOW
Second, "Find an artist that will best suit your style. Check out the artist's work or portfolio if they do fine line tattoos." Lastly, "Ask for before-and-after photos. I actually have one in my [Instagram] story highlights under 'healed tattoos' so clients know what to expect."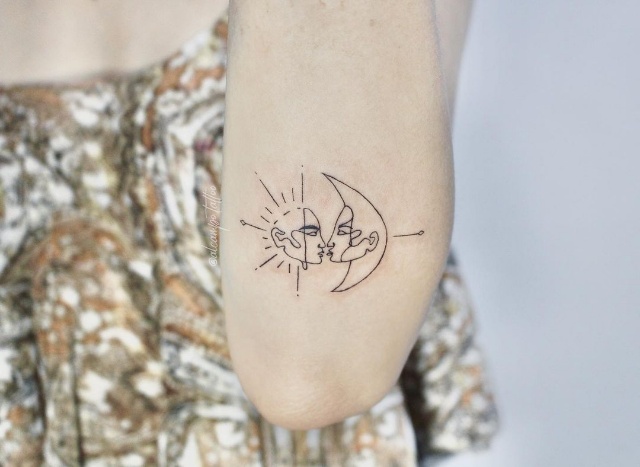 ADVERTISEMENT - CONTINUE READING BELOW
To know more about Al Campo Tattoo, visit Ally's Instagram.
Related Stories from Preview.ph
Hey, Preview readers! Follow us on Facebook, Instagram, YouTube, Tiktok, and Twitter to stay up to speed on all things trendy and creative. We'll curate the most stylish feed for you!