Dark spots and dullness—they can be caused by acne scarring or spending too much time in the sun without the proper protection. Or, in my case, they're the most conspicuous signs that my skin is starting to age, and that I am not invulnerable to the ravages of time nor the environment. Those, along with tiny crisscrossed lines on the surface of my skin, and the slight drooping at the sides of my mouth.
While I am so close to seeking out the spot-diminishing powers of a laser treatment, I am also holding on to my hopes that topical remedies can still help minimize, if not eradicate, the spots that have appeared on my face almost overnight, like small islands that pop up on a map come low tide, but don't seem to disappear even when washed over with excessive amounts of water.
My regimen now involves a brightening soap, exfoliating masks, a spot reducer, and moisturizer with SPF. Asked if I wanted to road-test an illuminating serum, I jumped at the chance. That was exactly what I needed to complete my anti-pigmentation arsenal.
ADVERTISEMENT - CONTINUE READING BELOW
What it is
La Prairie's White Caviar Illuminating Pearl Infusion Serum (P34,500, Rustan's Makati)—it's quite a mouthful. But if you take each word on its own, you know you're in good hands. Caviar. Illuminate. Pearls. Serum. Sounds quite promising. Plus it's by luxury skincare brand La Prairie. A no-brainer.
CONTINUE READING BELOW
Recommended Videos
The science behind this serum is quite hi-tech and innovative, involving a trifecta of chromatic light barriers that work together to fade the appearance of dark spots, diminish redness, and shield skin from skin-dulling pollution. These three light barriers are combined with a rare golden caviar extract, a signature ingredient in La Prairie's White Caviar range that helps firm up the skin and increase its elasticity. There's also something called lumidose in the mix, a patented molecule that inhibits the production of melanin (that's the culprit behind those pesky spots and discolorations). All in all, the serum promises to bring an even-toned luminosity to your complexion, while defying the pull of gravity on your cheeks, jawline and undereye area.
For optimal results, La Prairie suggests pairing the serum with the White Caviar Crème Extraordinaire (P43,900, Rustan's Makati), an intensive moisturizing cream that contributes to reducing the appearance of of age spots, and helps refine the skin's texture.
ADVERTISEMENT - CONTINUE READING BELOW
Current Skin Condition
I am in my last year of my 30s, and it seems like all these skin-aging symptoms only started appearing within the last two years. And I am starting to slightly panic. I have started counting dark spots instead of sheep—or Instagram likes—to fall asleep, and I have taken to doing face yoga during random times of the day—don't call me out if you see me doing weird things to my mouth while driving or walking down the grocery aisle.
The dark spots are especially disheartening. For the longest time, there was this one spot on the tip of my nose, another high up on my right cheekbone and a faint smattering on my left one. Now, there's an entire constellation on my face, but extinguished of light.
It doesn't help that my skin was exposed to varying conditions over the last few months—dry winter air, harsh tropical sun, intense desert heat. The skin on my face hasn't peeled this much since I was a silly teenager defiant to the protective benefits of moisturizer and sunscreen.
ADVERTISEMENT - CONTINUE READING BELOW
In short, my face was a dry, peeling, spot-flecked mess.
How I used it
First thing I made sure of when I was given a product to sample, was that these La Prairie White Caviar products were all retinol-compatible. (I had started on a retinol treatment a couple of months prior and was applying the anti-aging cream on my face twice a week.) I was assured that they were.
I would use the product at night, patting the serum onto a clean face before following it up with the cream. The consistency is extremely lightweight as with the cream, and both blend easily into my skin. Both the serum and cream do its job soon after application, removing all dry patches and leaving an iridescent glow on my face.
Conclusion
After three weeks of use, I notice that there is a healthy, lit-from-within glow on my face, as if there was a soft focus filter on my skin. I'm not the only one who noticed. An old friend, who never thought to comment on my skin before, asked why my skin looked so good.
ADVERTISEMENT - CONTINUE READING BELOW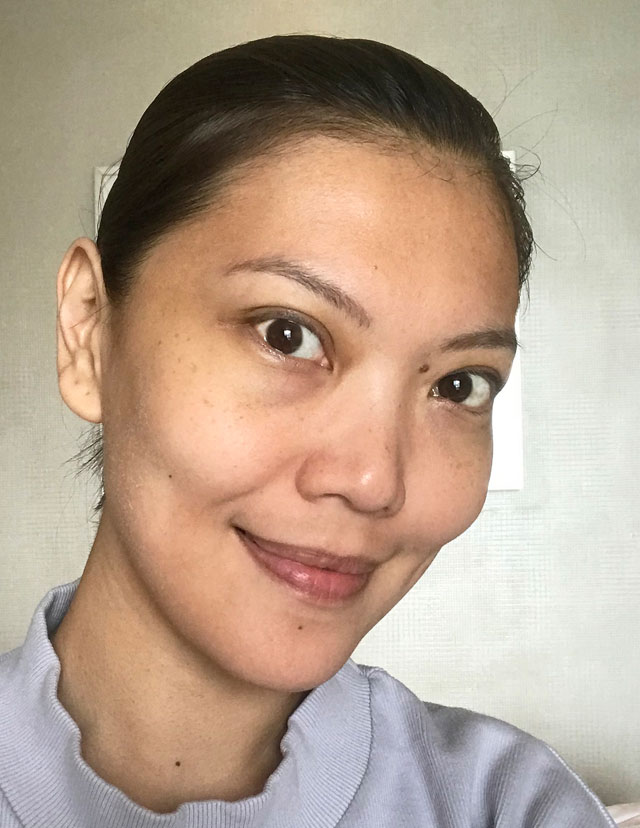 Before and after: After three weeks of using the product, the smattering of dark spots across my cheeks appear to have faded ever-so-slightly, and my complexion has an overall brighter glow.
ADVERTISEMENT - CONTINUE READING BELOW
The dark spots are still there but a few have started to fade (you'd know if you stare at my face as much as I do). I was told that I would start seeing results within three weeks so I am hopeful that, with constant use, the spots will likely diminish over time. I am impressed with the skin-flattering qualities of La Prairie's White Caviar range, as much as its ability to hydrate the skin. It's obvious that this illuminating, anti-aging range is not messing around.
One day under the sun can reverse all of the skin-brightening work that I've done, so I am now more careful to slather on SPF when I'm at the beach or walking in the heat. Sometimes, I even wear a hat, one of those wide-brimmed ones that designate me as an Asian tourist (horrors!).
I have come to terms with the fact that I'm at that time in my life where age is not just merely a number, that its relevance can be accounted for by the number of blemishes on your face. Yes, aging can be humbling, but, as I've learned, dark spots won't have to be your downfall.

The La Prairie White Caviar Illuminating Pearl Infusion Serum and White Caviar Crème Extraordinaire are available at Rustan's Department Stores in Makati, Shangri-La Plaza, Alabang Town Center, and Ayala Center Cebu
ADVERTISEMENT - CONTINUE READING BELOW
Related Stories from Preview.ph
Hey, Preview readers! Follow us on Facebook, Instagram, YouTube, Tiktok, and Twitter to stay up to speed on all things trendy and creative. We'll curate the most stylish feed for you!