The beauty community is no stranger to drama, but it usually doesn't result in a YouTuber losing over two million subscribers. And yet, that's exactly what has happened to James Charles, a 19 year-old influencer who was once named Covergirl's first male ambassador. Last weekend, James' fellow vlogger and long-time friend Tati Westbrook uploaded a video that "exposed" many of the former's faults. Some of Tati's allegations include James taking a sponsorship from her brand's competitor, predatory behavior, and badmouthing other influencers. To find out exactly what happened, keep reading!
What happened between Tati Westbrook and James Charles?
Before Tati uploaded her video exposé about James, she posted a series of videos on her Instagram stories about how she's having a rough day. At one point, she said, "That's the bad part of Hollywood. Welcome to showbusiness. Everybody says what they need to say and use who they need to use to get ahead and I have had about enough."
ADVERTISEMENT - CONTINUE READING BELOW
While she did not mention any names or explain the reason behind the videos, many assumed that it was because she felt betrayed by her close friend James Charles taking a sponsorship from vitamin brand Sugar Bear Hair. For those who aren't aware, Sugarbear Hair is a direct competitor of Halo Beauty—Tati's own brand of skin and hair vitamins.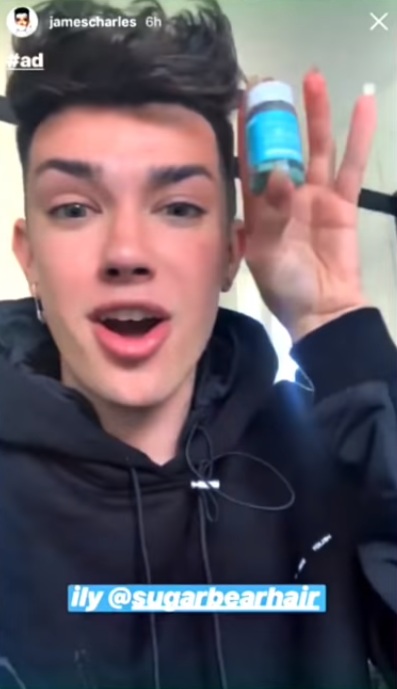 ADVERTISEMENT - CONTINUE READING BELOW
Recommended Videos
James posted an apology directly addressing Tati on his Stories after. "I want to publicly apologize to my close friend Tati," he writes. "She has been like a mother to me since my first days in this industry and has given me more love, support, resources and advice than I could ever ask for." He explains that he posted about the Sugar Bear Hair as a thank you for helping him with security during Coachella and claims he didn't accept money for the post.
What did Tati say in her "Bye Sister" video?
Despite this apology, Tati eventually uploaded a video titled BYE SISTER on May 10, which recounts the several reasons why she decided to cut ties with James. Sister, by the way, is what James calls his fans.
In the 43-minute video, the vlogger expressed that she felt disappointed in James for promoting Sugar Bear Hair not because it was her brand's competitor. It was because he allegedly once told Tati that he wasn't comfortable promoting vitamins like Halo Beauty's to his young audience, but somehow agreed to this sponsorship. This explains why he has never mentioned Tati's brand on his channel.
ADVERTISEMENT - CONTINUE READING BELOW
Tati also mentioned how much she and her husband James Westbrook have helped James since the beginning of his career. Aside from promoting him on her channel through collaborations, she claims they've helped the teen influencer secure contracts amounting to millions of dollars. However, she says she has never asked for anything in return and that their relationship was "not transactional." In fact, James did Tati's makeup for her wedding.
ADVERTISEMENT - CONTINUE READING BELOW
Tati then alleged James of having sexually predatory behavior. She claims the latter talks openly about his interest in pursuing straight men and using his celebrity status and money to his advantage. Condemning the act, Tati said in, "Cracking someone's sexuality is not an escape room," alluding to James' love of escape rooms.
ADVERTISEMENT - CONTINUE READING BELOW
What happened after Tati uploaded the video?
A day after Tati's video was uploaded, James responded with one on his channel. He did not directly address any of the issues she mentioned in her video, but made a general apology instead. James said, "A lot of the time when I've had to address things in the past, I've acted out of impulse and I've gone off and tried to pull receipts or facts or screenshots and play the victim and I'm not doing that today, I'm not. That is all I have to say, I'm sorry."
Since uploading the video, James Charles' subscriber count on YouTube has decreased from more than 16 million to 13 million. Tati's, on the other hand, increased from five million to almost 10 million as of writing.
Several celebrities have also been confirmed to unfollow James on social media. According to a report from Cosmopolitan, this includes all the Kardashian-Jenners, Demi Lovato, Ariana Grande, and Shawn Mendes. Fellow YouTube celebrities and friends Shane Dawson, Emma Chamberlain, Ethan and Grayson Dolan, and Jeffree Star are also no longer following the influencer.
ADVERTISEMENT - CONTINUE READING BELOW
Jeffree Star, who has done several collaborations with James in the past, went on Twitter to congratulate Tati on her rising subscriber count. Many assume that he is also not friends with James anymore.
As of writing, neither Tati nor James have posted anything on social media since posting their videos.
ADVERTISEMENT - CONTINUE READING BELOW
Related Stories from Preview.ph
Hey, Preview readers! Follow us on Facebook, Instagram, YouTube, Tiktok, and Twitter to stay up to speed on all things trendy and creative. We'll curate the most stylish feed for you!