My parents and I were having our usual family dinner; a variant of dim sum and noodles with a side of awkward conversation. I wanted to talk about my thesis but they wanted to talk about all the temptation that surrounded me—basically everything that I didn't want to discuss. I got the whole conservative Christian parenting package that night. It ended with my dad saying, "Maybe you started smoking to fit in with your elitist friends," complete with his hawk eyes and snarky tone. I dismissed that snappy statement of his and continued to slurp on my Chicken Mami.
It has been months since and I never really took what he said seriously—I was too busy with my noodle soup—but remembering my dad's posh associations of it got me thinking, is smoking still even that fashionable?
ADVERTISEMENT - CONTINUE READING BELOW
Georgina Wilson in Preview September 2011
I'm not sure who it was that first tattooed the taboo on my mind but I'm guessing it was Diana Vreeland puffing up in her red room or maybe it was Holly Golightly with her long stemmed filter. But then there was also Carrie Bradshaw with her Marlboro Lights and Cosmopolitan. More recently, who could forget everyone at the Pitti Uomo men's shows, hanging out and snapped by Tommy Ton with their filtered cigs of choice? What I'm saying is, we have been surrounded by images of fashionphiles smoking and looking fabulous while they puff away.
Recall the times that smoking was considered an everyday luxury, like your designer perfume or Starbucks coffee (but much better than that, just saying). It was impossibly elegant; a ritual that called for cigarette girls, stemmed filters, smoking slippers and a Le Smoking Jacket by Yves Saint Laurent, an androgynously sleek tuxedo jacket that made the new wave of vigorous women look impeccably dressed while they smoked their designer cigarettes. Believe it or not, luxury labels like YSL and Cartier did jump into the tobacco bandwagon, debuting their own branded nicotine sticks, but it was Virginia Slims (narrow svelte cigarettes produced by Phillip Morris that created a female smoking market in the '60s) that captured the hearts of stylish women who fashionably smoked. And if you were anything close to this lucrative class you wouldn't be caught dead smoking anything other than their favorite filtered Virginia Slims. (We're looking at you, Heart Evangelista-Escudero.)
CONTINUE READING BELOW
Recommended Videos
But now, could it be, we've entered an age where it's now frowned upon? A nostalgic detail that made people of the pre carcinogenic-panic age look stylish, and smokers of the dawn of organic everything seem like walkers from "The Walking Dead"?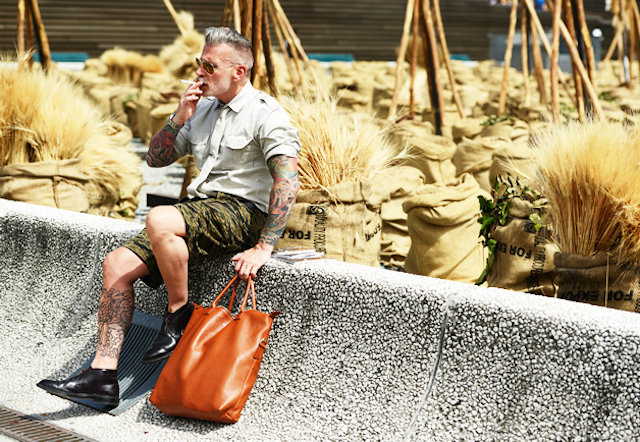 Street style at Pitti Uomo photographed by Tommy Ton via GQ.com
ADVERTISEMENT - CONTINUE READING BELOW
True, there are still Hermès ashtrays and designer cigs from YSL and Pierre Cardin in the market. But read the glossies and it's a different story. Like Anna Wintour inaugurating André Leon Talley into health, many have traded their filtered slims for Alexander Wang x H&M active wear. Luxury has taken a new identity as Style.com waved out a new law. In "Looking Like Money: How Wellness Became the New Luxury Status Symbol," they declared: "For a growing percentage of individuals with high discretionary income, wellness has become an important part of the luxury lifestyle."
Is smoking the new luxury? The answer is no. Quitting is. As glamorous as it is, smoking has seen its end. Many would rather run, swim or do whichever trendy exercise they enrolled in than puff on their favorite cigarettes. I on the other hand am slowly trading in Diana Vreeland—I still love you DV—for my Yoga instructor. Style.com, Anna Wintour and my dad's words struck me, wait no, my own conscience did. I would rather live luxuriously in wellness than look posh smoking a stick that's slowly inching in on my health.
ADVERTISEMENT - CONTINUE READING BELOW
Hey, Preview readers! Follow us on Facebook, Instagram, YouTube, Tiktok, and Twitter to stay up to speed on all things trendy and creative. We'll curate the most stylish feed for you!