Don't let the number of products mislead you. Recently, I've become somewhat of a makeup minimalist, only really concerned about filling in my unfortunately sparse eyebrows. But since decency and my job dictate that I try harder, I line my eyes, too—begrudgingly since I'm really very lazy and mostly because I don't want to be surprised that I look so sleepy when I catch my reflection midday, or caught off-guard with "You look so innocent" comments from co-workers. While I'm at it, I slap on some blush, too, before laziness gets the best of me. Lippies are reserved for events and when I know I won't be eating a lot (which is rare), and foundation when I'm feeling especially diligent.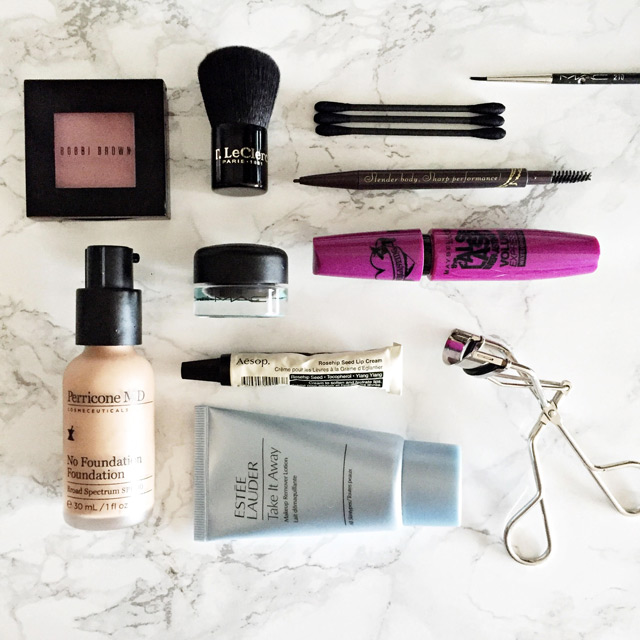 What's in my makeup kit:
1. Bobbi Brown Blush in Desert Pink
Many, many years ago, I used a L'Oréal powder blush in a similar shade, but it was discontinued. I picked up this blush in Singapore with some Takashimaya coupons.
2. Perricone MD No Foundation Foundation in Medium
I truly despise foundation—it almost always feels like a mask on my face. I find it suffocating, and it invariably makes my skin look worse from up close. But when I heard that skin care brand Perricone came out with a makeup line, I was intrigued. I tried it in Rustan's out of sheer curiosity, and found that the formulation sinks into the skin, leaving sufficient coverage with the barest texture. I use this sparingly around my nose and cheeks when I'm looking particularly red.
3. T. LeClerc Brush
I like small brushes.
4. Aesop Rosehip Seed Lip Cream
I don't generally buy a lot of makeup and skin care products, but when I like a brand, I tend to hoard it. Aesop's one of them. I first tried on their hand cream on a flight around six years ago. I've since been obsessed with their products, from moisturizers to shampoos to hand sanitizers. I've even asked my boyfriend to carry Aesop hand wash in his restaurant. I kinda hate that it's all over now, though—don't we all enjoy using that one cult brand that not everyone knows about? I simultaneously welcome and dread the day someone brings the brand to Manila.
ADVERTISEMENT - CONTINUE READING BELOW
5. MAC Fluidline in Blacktrack
I can't be bothered with liquid eyeliner pens, though they're technically easier to use? I found a winner in this heavily pigmented pot—some meticulous swipes in the morning last me all day. I love the matte finish, too.
6. MAC 210 Eyeliner Brush
The fine tip really gets into those hard-to-fill-in nooks between lashes.
Expert tip: Start at the middle of the lash line and work your way around, creating a little flick at the outer corner of the eye and tracing a cat-eye outline that you'll then fill in. I've never used that trick that requires a solid plane against which to trace the wing since it's way too much effort. All it really takes is a steady hand and makeup remover when you need to troubleshoot. And don't forget to tightline—to fill in your waterline—to create a fuller, seamless, cleaner look.
7. Estée Lauder Take It Away Makeup Remover Lotion
Because my eyes aren't deep-set, my lids always have unsightly traces of mascara after application, regardless of how carefully I put it on. This removes unwanted smears quickly.
8. Cotton swabs
For precise mascara removal.
9. Integrate by Shiseido Eyebrow Pencil in GY941
I've tried way too many eyebrow products, from pencils to liquid formulations to gels and creams and powders, from random department store finds to big-name brands such as Chanel and Shu Uemura and the cult Dipbrow Pomade by Anastasia. On a recent trip to Japan, I hoarded eyebrow pencils from the airport pharmacy—visiting drugstores is a must whenever I travel—and was pleasantly surprised by what I found. This particular pencil's color is good and it's long-wearing to boot.
10. Maybelline Volum' Express The False Lash Everlasting 24 Waterproof Mascara
Another Tokyo drugstore find. I think Maybelline makes the best mascaras in the world.
11. Shu Uemura Eyelash Curler
Old standard. A few years back when I cared more, I'd heat it with my hairdryer for a few secs to really curl my lashes. Now, I just put on falsies whenever the occasion requires. I love falsies, but that's another story.
ADVERTISEMENT - CONTINUE READING BELOW
Hey, Preview readers! Follow us on Facebook, Instagram, YouTube, Tiktok, and Twitter to stay up to speed on all things trendy and creative. We'll curate the most stylish feed for you!