In the '70s it was your star sign; now it seems the quirk getting the most buzz has more to do with genetics than planetary alignment.

Blood type personalities have been getting much attention, especially in Asian countries like Japan and Korea, where they're as ubiquitous as zodiac signs: women's magazines, dating services, celeb profiles and even mineral water commercials exploit the public's growing obsession with blood typology.


THE 411

Some health practitioners as well have zeroed in on blood type and blood type nutrition to aid in weight loss and wellness. The theory, which started in the 1950s with the publication of several scientific works on the subject, says that blood types affect how one's body breaks down food and how they make it susceptible to certain diseases if ignored.

Some remain skeptical, of course, but as in-demand Health and Fitness Life Coach Josephine So says, "I spoke to a few dietician friends about the blood type diet and they were suspicious in the beginning. But after following it for a few months, it had quite positive results for them. What I noticed was that most criticisms on the blood type nutrition sounded a lot like those towards the Atkins diet, where experts say that it wasn't backed up by scientific research. To this day, research and fine-tuning is being done on blood type nutrition, an ongoing process you don't see in everyday 'fad' diets."

Coach Jo explains the "science" behind it as well: "It asserts that lectins (Ed's note: protein substances that cause blood and tissue to stick to one another—and yes, this is a bad thing) from the foods we eat, can cause disruptions in our blood stream and be the source of diseases."

Although our immune systems naturally protect against 95% of lectins, the remaining 5% depends on whether your blood type is compatible or reactive to these lectins. Eliminating foods with these particular proteins; for example poultry lectins from a Type B diet, helps with energy, digestion and total well-being.

A lot of the logic behind it apparently may be gleaned from looking at our furry friends, too. "Instinctively, our animal ancestors knew what food was needed for them to survive in the demographics they lived in, and which ones maximized their life span. The big cats like lions and tigers are meat eaters; you wouldn't see them feeding on carbs! On the other hand, other animals are vegetarian and won't eat meat.

We've evolved to the point that we've lost touch with our instincts towards our eating habits. Animals also have a very low risk of heart disease, and if they don't die from predators, it's from natural causes like old age," Coach Jo says.

THE PROS

And the best part? "Losing weight on a diet that is correct for a person's blood type is easier than if the diet is more appropriate for another blood type. You'll still have to exercise and eat the right number of calories, but the correct blood type diet will provide more nutrition and more energy to support these."

Following the safe and harmless nutrition scheme is a great option for those who've failed with other trendier diets, or those that simply want a gentle overhaul on their eating habits. Usually within 7-10 days, followers have seen significant improvements in digestion and energy; nothing is set in stone, too, so experimenting is also recommended to see how much of a certain "forbidden food," like ice cream for Type Os, you can tolerate without feeling funny (a tip is to eat the food on an empty stomach to gauge your reaction).

For the most part it helps people get to know their bodies better, and eventually, make positive changes to their diets as a whole. The most awesome part is that you can decide for yourself how intense you want the diet to go, and for something that can't hurt, why not? It gives a new meaning to "life-force," indeed.

Click on for Coach Jo's tips per blood type.

—Eunice Lucero, Beauty Editor


Josephine So is a Health and Fitness Life Coach keen on precision training and promoting harmonization with the mind and body. Experienced in coaching professionals, police personnel and athletes in periodization, she has gone from training her clients, to maximizing their potential with an understanding of their internal health and controlling exertions. You can reach her at josephineso2003@yahoo.com.
CONTINUE READING BELOW
Recommended Videos
ADVERTISEMENT - CONTINUE READING BELOW
Hey, Preview readers! Follow us on Facebook, Instagram, YouTube, Tiktok, and Twitter to stay up to speed on all things trendy and creative. We'll curate the most stylish feed for you!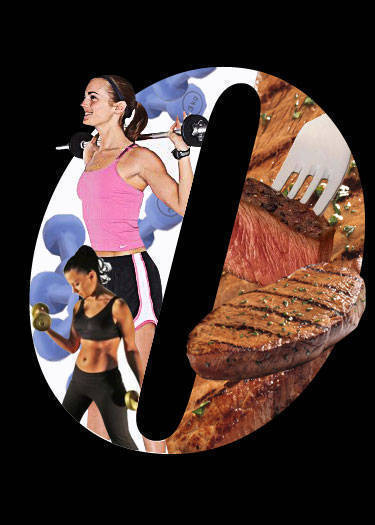 Hey, Preview readers! Follow us on Facebook, Instagram, YouTube, Tiktok, and Twitter to stay up to speed on all things trendy and creative. We'll curate the most stylish feed for you!