To our surprise, the new wellness trend celebs are currently loving has little to do with food and exercise. It actually involves one of the most basic health tricks in the world—drinking water. But don't worry, this isn't another article about lemon water or drinking a gallon each day. Celebrities and health buffs are still hydrating themselves in normal, achievable amounts. The difference, though? They are charging their water with hydrogen, which apparently works wonders for our health.
So what is hydrogen water exactly? Keep scrolling to find out!
What is hydrogen water?
If water is already two parts hydrogen, you might be wondering: what's the difference? Preview interviewed biochemist, Darren Diaz, to find out. Apparently, water becomes hydrogen water if hydrogen gas is dissolved into it at high pressure. It can also be created by dissolving magnesium metal in water, producing magnesium hydroxide and hydrogen. But basically, hydrogen water is water charged with more hydrogen molecules.
ADVERTISEMENT - CONTINUE READING BELOW
What are its potential health benefits?
"Given that molecular hydrogen really plays an important role in different cellular activities, it is of vital importance for the human body to function well," says Darren. "Considering its size, it has a potential to move rapidly between tissues and cells without significantly affecting metabolic redox reactions and cell signalling mechanisms."
When infused with water, this definitely shows. In a study conducted in cancer patients receiving radiotherapy, drinking hydrogen water was reported to reduce their biological reaction to radiation and improve their quality of life. Meanwhile, another study claims that consuming hydrogen-rich water could help prevent and treat metabolic syndrome. Other studies have shown its ability to protect the body from free radicals and reduce inflammation.
Having said this, Darren adds that more research needs to be done to prove hydrogen-rich water's specific health benefits and to take drastic claims with a grain of salt.
Who should be drinking it?
Research shows that drinking hydrogen-rich water helps reduce inflammation in the body and helps with recovery after strenuous activities. It's mostly being recommended to athletes that they drink it instead of regular water when training. But since it's been generally deemed non-toxic, hydrogen-rich water is safe to be consumed by anyone.
How safe it is exactly?
So far, no studies have claimed hydrogen-rich water as toxic. No overdoses either! That said, what matters more is how and where you get yours.
Hydrogen water bottles are by far the easiest way to get your fix, as they have a built-in mechanism that "charges" the liquid with more hydrogen. As no global standard for producing these bottles exist yet, Darren reminds us to simply check if the bottle you purchased has undergone fair scrutiny from accredited government agencies such as the FDA.
Where can we get it?
ADVERTISEMENT - CONTINUE READING BELOW
Currently, Belo Medical Group and Aivee Clinic have their own hydrogen water bottles. Both contain titanium plates that are safe and highly-efficient in hydrogen production, and they're rechargeable as well, so you can take them with you on-the-go.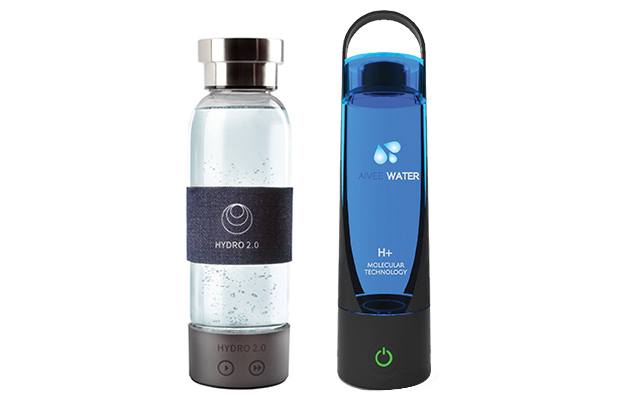 IMAGE Belo Medical Group, Aivee Clinic
BELO Hydro 2.0, P5500, all Belo Clinics; AIVEE CLINIC Aivee Water, P15,000, Aivee Clinic
From what we've found out, hydrogen water could be the new lemon water if more of its benefits are uncovered. Not to mention that it does make hydration a little less boring.
Would you try hydrogen water? Let us know below!
Related Stories from Preview.ph
Hey, Preview readers! Follow us on Facebook, Instagram, YouTube, Tiktok, and Twitter to stay up to speed on all things trendy and creative. We'll curate the most stylish feed for you!