Newsflash: Sunscreen is the most important step in your skincare routine. So whenever you're feeling tempted to skip sunscreen, just don't. In fact, not only should you be applying sunscreen every day (even indoors), but you should also be reapplying it every two hours for maximum protection.
FYI, applying one layer of sunscreen simply isn't enough. Here's why!
Why One Layer of Sunscreen Isn't Enough to Protect Your Skin
When it comes to sunscreen, the general rule of thumb (or finger in this case) is to apply two full fingers of sunscreen for the face and neck. But how about for the rest of your body?
Studies have shown that most sunscreen users are often inadequately protected from harmful UV rays because they only apply one layer of sunscreen. In the study, 31 participants were asked to apply sunscreen two consecutive times. They found that after a single application of sunscreen, participants missed about 20% of their body area. After applying the second layer of sunscreen only 9% of their body surface wasn't covered by sunscreen.
ADVERTISEMENT - CONTINUE READING BELOW
Simply put: Always wear a double layer of sunscreen. By doing so, you'll ensure that every area of your body is effectively covered, greatly reducing your chances of getting sunburned. Plus, the second layer helps to distribute the sunscreen more evenly, ensuring that your skin gets the most protection possible. So next time you're out in the sun, don't forget to double up on your sunscreen!
Things to Remember When Layering Multiple Sunscreens
If you want to ensure maximum protection from the sun, especially for your face, layering multiple sunscreens such as a base sunscreen with a tinted SPF is a great way to do so. But you can't just go about it all willy-nilly. Here are a few tips to keep in mind when layering multiple sunscreens:
1. Do not layer chemical sunscreens with physical sunscreens
Doing so can actually make your sunscreen less effective. Here are some sunscreen and tinted SPF pairs that would work well together: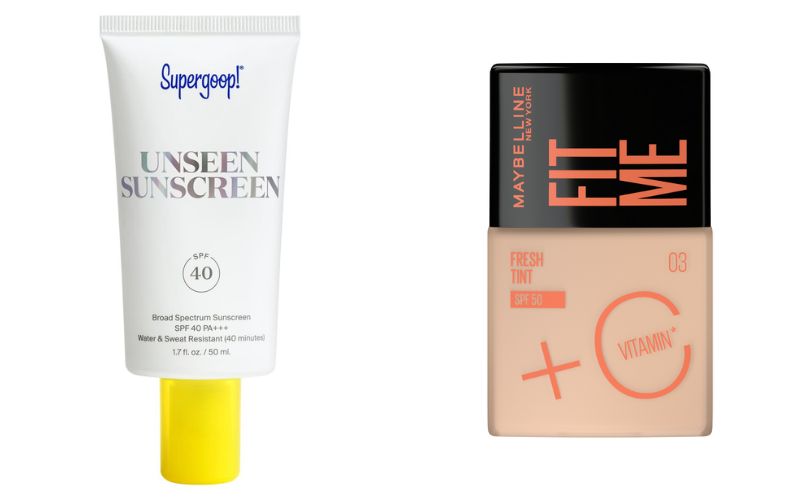 Unseen Sunscreen Broad Spectrum Sunscreen SPF 40 PA+++, starts at P1390, SUPERGOOP!, Sephora. Fit Me Fresh Tint SPF 50/PA+++ 30ML with Vitamin C, P399, MAYBELLINE, Watsons, Lazada, and Shopee.