Concealer is considered as an essential product in any beauty arsenal. Of course, it's no secret that it's also a quick fix to any pimple emergency. However, the art of concealing is not as easy as it looks. A wrong blot can give you the crustiest and patchiest result, and that's where makeup techniques come in. Luckily, this skin-positive Korean beauty vlogger (with over 648,000 subscribers on YouTube, mind you!) has the easiest trick to cover up any blemishes with a skin-like finish.
Haley Kim (@haley0n), a beauty content creator, is known for her foundation-free makeup routine that aims to help one feel more comfortable in her own skin. In a YouTube video, she shared her method for concealing skin imperfections while breaking unrealistic beauty standards.
"In real life, even if you cover all skin issues with a high coverage foundation or concealer, you can still see bumps, skin texture, discolorations despite all of your hard work to make it look flawless," the beauty guru explains. "Our goal is to cover all skin imperfection by 70-80% and keep it as natural as it can be."
ADVERTISEMENT - CONTINUE READING BELOW
Below, we break down Haley's beauty technique so you can start concealing your blemishes without foundation!
Step 1: Prep your skin with moisturizer.
For Haley, moisturizer is the best makeup primer to use to soothe dry skin on your acne-affected area. Prep the skin with moisturizer before makeup for a smoother and flawless concealer application.
Her pick? La Roche-Posay's Toleriane Ultra Moisturizing Cream. This gentle formula works to restore the skin's protective moisture while keeping it soft and hydrated in every use.
Step 2: Find a concealer that matches your skin tone.
"When you choose a concealer, shade matters more than how much coverage it has," she says. To find the perfect shade for your skin tone, do a swatch test in your chin area or jaw line and blend. Pick the shade that looks closest to your complexion.
ADVERTISEMENT - CONTINUE READING BELOW
Step 3: Place the product on the area where you need coverage the most.
Concealers with light to medium coverage work well in covering redness and hyperpigmentation. Apply the product in the area where you need coverage the most. "Once you put the concealer on the area, please don't go over again," she warns. "If you keep applying on the same area over and over it would be more likely to go patchy."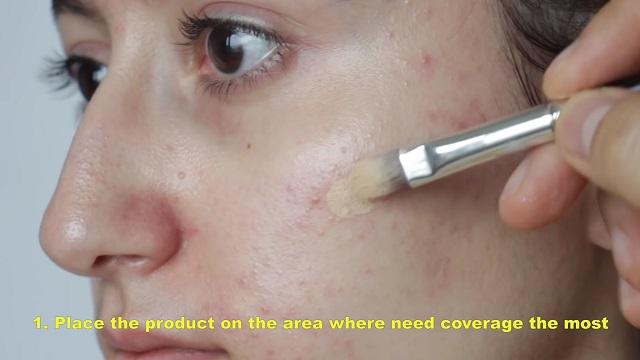 ADVERTISEMENT - CONTINUE READING BELOW
Step 4: Blend the edges to make it look natural.
If you are looking for the right beauty tool to blend out the product, a medium-sized flat concealer brush is your best bet. In fact, Haley prefers this brush because it effectively keeps the product in place. It also helps to deliver more coverage even with just a small amount of concealer. Using this flat brush, blend the edges to create a natural finish.
ADVERTISEMENT - CONTINUE READING BELOW
Step 5: Cover small pimples and acne with high coverage concealer.
Using a smaller concealer brush, take a high coverage concealer and apply it on small areas that require more coverage. She advised doing this process on areas with acne or strong hyperpigmentation. To conceal stubborn blemishes, make sure to cover all sides of the pimples for them to go in full incognito.