It might be hard to believe, but hair fall is as normal as breaking out around the time of your period. It's usually no cause for worry—yup, even if you lose ten (or twenty) strands of hair a day.
Still, we know that seeing all that shedding can be frustrating. We also don't blame you for being alarmed when a huge clump of hair comes off during your daily brush. So to ease your worries, we asked the experts about all the basics of hair fall and how to deal with it.
Ahead, board-certified dermatologists Dr. Mara P. Evangelista-Huber and Dr. Windie Villarica-Hayano share everything you need to know:
What causes hair fall?
Dr. Villarica-Hayano identifies the general triggers for hair fall as disease, stress, and other physiological factors. "[It] can be due to infection, inflammatory conditions, pregnancy, drugs, nutritional problems, thyroid disease and other autoimmune issues," she tells Preview. "It depends on the 'type' of hair fall and the history of the hair fall."
ADVERTISEMENT - CONTINUE READING BELOW
Meanwhile, Dr. Evangelista-Huber points out that certain hair habits (e.g. hair styling) and hormonal fluctuations (e.g. pregnancy, menopause) can increase your potential for hair loss, too. Some are easily avoided, while others like the latter are best addressed with the help of a board-certified dermatologist.
"Individuals with hair loss are best assessed by a board-certified dermatologist who can evaluate history (medical, dietary, psycho-social), screen for risk factors for nutrient deficiency, conduct a complete physical examination, and assess if further workups are needed to arrive at a diagnosis," she tells us.
How do you know if you're losing too much hair?
Out of the approximately 100,000 hairs on our head, Dr. Evangelista-Huber says that we lose an average of 50 to 100 strands every day. These can fall out while we're washing our hair in the shower, brushing it out, or even simply fall to the floor unprompted—all of which are completely normal.
CONTINUE READING BELOW
Recommended Videos
"While it may be concerning, this can simply be normal hair shedding where hairs that are already loose from your scalp (they are meant to be shed) are removed while you were washing your hair," the derm explains.
Checking the amount of hair you lose in the shower and while brushing your hair are the easiest ways to see if you're losing more than normal. You can take a look at your floors and pillows, too, since these are other hotspots for fallen strands. If you're finding bigger clumps of hair in these places than usual, something must be up.
In case you've had increased hair fall for a while, check your scalp for any bald patches or thinning areas. If you spot any, take it as a sign for you to consult your doctor for proper treatment options.
How do you prevent/control hair fall?
Some of your everyday habits might be making you shed more hair than necessary. Here are seven easy ways to put shedding at a minimum, according to Dr. Evangelista-Huber:
ADVERTISEMENT - CONTINUE READING BELOW
1. Use a gentle shampoo and don't skip conditioner.
Being gentle is key when handling fragile hair, and switching to products that can reduce the stress on your tresses can help prevent unnecessary hair fall.
Harsh shampoos, for example, tend to dry out your strands and cause them to become brittle. To prevent this, go for gentle formulas that will cleanse without stripping your hair from its natural moisture. Dr. Evangelista-Huber also recommends using conditioners, since these help decrease tangling for easier combing.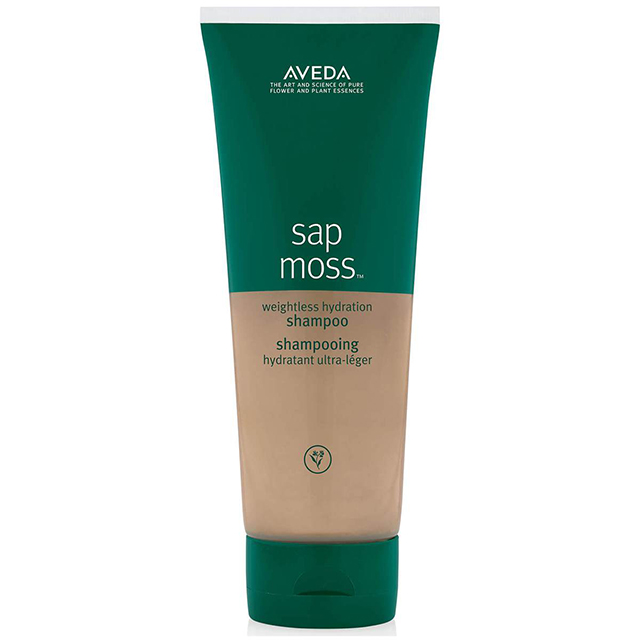 ADVERTISEMENT - CONTINUE READING BELOW
Sap Moss Weightless Hydration Shampoo, P1900, AVEDA, Zalora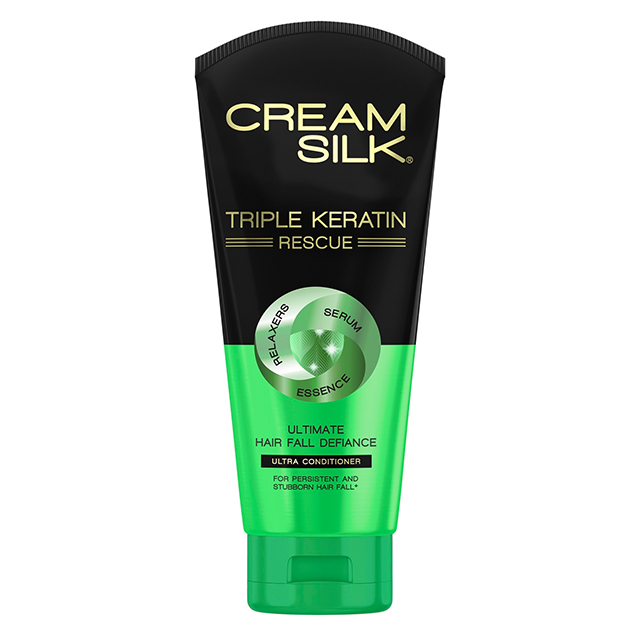 Triple Keratin Rescue Ultimate Hair Fall Defiance Ultra Conditioner, P273, CREAM SILK, Watsons
Tip: For those who struggle with seborrheic dermatitis or dandruff, the derm recommends using shampoos with ketoconazole, zinc pyrithione, or selenium sulfide. This will help reduce the flakes and treat the inflammation or buildup on your scalp that could be causing extra shedding.
ADVERTISEMENT - CONTINUE READING BELOW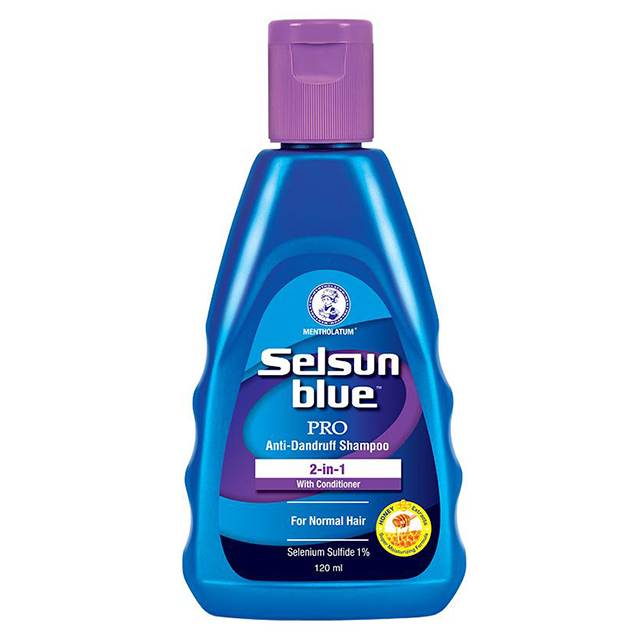 Pro Anti-Dandruff Shampoo for Normal Hair (with selenium sulfide), P345, SELSUN BLUE, Lazada
2. Wash your hair less frequently.
"Unless your hair is extremely oily, washing your hair every other day may be better than daily washes," advises Dr. Evangelista-Huber. Less washing also means having to brush through fragile wet hair less, which means less hair fall in general.
ADVERTISEMENT - CONTINUE READING BELOW
3. Avoid rubbing and pulling at your hair.
Any kind of harsh motion on your scalp and the lengths of your hair is a no-no if you want to reduce hair fall. Some examples Dr. Evangelista-Huber cited include rubbing your hair with a towel, aggressively rubbing in shampoo, and brushing your tresses too harshly. Instead, she suggests simply patting your hair dry, massaging product in with your fingertips, and using a gentle comb or brush to smooth out tangles.
4. Avoid wearing tight hairstyles.
We won't tell you to quit tying your hair, but note that tight ponytails, buns, or braids can cause hair fall because of all the stress they put on your strands. To loosen the tension a little, the doctor recommends using coiled hair ties and giving your locks a rest by wearing them loose from time to time.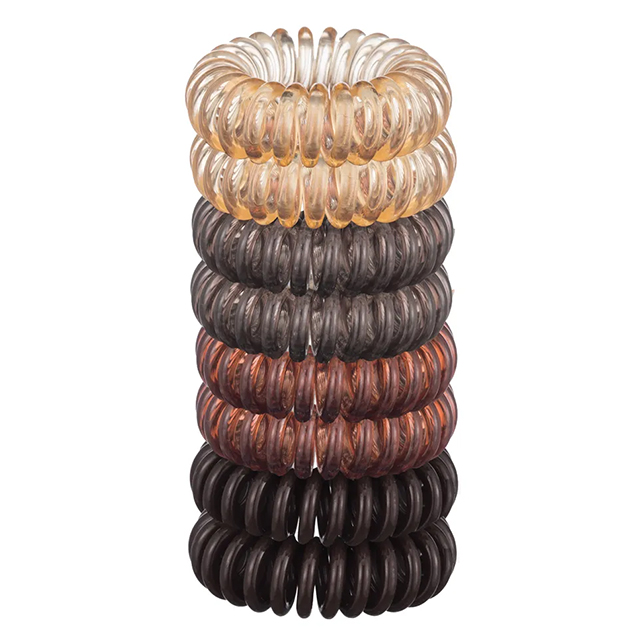 ADVERTISEMENT - CONTINUE READING BELOW
Hair Coils in Brunette, P560 (eight pack), KITSCH, Sephora.ph
5. Air dry instead of blow drying.
Dr. Evangelista-Huber explains, "Air drying hair is better than using a blow dryer. If you decide to style your hair with heated tools, only do so when your hair is dry. Use the lowest settings possible."
6. Adjust your diet.
Making sure that you're getting enough protein and iron is one way that you can possibly reduce hair fall, according to the derm. You can either eat more food with these nutrients or turn to supplements.
7. Manage your stress levels.
Though easier said than done, getting ample rest and finding ways to manage your stress levels could help you prevent hair loss. "I have seen an increase in hair loss cases during the COVID-19 pandemic, particularly in those who developed the illness. The stress brought about by the pandemic may also cause hair loss, even in those unaffected by COVID-19," reports the dermatologist.
ADVERTISEMENT - CONTINUE READING BELOW
How do you treat hair loss?
If the state of your hair loss is no longer a matter of prevention, don't fret—there are many ways to address the issue with the help of a doctor. "Treatment [for hair loss] depends on the cause. There are topical, oral, procedural or surgical options depending on the state of hair fall," explains Dr. Villarica-Hayano.
The derm identified some of the most common treatment options for hair loss, which include:
1. Topical minoxidil (over-the-counter)
2. Growth factor and exosomes injections
3. Steroids for certain issues in combination with long term oral minoxidil
4. Anti-androgens together with monthly PRP (platelet-rich plasma)
5. Hair transplant surgery (supported by medication)
Preview is now on Quento! Click here to download the app for iOS and Android and enjoy more articles and videos from Preview and your favorite websites!
Related Stories from Preview.ph
Hey, Preview readers! Follow us on Facebook, Instagram, YouTube, Tiktok, and Twitter to stay up to speed on all things trendy and creative. We'll curate the most stylish feed for you!