Welcome to How Not to Hate It, where we make serious cases for misunderstood beauty products. Here, we talk about things that: You like but find tricky to work with, don't like but everyone else loves, and products that you have no idea how to use. Basically, this is a safe, prejudice-free space for newbies, haters, and lovers alike to making a specific product work to their advantage. So sit back, keep an open mind, and scroll through for a deep dive.
How Not to Hate It: Makeup Brushes
We may not all be professional makeup artists, but we can use our brushes like we are one. The secret is to work smarter and not harder, and to make sure you have your brush-related terms down to a T. Here are five tricks to doing just that:
1. Build a small collection with only your essentials.
Seeing the huge brush collections that your favorite YouTubers and makeup artists have might make you think that you need the same. However, that isn't the case! You only need that much if, like them, you do makeup on multiple people or create a ton of different looks every day.
ADVERTISEMENT - CONTINUE READING BELOW
To start or declutter your kit, ask yourself: What products do you use often, and which ones would work better when applied with a brush? Once you figure that out, you can either buy brushes for those products individually or for a convenient option, invest in a brush set that has everything that you need. Aside from having less brushes to clean, owning a select few will help you do your makeup quicker, since you're never overwhelmed with choices.
CONTINUE READING BELOW
Recommended Videos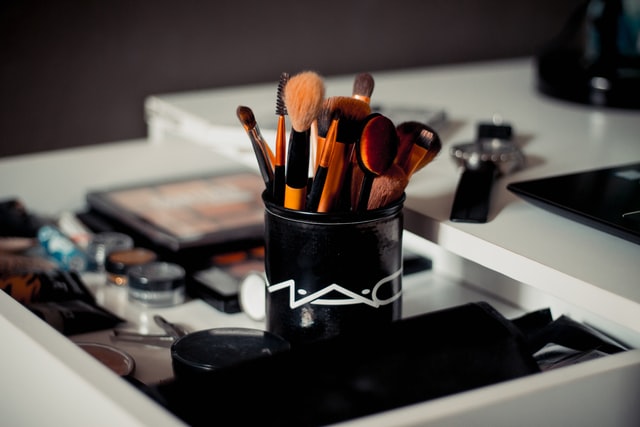 ADVERTISEMENT - CONTINUE READING BELOW
Here's a checklist of basic essential brushes to help you start your list:
Foundation brush
Powder brush
Blush brush
Contour brush
Eyebrow brush/Spoolie brush
Fluffy eyeshadow brush
Eyeliner brush
Lip brush
Want more options? Check out our brush guides below:
A beginner's guide to face brushes
A beginner's guide to eye brushes
ADVERTISEMENT - CONTINUE READING BELOW
2. Use your brushes in multiple ways.
All brushes were made with a specific function in mind, though that doesn't mean you should always stick to them. In fact, you can do a full look with only a few brushes if you get creative!
For example, a fluffy eyeshadow brush can be used to blend not just eyeshadow—you can also use to blend concealer in areas your bigger brushes can't reach, such as the sides of your nose and under your eyes. An angled eyeliner brush can apply brow powder or pomade, while you can use your foundation brush to blend your cream blush to make it look more natural. These are only some of the many ways to repurpose them, so don't be afraid to experiment! For proof, here's a video by makeup artist Wayne Goss that shows you how to do a full face with just one brush!
ADVERTISEMENT - CONTINUE READING BELOW
3. Take note of how you hold your brush.
Your grip on the brush you're using makes a big difference to the way it works. Positioning your hands on the brush closer to the bristles, for one, will give you stronger color payoff (like when you're packing on eyeshadow) and amp up your precision (like when you're drawing your cat eye). On the other hand, holding the brush handle's end or middle is great for blending and for when you don't want to apply to much, since it reduces the pressure you're putting on the brush.
ADVERTISEMENT - CONTINUE READING BELOW
4. Learn when you should dab, buff, or sweep.
There are generally only three ways to manuever a makeup brush: You either dab, buff, or sweep. A dabbing (or stamping) motion is best when you want a product to appear more opaque (like when you're building coverage with your concealer/foundation), since it helps blend makeup on one specific area instead of swiping it all over. Buffing, or moving your brush in circular motions, does the opposite—it pushes makeup around to diffuse it and achieve a sheer finish.
Meanwhile, sweeping your brush over the skin does a little bit of both. The gentleness of the motion, which is best when dusting on products like face powder and blush, helps deposit only a light amount of makeup without disturbing what's underneath.
5. Spot-clean your brushes.
Makeup brush clean-up has two levels, and it's important to master both. First is the deep-cleanse, which involves washing the bristles with soap and water to get all the gunk out and leaving it to dry. You'll want to do this at least once a week if you use your brushes every day.
ADVERTISEMENT - CONTINUE READING BELOW
And then, for the times in between those washes, there's spot-cleaning—or the professional hack to washing brushes sans the soap and drying time. Basically, it will turn any dirty brush into a clean one in minutes. All you need to do is put some of the spot cleaner on some tissue or a paper towel, swirl the dirty brush on it to remove leftover makeup. When the bristles are dry to the touch, they're ready to be used again. Just make sure to give it a deep clean at the end of the week!
ADVERTISEMENT - CONTINUE READING BELOW
Check out the stories below for in-depth guides to cleaning your brushes:
Related Stories from Preview.ph
Hey, Preview readers! Follow us on Facebook, Instagram, YouTube, Tiktok, and Twitter to stay up to speed on all things trendy and creative. We'll curate the most stylish feed for you!