Photographs by Em Natola
It shouldn't be hard to transform Maxene Magalona into her father – something that became clear when she performed "Mga Kababayan Ko" on ABS-CBN's so-funny-you'll-cry musical impersonation show Your Face Sounds Familiar.
This week - the first time she won – she was the spitting image of the late Francis M: flat-top haircut, ikat vest, hammer-pants and a hardened jaw she'd practiced all morning as Style Bible documented her makeup transformation.
"Dapat-magsumikap-para-tayo'y-di-maghirap," rapped Maxene, 29, in the makeup chair, her voice like honey on sandpaper. "Ang tra-ba-ho mo, pag-bu-ti-hin mo - "
Her hair and makeup artist that day, Poison, contoured her jawline and nose to make them more mannish. After prosthetics fitted her with a bald cap, he topped it off with a patch of hair, like a missed spot on mown lawn.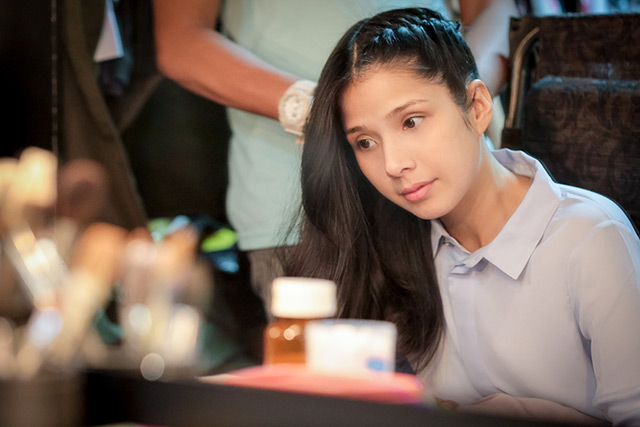 ADVERTISEMENT - CONTINUE READING BELOW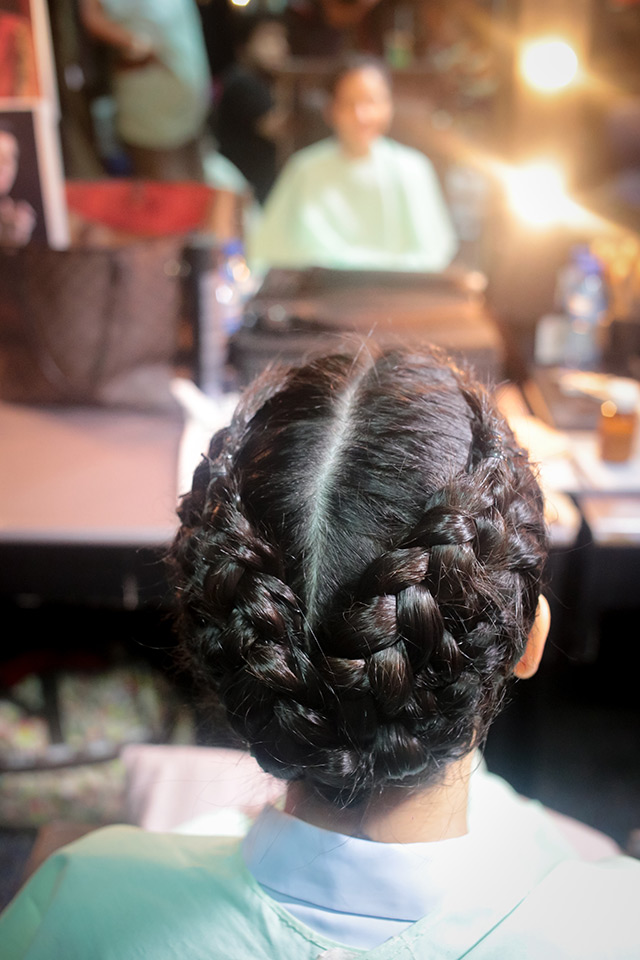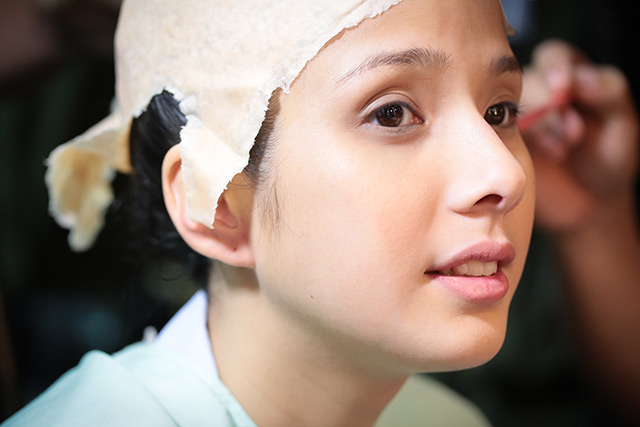 CONTINUE READING BELOW
Recommended Videos
The bald cap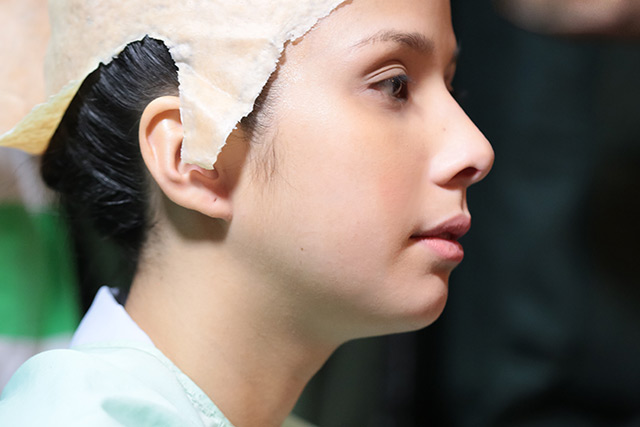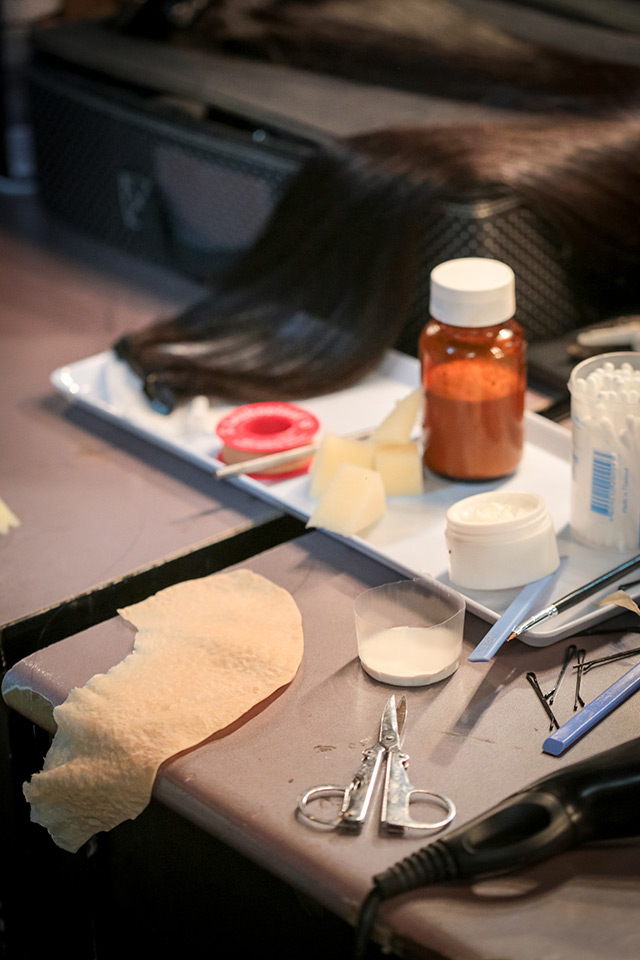 ADVERTISEMENT - CONTINUE READING BELOW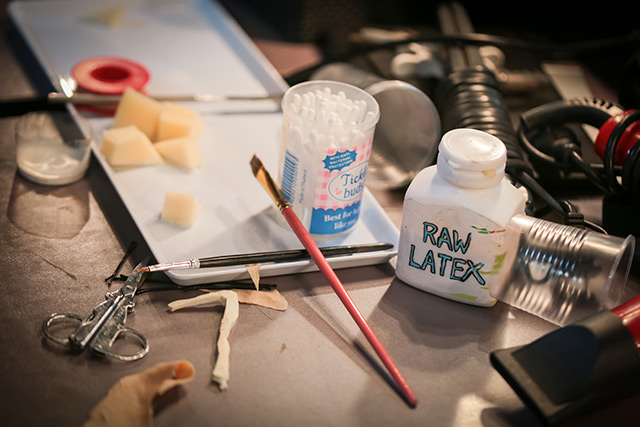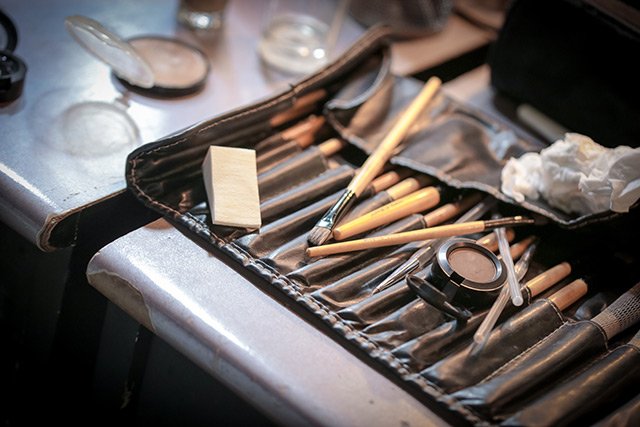 ADVERTISEMENT - CONTINUE READING BELOW
Tools of the trade
The whole process took about five hours, during which Maxene: nodded off, ("It feels like I'm getting a facial! Feeling ko tuloy nasa Flawless ako! Uy, instant plug," she joked), called her mom, helped Poison flirt with the half-Italian photog documenting the makeup magic, and chatted with Kimosave, her dad's old DJ who popped in to ask about their performance.
When host Billy Crawford finally called her onstage out of a Jetsons-like "iconator," Maxx was pumped. "Mga kababayan!" she greeted the crowd. And though she couldn't exactly lower her voice, she rapped with the same cool swagger as her dad—It helped that she'd internalized the life lessons he'd touted in the anthem:
Respetuhin natin ang ating ina
Ilaw siya ng tahanan
Bigyang galang ang ama
At ang payo n'ya ang susundan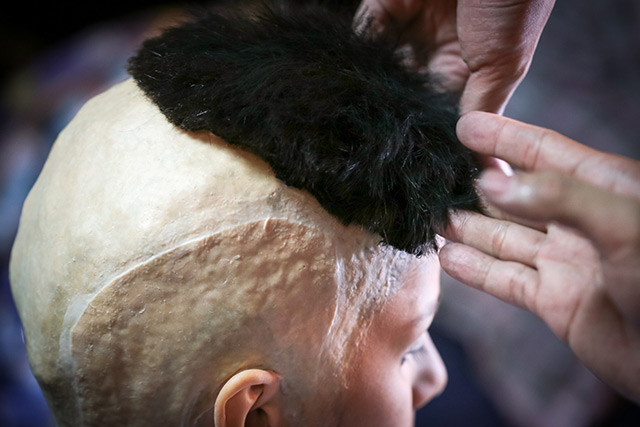 ADVERTISEMENT - CONTINUE READING BELOW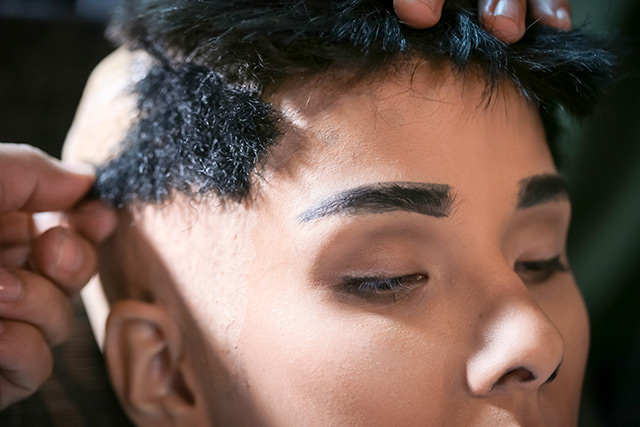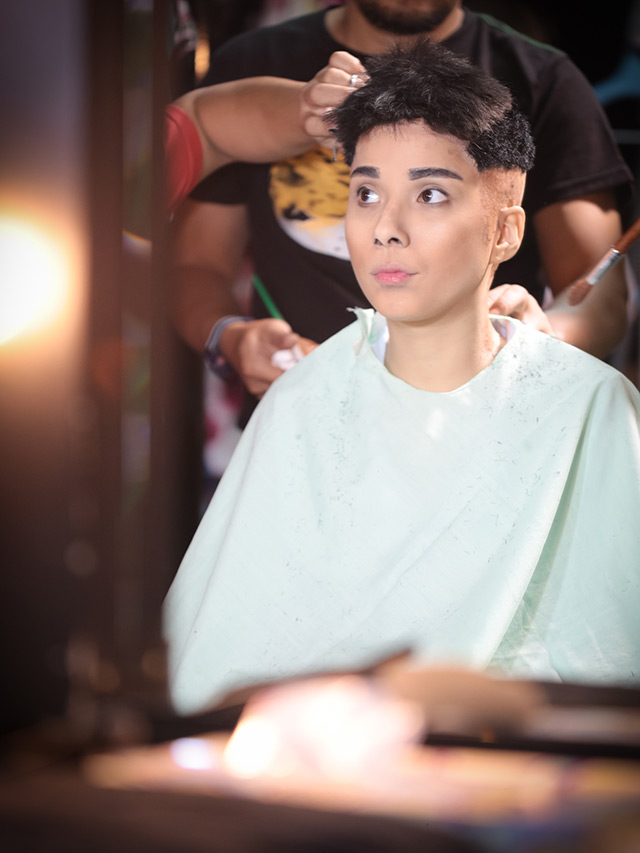 ADVERTISEMENT - CONTINUE READING BELOW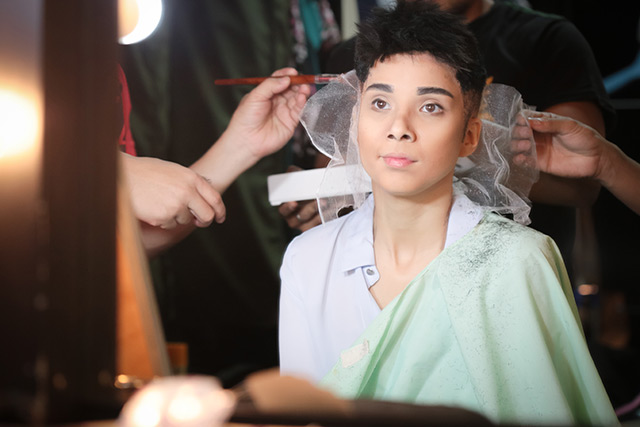 Gluing on stubble with the help of stiff mesh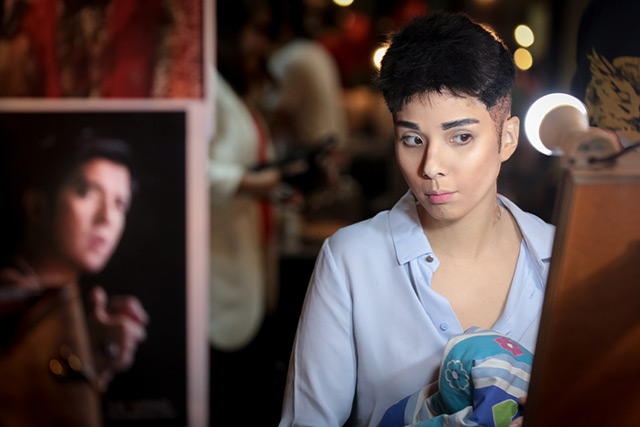 ADVERTISEMENT - CONTINUE READING BELOW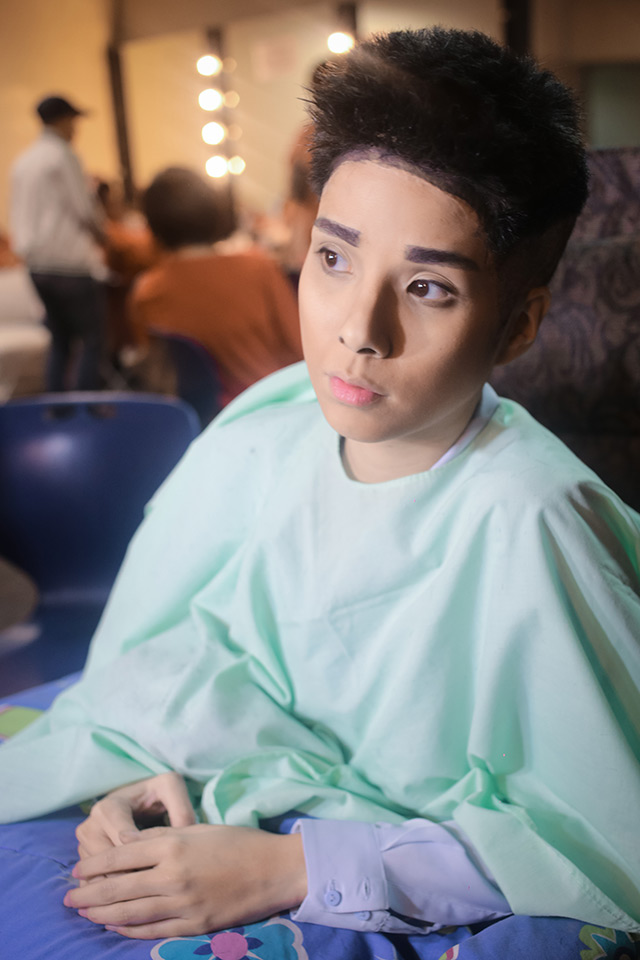 Black rouge inside the nostrils = a more masculine nose
Like father, like daughter
An ink fiend like her dad, Maxene goes to his old tattoo artist, Myke Sambajon of P&P Tattoo. She has "Daddy's Girl" in French on her forearm, a Hello Kitty ribbon to remind her to stay simple and childlike, a tiara ("Because Papa's the king of rap and I'm his princess") and a quote on the hip: all you need is faith, trust and a little bit of pixie dust. "He used to say he was like Peter Pan."
ADVERTISEMENT - CONTINUE READING BELOW
But the similarities don't end there.
"Oh my gosh, my dad loved cracking jokes," recalled Maxx, who loves making her friends laugh, too. "We had this bit at the table before and us kids would be like, Papa do the scientist! Do the scientist! He'd talk to us in this crazy scientist voice and we'd ask questions like why is the sky blue? And he'd invent answers like, e wala e, si God naubusan na ng paint."
In memory of her father's way with people, she also obliges every photo op. "Favorite niya pumunta sa Greenhills, he'd enjoy that the people were starstruck by him. He said - can you imagine I'm just a human being but I can make them happy just by talking to them? That's an immense kind of power."
Of their biggest similarity, she said, "We like being there for our friends. We… sometimes forget ourselves just so other people are happy."
ADVERTISEMENT - CONTINUE READING BELOW
That generosity seeps into the little things: the way she buys the first round of drinks on nights out, or signs off e-mails with "I love you!" and not just "love you!" (Two different things in girl-world.) The week prior, she halted hair and makeup so she could distribute boxes of Gostoso chicken wings she bought for her "ka-Familiars." And when she stepped out after taping, she was met with three little girls, waiting with their moms. Like always, she snapped a photo with each one.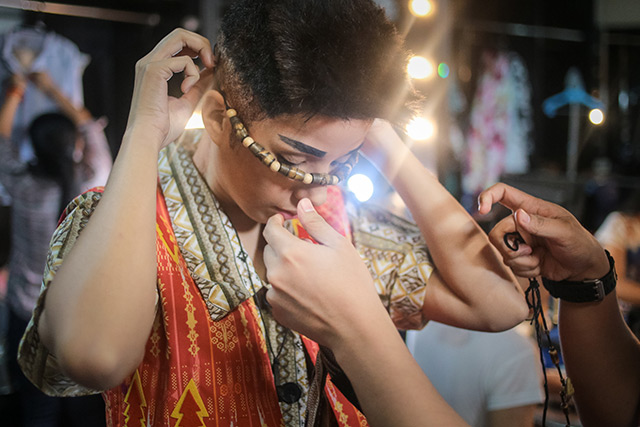 ADVERTISEMENT - CONTINUE READING BELOW
House of rap
To get the moves down for her performance, the show's dance coach, Teacher Georcelle of the G-Force, made Maxx watch an old clip of Francis M performing "Manila Man." In it, a 5 year old Maxx is onstage with her older sister and her brother Frank, all of them in jumpers and what looked like Jordans. "Look at Frank!" she exclaimed, as he stood frozen. Meanwhile, she was shuffling her feet like all the backup dancers. "Ang kapal lang ng mukha ko!"
ADVERTISEMENT - CONTINUE READING BELOW
She remembered how hiphop was always part of their family life. They'd nap backstage at her dad's concerts and wake up not knowing what the noise was all about. When they were older and developed their rap ear (something which every Magalona child has), they'd wake up to No Diggity, Return of the Mack and Insane in the Membrane.
One day in high school, her dad kept ringing her cell that she had to step out of the classroom.
'Xene, listen to this naman o, he said when she picked up.
Papa, I'm taking a test, she said.
No, mamaya na yan, pakinggan mo muna to. Then he freestyled over the phone to ask what she thought of his new track.
Now, when Maxene memorizes any of his songs, she doesn't look at the lyrics. She just listens to it over and over to get a feel for the melody, the beat and the meaning.
ADVERTISEMENT - CONTINUE READING BELOW
When it comes to actually spewing rhyme, her brother Frank thinks she's developed her own flow. "Her style of rapping is kitschy, she doesn't try too hard… Less effort, more style, as they say."
One of the show's judges, Jed Madela, called it composure. "You held on until the last pose here onstage," he said. "I think this is the most sincere performance - ever."
Maxene, to the detriment of her nose contour, teared up. And the show, a cause for laughter, made everybody cry.
Hey, Preview readers! Follow us on Facebook, Instagram, YouTube, Tiktok, and Twitter to stay up to speed on all things trendy and creative. We'll curate the most stylish feed for you!