Cleanser and moisturizer are the two things in skincare that I'm incredibly fussy about. I honestly think that if these two are subpar, your entire routine will feel that way, too. Since I have oily skin, I prefer foaming cleansers that can cut through the excess oil on the surface but won't make me too squeaky clean. For moisturizers, I'm more of a gel-cream person, mostly for the lightweight texture and the soft glowy finish.
Currently, my main skin concerns are dull skin, dry patches, and some leftover acne marks. The dullness is mostly from staying indoors all day and long work hours, the latter two from the weather changes and hormones. My skincare routine helps me battle this usually, but my results with my current rotation have plateaued. And as if on cue, I received Happy Skin's new cleanser and moisturizer in the mail, and I gave them a spin right away.
ADVERTISEMENT - CONTINUE READING BELOW
A Review of Happy Skin's new Cleanser and Moisturizer
The Hyaluronic Soothing Cleansing Gel and Hyaluronic + B3 Boost Water Cream were both formulated to boost the good bacteria on the skin. Both contain what Happy Skin calls the "powerhouse four" (hyaluronic acid, cica or centella asiatica, ceramides, and niacinamide), which are ingredients that are considered the backbone of an effective skincare routine.
The Hyaluronic Soothing Cleansing Gel claims to be non-stripping, low pH gel formula that gently removes oil, dirt, and makeup. It has hyaluronic acid to maintain moisture levels, cica to soothe, and ceramides to strengthen the skin barrier. Meanwhile, the Hyaluronic + B3 Boost Water Cream is a lightweight moisturizer that's loaded with hyaluronic acid for lasting moisture, niacinamide to target dark spots and enlarged pores, plus ceramides.
Hyaluronic + B3 Boost Water Cream, P899, Lazada; Hyaluronic Soothing Cleansing Gel, P599, HAPPY SKIN, Lazada
How I Used It
Initially, I considered using only these two products for a week straight, but I decided to just add them to my usual four to five steps to see how they can realistically fit into an existing routine. Here's how the products performed:
Happy Skin Hyaluronic Soothing Cleansing Gel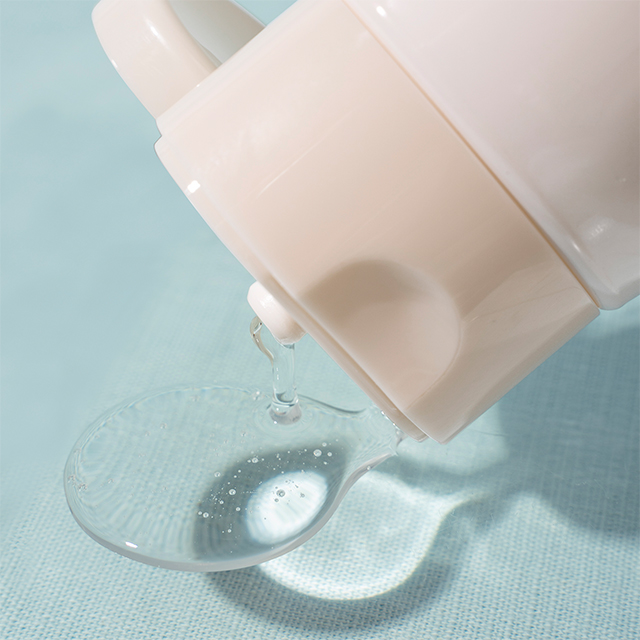 ADVERTISEMENT - CONTINUE READING BELOW
The texture of the Hyaluronic Soothing Cleansing Gel immediately reminded me of another gel cleanser that I love from COSRX. Both are low pH, but I find that the Happy Skin cleanser has a richer foam even when I used only around a little over a pea-sized amount.
The product claims that it can remove dirt, oil, and makeup. The first two I agree with—it just makes my skin feel clean and soft, no tightness or that weird film that some gentle cleansers tend to give me. However, I wouldn't say that it's powerful enough to be a makeup remover for me. I had to wash my face with it twice to take off my waterproof sunscreen, so I can imagine that it won't be potent enough to get rid of my usual foundation and waterproof mascara either. But as a second cleanse after my cleansing balm? It works like a charm. It washes the excess oil and makeup residue right off, and my skin still feels soft and supple after.
ADVERTISEMENT - CONTINUE READING BELOW
Happy Skin Hyaluronic + B3 Boost Water Cream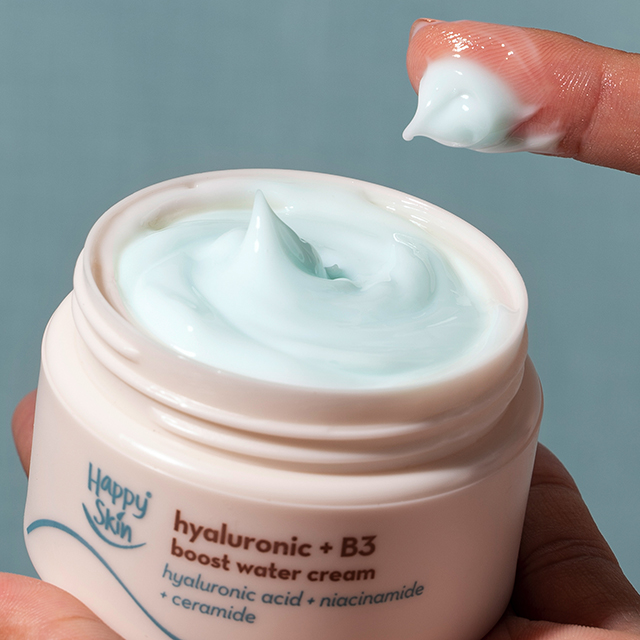 From the moment I opened this tub of moisturizer, I already knew I was going to like it. It's the type of bouncy gel-cream texture I love using, and the fact that it has my favorite ingredients such as niacinamide and ceramides also made me have high expectations. Spoiler: I wasn't disappointed.
ADVERTISEMENT - CONTINUE READING BELOW
In the morning, I applied the cream over my usual hyaluronic acid serum (I use Innisfree's Derma Formula Toning Serum). It glides right on, the kind of easy spread you'd expect from such a lightweight formula. After around two minutes, it finally sets and gives my skin a soft, post-skincare glow that even I, someone with oily skin, thoroughly enjoy. It's almost a shame that I have to cover it up with sunscreen right after—and okay, maybe sometimes I did skip SPF just to see if the glow lasts throughout the day (it does). My makeup applies well over it, too, rich enough to smoothe out any dry patches but lightweight enough not to affect my foundation's finish too much.
At night, I used the cream after my go-to serum cocktail: The Estée Lauder Advanced Night Repair Serum and the Dior Capture Totale Super Potent Serum. I was scared that it'll pill at first given the lotion-y texture of the latter, but it surprisingly layered as smoothly as it did with my serum in the morning.
ADVERTISEMENT - CONTINUE READING BELOW
The best part? Now with more products under it, the cream left me with an even stronger (but still non-oily) glow—one that I thankfully got to keep for longer this time.
Conclusion
After a week of using the cleanser and moisturizer, I have no plans of taking either out of my routine anytime soon. They fit the description of products I use daily perfectly, with an impressive lineup of ingredients to match. Both are even comparable to some of my K-beauty and higher-end favorites, except these retail for a fraction of the price and being from a local brand, are much easier to get a hold of.
There's also the fact that my skin now looks less dull and lifeless than when I first started. I noticed this after day five, so I'm definitely looking forward to more clear and radiant skin days with these on my rotation.
Anyone looking for easy, straightforward skincare would most likely love these as much as I did. If you're struggling with maskne, you can pair it up with Happy Skin's awesome invisible patches, too, and you'll be on the road to clearer skin not long after.
ADVERTISEMENT - CONTINUE READING BELOW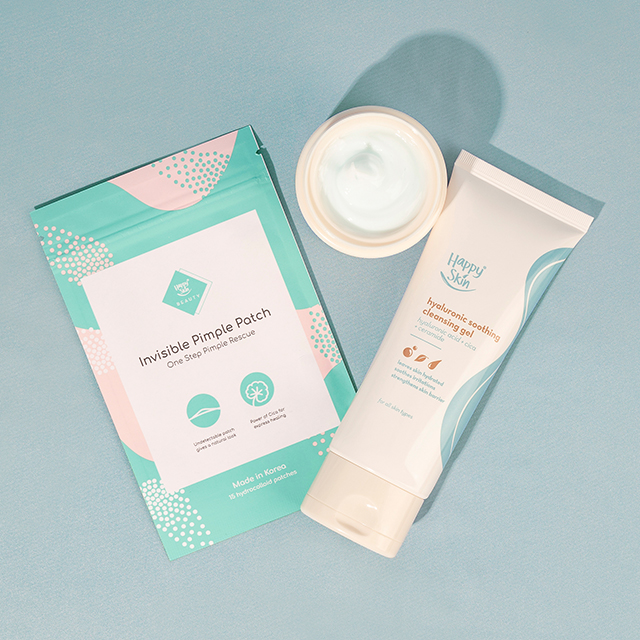 Beauty Invisible Pimple Patch, P175, HAPPY SKIN, Shopee
Related Stories from Preview.ph
Hey, Preview readers! Follow us on Facebook, Instagram, YouTube, Tiktok, and Twitter to stay up to speed on all things trendy and creative. We'll curate the most stylish feed for you!