Hand-poke tattoos, a.k.a. stick-and-poke, is exactly what it sounds like—tattooing by hand and sticks! It's a "dotting" technique that stems from the traditional style of tattooing, and it's steadily gaining popularity as a tattoo style for its unique look.
To give us an in-depth understanding of the style, we reached out to hand-poke tattoo artist Ezekiel "Ezek" Oclaray of Maharlika Tattoo (@maharlika.handpoke). He's been inking using this method since 2017, and we were lucky enough to glean information from the expert himself. Keep on reading to answer all of your frequently-asked questions about stick-and-poke, plus a list design inspos!
What are hand-poke tattoos?
Traditionally, hand-poke is a method of tattoing that doesn't use electric-powered tools such as a tattoo gun or machine. According to Ezek, the ink is inserted manually to the skin repeatedly using a tattoo needle. Its only difference with tattoos done with a machine is the method on how it's inked on the skin. "[For the] hand-poked method, a tongue depressor with the attached needle is poked manually, one by one, multiple times. It's almost the same as the tribal way of tattooing," he explains.
Are hand-poke tattoos more painful than other tattoos?
Ezek notes that the pain with hand-poke varies with the person's tolerance and chosen tattoo placement. Sensitive areas and those places closer to the bones such as the ribs, ankles, and fingers are more likely to hurt more. Based on his experience, however, it's less painful compared to inks made with a tattoo gun. "It still depends on the person, of course. A lot of my clients say that it's not that painful," adds the artist.
What kind of designs suit hand-poke tattoos the best?
"One of the styles suited for this inking method is pointillism," says Ezek. Pointillism is a technique wherein small strokes and dots are applied to the skin to create visually pleasing imagery. That said, the tattoo artist did note that a hand-poke tattoo is not limited to this style because the design ultimately depends on a person's preference and artistry—whether you opt for something minimal like a line art or an intricate portrait tattoo.
ADVERTISEMENT - CONTINUE READING BELOW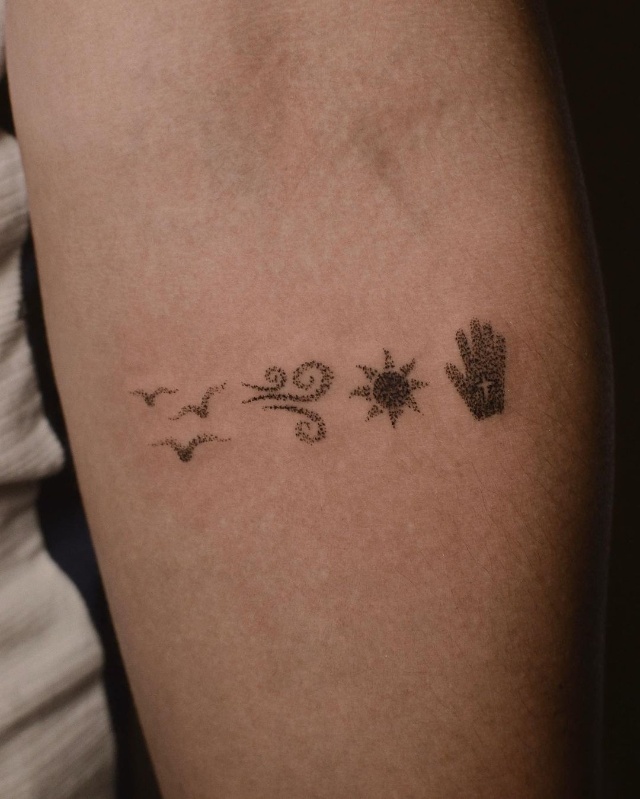 How long does the hand-poke tattooing process last?
Ezek explains that the time depends on the size and design. On average, a small tattoo can be finished after 30 minutes, while a large and intricate design can take up to four hours. Since it's done manually, a hand poke tattoo takes longer than the tatts inked with a machine.
How long do hand-poke tattoos take to heal?
On average, it takes about two to three weeks for the skin to heal after being tattooed. As for the aftercare, Ezek stresses the importance of letting your tattoo heal naturally. "Personally, you don't need to put anything on it. I don't recommend using petroleum jelly because it traps bacteria and leads to infection if it [the tattoo] doesn't get much air. What you can do instead is to wash the ink with an antibacterial soap," he advises.
Does a hand-poke tattoo fade faster?
Fading is inevitable for every tattoo. What you can do to prolong its ink, according to the artist, is to be mindful of its maintenance. He explains, "One of the reasons why tattoos fade faster is because people don't take good care of it. [People] sometimes scratch it during its healing period and later forget that a tattoo is lifetime maintenance."
ADVERTISEMENT - CONTINUE READING BELOW
Ezek adds that there are specific placements that are more pront to fading than others, such as the fingers. Moreover, it's imperative to avoid exposing your ink to the sun. Apply sunscreen over it if necessary to extend its longevity!
How much do hand-poke tattoos cost?
Just like other tattoos, the price depends on the size and the intricacy of the tattoo's design. As for Ezek's rates, he checks the design first before giving an estimated price to the client.
Thinking of finally getting a hand-poked tattoo? Below, we listed 10 designs that will have you convinced in no time! Take a look:
Hand-Poke Tattoo Design Ideas
1. Moon and constellations
If you're a fan of astrology, this one's for you! Personalize the constellations according to your zodiac sign and let the moon be the finishing spice to your ink.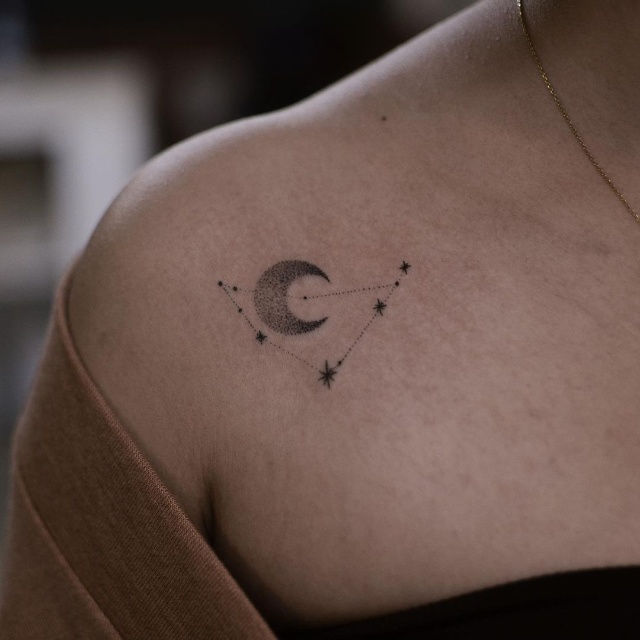 ADVERTISEMENT - CONTINUE READING BELOW
2. Flowers
You can't go wrong with a flower tatt! If you want to spruce up your canvas up a notch, you can opt for adding accents of glitters, leaves, and a crescent moon around the subject.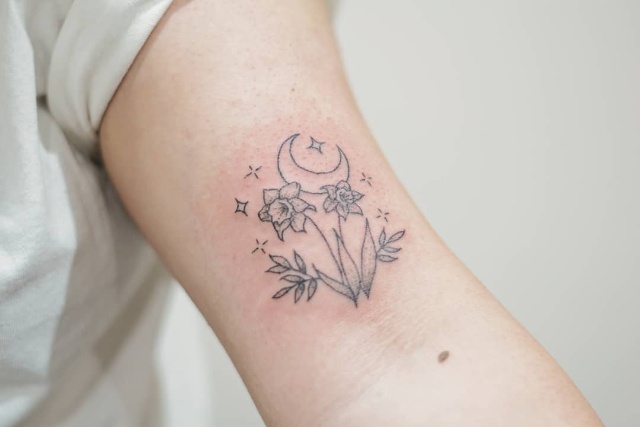 3. Baybayin script
Inking something in baybayin script is a cool way to embrace and flaunt your rich heritage. The shoulder area should be your best bet if you want your tattoo to be easily seen.
ADVERTISEMENT - CONTINUE READING BELOW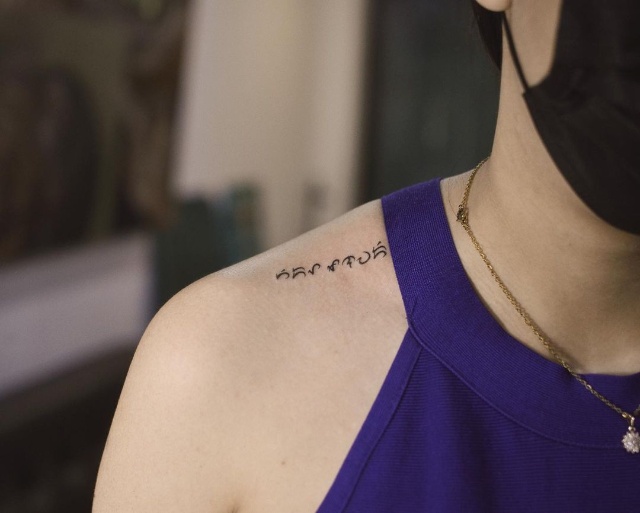 4. Red string
Into minimalist designs that hold deeper meanings? If so, add a red string ink might to your list of options! Generally, the red string is an accessory that is worn for good luck and protection. It also serves as a touching reminder that you are being loved, secured, and supported by the people around you.
ADVERTISEMENT - CONTINUE READING BELOW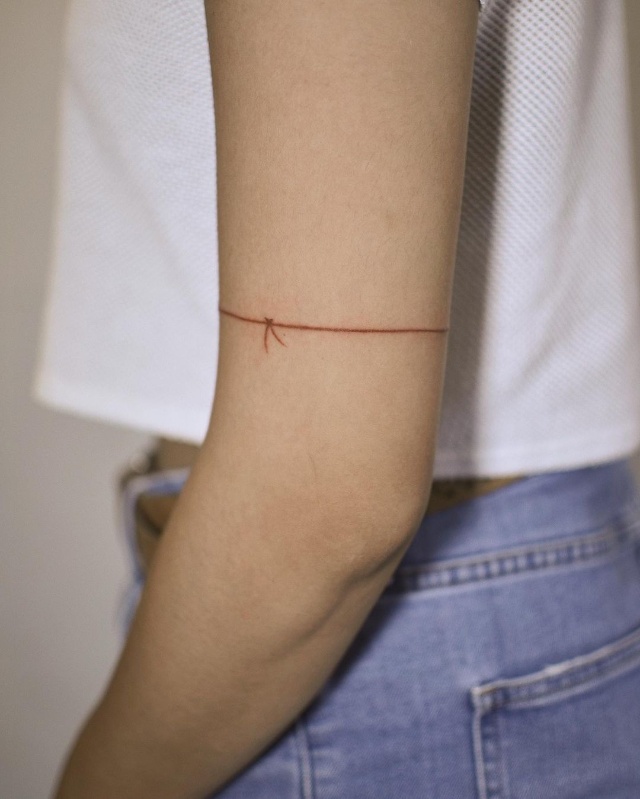 5. "Love Yourself"
Whether you're a BTS fan or not, the ink's silhouette will make you fall in love with its shape and eye-candy hues. Just like the name of the K-pop group's album, this flower tattoo will serve as a reminder to love yourself, too!
ADVERTISEMENT - CONTINUE READING BELOW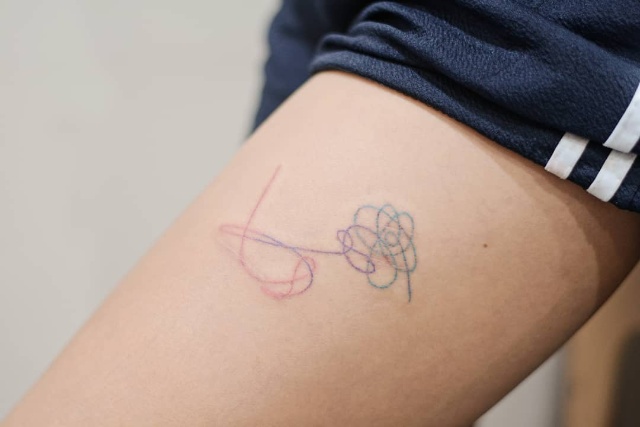 6. Butterfly
A butterfly tattoo is a popular ink for a reason. It's not only beautiful in terms of its design but also of what it signifies—transformation, freedom, and beauty.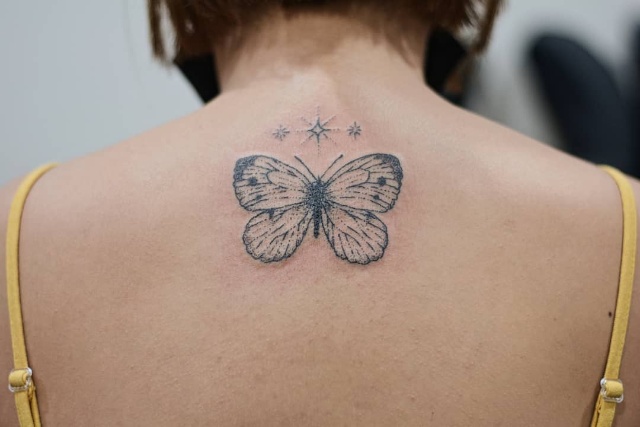 ADVERTISEMENT - CONTINUE READING BELOW
7. Colorful sea portrait
Don't be afraid to get playful with colors! Your ankle is a great spot for a creative design like this, although it may hurt a tad bit more because of the skin's thin layers. But hey, having such beautiful scenery there forever looks totally worth it.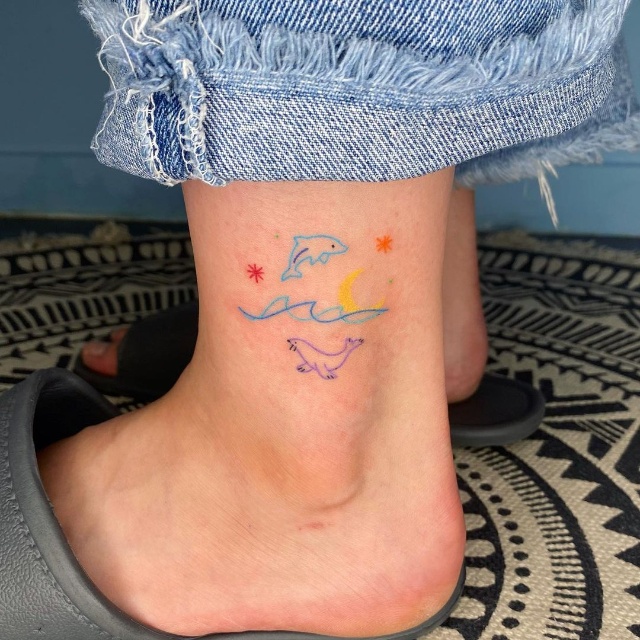 ADVERTISEMENT - CONTINUE READING BELOW
8. Heart
Elevate a classic heart tattoo with a rainbow overlay! It's subtle yet effective in adding something new to a popular design.
9. Geometric patterns
Nothing beats a clean and crisp ink. This tattoo is especially perfect for those who love large tatts without busy colors and heavy shadings. Its intricate details and overall silhouette are just so stunning!
ADVERTISEMENT - CONTINUE READING BELOW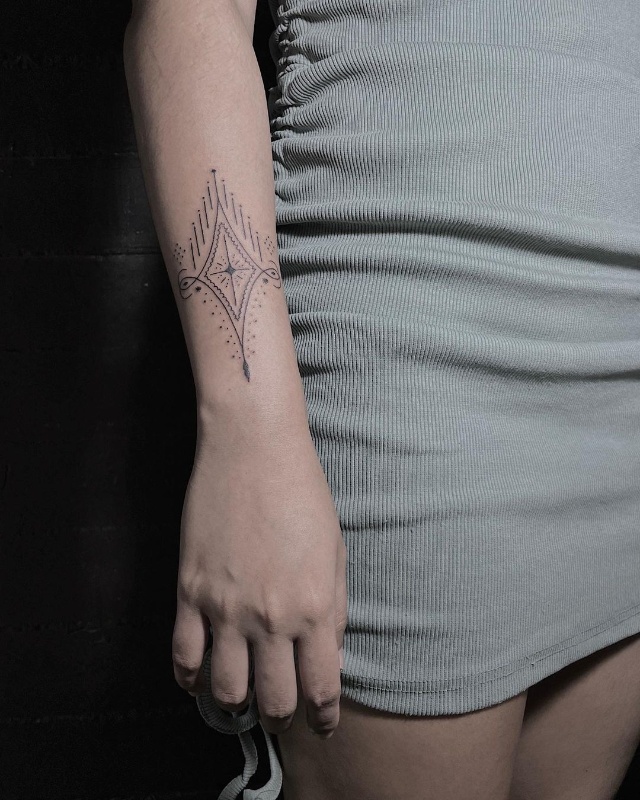 10. Pastel flower
Who doesn't love the look of a delicate flower ink? This design's size, color, and dainty outline are too cute!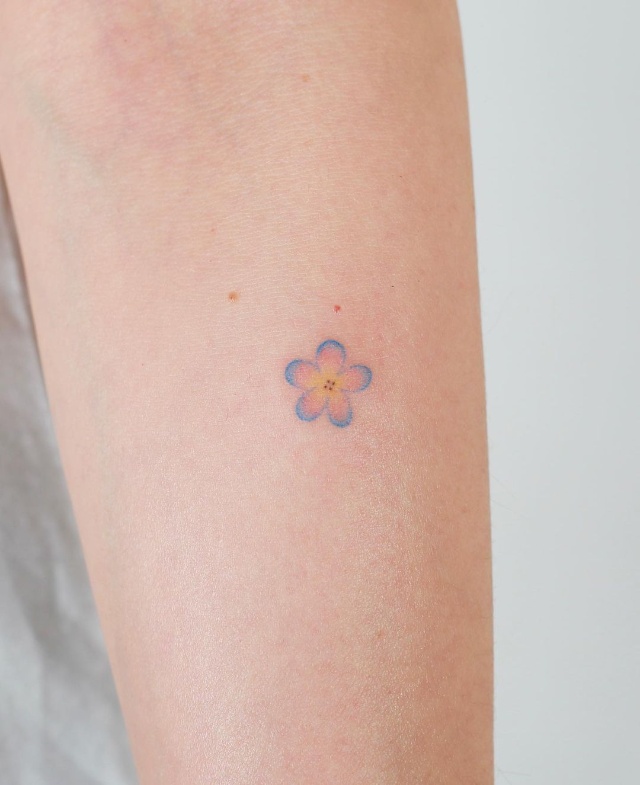 ADVERTISEMENT - CONTINUE READING BELOW
Visit Maharlika Tattoo's Instagram to book your own hand-poke tattoo appointment.
Related Stories from Preview.ph
Hey, Preview readers! Follow us on Facebook, Instagram, YouTube, Tiktok, and Twitter to stay up to speed on all things trendy and creative. We'll curate the most stylish feed for you!