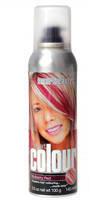 It's not easy being red. But since it's a color that we've all lusted to have at one point or another, we decided to spray on (yes, spray!) the color on for our favorite holiday of the year, Halloween. Spotting this Smart Beauty temporary color bottle in Mulberry Red at the Pure Beauty store, we decided to play red for the day as some of our favorite comic book characters—Poison Ivy, Mystique and Jessica Rabbit. The best part? We got the fiery shade we desired in less than five minutes, with the hue washing off with water in no time flat (the same technique was used for the Preview September cover with Anne Curtis).
ADVERTISEMENT - CONTINUE READING BELOW
CONTINUE READING BELOW
Recommended Videos
It's seems like it's not the blondes, but the redheads that have all the fun.
Click on the photo gallery to see the looks.
Modeled by: Arielle Escalona