Content Warning: Some images in the article may make you uncomfortable. Viewer discretion is advised.
If you've always dreamed of having perfect pearly whites then you may have already come across the term 'veneers'. Singer Angeline Quinto and former Miss Universe Pia Wurtzbach have previously opened up about getting the cosmetic procedure done and how it changed their lives for the better. But this recent viral tweet may have you thinking twice before getting them done yourself.
READ: Viral Tweet Warns Against Veneers, Netizens React
"It saddens me every time I see celebrities/influencers vlogging about having veneers done," wrote a Twitter user named Kevin Go. "I hope they're aware of the implications non sa oral health nila by the time they're in their 40s. Pano na pag 60s?"
His tweet, which has over 8.7K likes and 1.3K retweets as of writing, is enclosed with perturbing visuals with deformed teeth that are drastically reduced in size, presumably alluding to his claim that getting veneers done will result in a negative aftermath.
ADVERTISEMENT - CONTINUE READING BELOW
The controversial tweet has naturally gained traction, raking in over 1.1M views, and with many netizens chiming in on the discussion and expressing their concern over the safety of veneers.
"Omg di porket nasa trend ang veneers magpapagawa na kayo. Look for the long-term effect muna guys before you spend your money for this. Do [your] research, PLEASE!" one netizen tweeted.
"Kung ok naman mga ngipin nyo wag nyo na paganto. Hindi pa nakakabit yung sakin nagwo-worry nako ko ma-maintain. Kase I should make it last dahil ang mahal! [crying emoji][blowing nose emoji]" another netizen wrote.
"Sobrang alala talaga ako. The way they encourage this without even talking about the implications of such operations [sobbing emoji] like girl tinatapyasan ka ng ngipin [skull emoji]," tweeted another.
Meanwhile, one of the netizens also pointed out that the pictures shown are not for veneers but for crowns.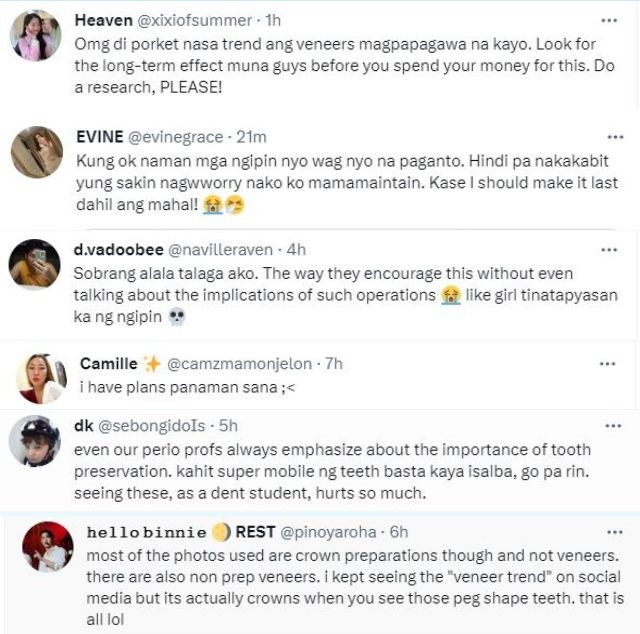 Now, we're no professionals when it comes to dentistry, but it did get us thinking: Could veneers actually pose a health risk? That said, Preview decided to consult Dr. Micah Ramos-Villegas of Smilehub Dental Clinic to get professional advice. Here's what you need to know:
The Truth About Veneers and Everything You Need to Know, According to a Dentist
What are veneers?
According to Dr. Micah, "veneers are thin porcelain or composite resin coverings that are bonded to the front surface of a tooth to improve its appearance." It can help a person change the color, shape, and tooth structure, and even fill in gaps.
What is the process of getting veneers?
There are multiple steps to getting veneers. We break down the step-by-step process with the help of Dr. Micah below:
1. Planning and examination
Much like any medical procedure, getting veneers requires treatment planning and thorough oral examination. "The dentist needs to assess whether your case is suitable for veneers or not," explains the dentist. This is done by taking x-rays of the mouth and checking your bite to see if you have any issues. Afterwards, you and your dentist will discuss your desired outcome and preferences.
2. Smile analysis
Here comes the cool part. According to Dr. Micah, a Digital Smile Design Software or a "wax up preparation" of your teeth will be used to give you a preview of what your smile will possibly look like once you get your veneers.
3. Teeth prep
This is the step that most people are concerned about—the part where your teeth are shaved. According to Dr. Micah, only "a thin layer of enamel is usually removed from your natural teeth to comfortably accommodate the veneers. There are also some 'non prep' cases that don't require removing parts of enamel." However, she continued to explain that it depends on the situation of your teeth. So depending on your case, more or less enamel may be shaved.
ADVERTISEMENT - CONTINUE READING BELOW
4. Taking the impression
After teeth prep, an impression of your teeth and gums will be taken either using putty or digitally. "This will ensure that your veneers will fit perfectly. Getting the right shade is also part of this," says Dr. Micah. Once the impression is taken, it's sent to the laboratory where the actual veneers will be made. "Once it's finished, you will be recalled for a try-in and cementation to make sure there are no problems and the patient is happy with the result," she continued.

It should be noted that this is only done for porcelain or ceramic veneers. "For Direct Composite Veneers, the process will be shorter and different since it will be done directly on the patient's mouth," Dr. Micah added.
How long do veneers last?
"It actually depends on the kind of veneers used," says Dr. Micah.
There are three types of veneers: porcelain, ceramic, and composite. Porcelain is the most durable out of the three. But according to the dentist, "more or less, studies show that it can last up to 10 years, but it also depends on the hygiene and habits of a patient."
Are veneers advisable for everyone?
Contrary to popular belief, not everyone can get veneers. According to Dr. Micah, "patients with poor oral hygiene, gum disease, severely broken down teeth, and bruxism (abnormal teeth grinding) are not good candidates for veneers." She also mentioned that those with severely crowded teeth are most likely to go through Orthodontics (such as braces) first before veneers. "Careful planning is needed before the treatment," she emphasized.
What are the alternatives to veneers?
"Teeth whitening and Orthodontics," she said. "If you just want lighter teeth, then whitening your natural teeth could help. If you have crooked teeth or teeth that are in the wrong position, then perhaps orthodontics—such as braces or clear aligners—would be the best solution."
As a dentist, what's your take on the viral tweet?
"Of course, it's best to retain as much natural and healthy teeth structure as possible. You should weigh all the treatment options because having veneers is irreversible.
"If your only concern is yellowish teeth, then you might consider Laser Teeth Whitening. If you have crooked teeth and minor gaps, then Orthodontics is indeed your best option. But of course, resizing and reshaping of your teeth wouldn't be corrected, so every case is difference. But dental veneers is not for everyone."

That said, the dentist did confirm that dental veneers are indeed a good option to correct misshapen and discolored teeth. Just make sure to go to the right cosmetic dentist, have your veneers cemented properly, and do your part to take care of your veneers with good dental hygiene.
What is the proper dental care for veneers to avoid one's teeth condition to become like that in the viral photo?
"The photos I think were actually for crown preparation and not for veneers, because normally, veneer preparations only require minimal facial teeth reductions," says Dr. Micah.
ADVERTISEMENT - CONTINUE READING BELOW
"But to answer your question about how to properly care for your veneers, you should of course maintain healthy oral hygiene, such as brushing and flossing your teeth regularly."
She also suggests avoiding using your teeth as a tool to open bottles, chewing on ice, biting your nails, and other smiliar activities that could damage your teeth. And for those who have bruxism (grinding their teeth in their sleep), she suggests to wear a protective mouth guard when sleeping or during contact sports.
"Also, make sure to visit your dentist regularly for follow-up check-ups."
So there you have it! Veneers aren't really as bad as you think—but with or without veneers, it's of utmost importance that we observe proper dental hygiene!
Related Stories from Preview.ph
Hey, Preview readers! Follow us on Facebook, Instagram, YouTube, Tiktok, and Twitter to stay up to speed on all things trendy and creative. We'll curate the most stylish feed for you!