Skin whitening brand GlutaMAX's most recent campaign sparked a resounding negative response for having discriminatory undertones. The ad points out statistical data claiming that people with fair skin are typically treated better by the society as opposed to those with dark skin, and calls it "unfair."
Related Stories from Preview.ph
While the campaign is supposedly backed by data, the brand went on to recommend using its skin lightening products to have "a fair advantage." The campaign quickly went viral and have been criticized for its message.
ADVERTISEMENT - CONTINUE READING BELOW
CONTINUE READING BELOW
Recommended Videos
Earlier today, GlutaMAX published its first statement addressing the situation on their Facebook account. "We acknowledge all sentiments that have been directed towards our campaign," it read. "GlutaMAX respects the dignity of the Filipino and our aim is to provide products that empower rather than discriminate."
In an attempt to justify the campaign, the brand adds, "Biases continue to be held by society, and many Filipinos experience it firsthand. This is a truth that exists. The brand agrees that all skin tones are beautiful, and at the same time, believe that everyone is entitled to choose what empowers them."
ADVERTISEMENT - CONTINUE READING BELOW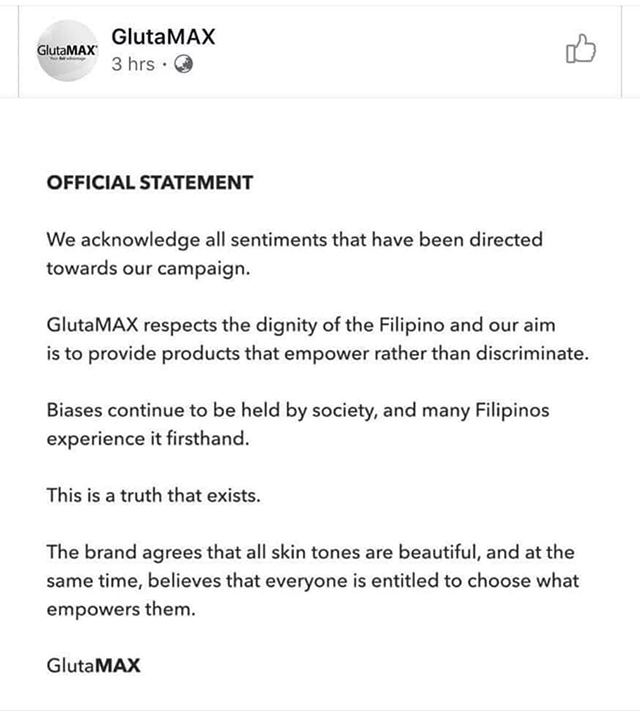 Like the ad itself, this statement was not well-received on social media. The post has since been deleted, and GlutaMAX has issued an apology in its place.
"As we've learned, talking about skin is never a skin-deep issue. It's a minefield of sensitivities, of deeply held beliefs, and should never be taken lightly," the post reads. "And yet, over the weekend, we've caused a disproportionate amount of discomfort. And even pain. That said, we believe that the best intentions are never an excuse for causing harm. And for all those that we've offended over the past few days, we offer our sincerest apologies."
ADVERTISEMENT - CONTINUE READING BELOW
What do you think of the brand's statement?
Related Stories from Preview.ph