In our first entry for the series, we introduced you to an array of pink lipsticks with witty names. But pink is not the only one whose name can be interpreted in fun ways. This time around, the romantic reds with bold and explosive labels are about to hit the spotlight. Say hello to to these well-loved lipsticks that are baptized with quirky names worth remembering.
See our picks by scrolling down. Enjoy!
Get the top spot every single time with a lipstick called Reddy Set Go from BYS.
Cherries are red but cherry blossoms are pink, put them together and you get this nice date-night hue. Lipstick in Cherry Blossom, Revlon.
Add some spice and sizzle to your outfit with MAC Cosmetics' Chili.
If there was ever a devil in disguise, it would have to be Cruella De Vil. She may be cruel, but come on! She's kind of fab. Grab this tint aptly called Devil In Disguise from BYS.
Not owning this shade of red is a sin in itself. Pure Color Vivid Shine Lipstick in Forbidden Apple,Estee Lauder.
If there's a shade for the evil and the forbidden fruit, of course there's also one for the Disney Princess. Snow White Extra Creamy Round Lipstick, NYX.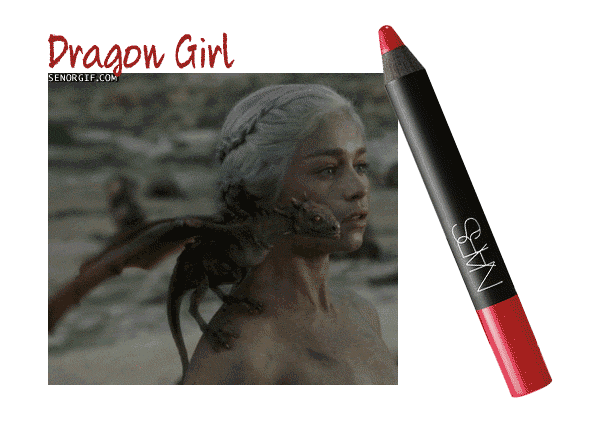 You wouldn't want to piss off a dragon, more so a woman like Khaleesi from Game of Thrones. But you can always cop her beauty. Velvet Matte Lip Pencil in Dragon Girl, NARS.
Chat up with everyone all night-long without having to touch up with Tom Ford's lip color in Firecracker.
Probably the only kind of bug we can stand. Lipstick in Lady Bug, MAC.
Because chicks in red rock! Dior Addict Lipstick in Rock 'n Roll.
Kill that presentation or test with the confidence you can get from a red lippie. And let everyone know that no one messes with a girl on fire. Lipstick in On Fire Red, Maybelline
ADVERTISEMENT - CONTINUE READING BELOW
Red can be fun and adventurous, too, you know. Rouge Allure Long-Wear Lip Color in Pirate, Chanel.
This if for all the woman fighters in the jungle. Urban jungle, that is! Jungle Red Semi Matte Lipstick, NARS.
You gotta admit, the Chinese know their reds. Shanghai Express semi matte lipstick, NARS.
Our weapon of choice: red lipstick. Our drink of choice: red wine. Lipstick in Wine with Everything, Revlon.
Can you think of other quirky ways to name a red lippie? Write in the comment box below or tweet us @stylebibleph!
Gifs from giphy.com