We get up-close and personal with today's young women in beauty by letting them do what beauty girls do best: geting glammed up together.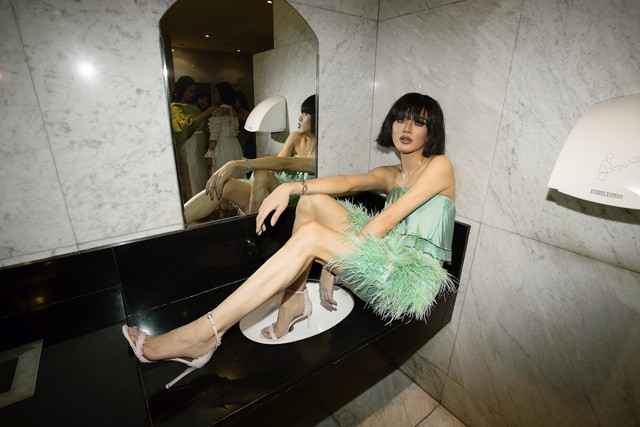 Dress, P30,000, MARTIN BAUTISTA, cel. no. 0917 566 5662. Heels, P2295, CHARLES & KEITH, Power Plant. Silver bangle with diamonds, P555,000; silver ring with diamonds, P97,500; both JOHN HARDY, Rustan's Silver Vault. Cross pendant with diamonds, P650,000; pendant with diamonds, P290,000; both DAMIANI, Rustan's Silver Vault
ADVERTISEMENT - CONTINUE READING BELOW
"I think what [sets] me apart from other vloggers is that I am relatable to both women and men who love makeup," says Min, who's been making a splash in the online beauty world thanks to his fearless looks. Having grown up with skin problems, he started using makeup in high school, which made him confident. He has since developed a style that he calls "dark and vampy," inspired by the way different drag queens do their makeup, as well as Rihanna, whom he says is his main influence.
CONTINUE READING BELOW
Recommended Videos
Min never leaves home without foundation (his go-to is L'Oréal's True Match), reddish-brown matte eyeshadow, brown lipstick from NYX's Lingerie line, black mascara, and Milani blush in Berry Amore. As someone who is gender non-binary, he says, "I want to represent all kinds of beauty." He wants to use his platform to reach out to people of all backgrounds and genders to let them know that it doesn't matter what everyone else says or thinks. "It's not always about what the society thinks is beautiful; it should be what you think is beautiful." As for his beauty philosophy? "I believe that life is too short to have a day not looking/being your best self," he shares. "The thing I love most about makeup is its power to make a person confident and happy. Beauty is power and makeup is something that enhances that."
ADVERTISEMENT - CONTINUE READING BELOW
Related Stories from Preview.ph
ON STACY: Dress, P4500, ALEXA CHENG, cel. no. 0917 556 6002. Diamond ring, P225,000 ROBERTO COIN, Rustan's Silver Vault. Diamond ring, P320,000, DAMIANI, Rustan's Silver Vault
ON DANAH: Top, P3950; skirt, P2450; both CRISELDA LONTOK, Rustan's Makati. Bow ring with diamonds, P245,000, TIFFANY & CO., Rustan's Silver Vault
ADVERTISEMENT - CONTINUE READING BELOW
Meet twin sisters Danah and Stacy Gutierrez: plus-size models, public speakers, and authors. They're also the brains behind Plump.ph, a website dedicated to body positivity, where they talk about what matters to them: body-image issues, fat discrimination, body shaming, and fashion inequality, to name a few.
The sisters loved makeup early on; as kids, they would play at their mother's vanity area and use her beauty stash. Even the worst, most embarrassing beauty blunders ("frosted eyelids, angry brows, uneven lips") didn't deter them. "We saw how our mom valued presenting herself well, and that influenced us with our love for makeup." Now, they share, "We only have two looks: red-carpet glam or hobo chic. There is no in-between!"
They're also using their voices to speak out against other large-scale beauty issues, such as consumerism effects and using products that have harmful chemicals or undergo animal testing. It's no surprise, then, that they have a decidedly minimalist approach to their beauty kits: facial oil and mascara from Danah; Benefit brow primer and brow pencil for Stacy. Both share a love for the holy grail that is Benetint, of course. Danah and Stacy believe that the key to looking your best lies within. "No matter how much makeup you put on, if you aren't at peace with your body or your face, it's not gonna change much," they insist. "Makeup shouldn't be seen as a crutch. Beauty should be pursued from the inside out." That, they stress, is the body-love gospel.
ADVERTISEMENT - CONTINUE READING BELOW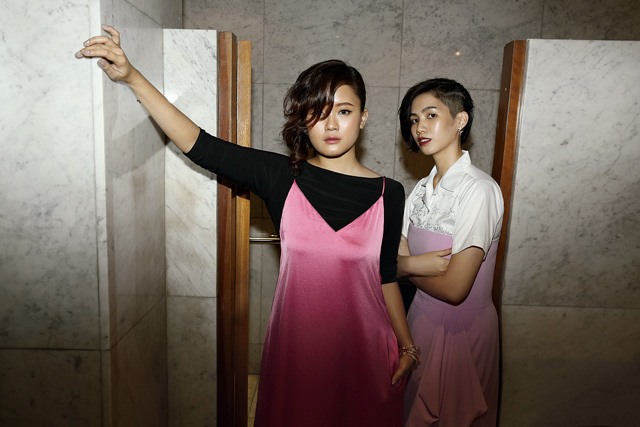 ON SHY: Slip dress, price unavailable, MARTIN BAUTISTA, cel. no. 0917 566 5662. Black top, P1650, CRISELDA LONTOK, Rustan's Makati. Earrings, P125,000; diamond bangles, P395,000; bangle, P215,000; rose-gold bangle, P775,000; yellow-gold bangle, P775,000, all ROBERTO COIN, Rustan's Silver Vault
ON DANI: Shirt, P3895, BASIC MOVEMENT, cel. no. 0915 900 3463. Dress, P20,500, HALSTON HERITAGE, Rustan's Makati. Diamond earring, P365,000, ROBERTO COIN. Earring, P310,000, DAMIANI, Rustan's Silver Vault
ADVERTISEMENT - CONTINUE READING BELOW
In December last year, best friends Dani Go and Shy Cabajar, both illustrator-designers, decided to take their passion for makeup one step further and start Pretty-ish, a beauty blog for beginners, casual enthusiasts, and even obsessives. "We like to be playful with our posts," says Dani, "so we throw in lots of graphics, comics, and illustrations." Indeed, a visit to the blog immediately introduces readers to its fresh take on makeup, which Shy describes as "fun, approachable, and relatable."
Pretty-ish isn't just a brand, it's a philosophy. Dani and Shy stress that skincare and makeup are for everyone, and they make it a point to recommend affordable alternatives for top of the line products. Drawing from Korean beauty influences, Shy shares that her signature makeup style is "a clean and sharp winged eyeliner matched with a gradient lip," and her beauty must-haves include nude lipstick, such as Maybelline's Clay Crush and Ever Bilena's Toast of New York, and IN2IT's Eyebrow Powder Palette. Dani, meanwhile, cites her mom as a massive inspiration and likes having luminous skin with a "lived-in" lip look. Her current faves include Cerave's Foaming Cleanser, Bioré's UV Aqua Rich Watery Serum, and Glossier's Coconut Balm Dotcom.
ADVERTISEMENT - CONTINUE READING BELOW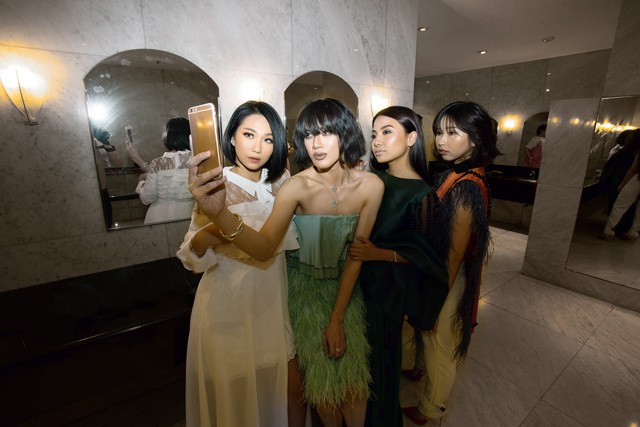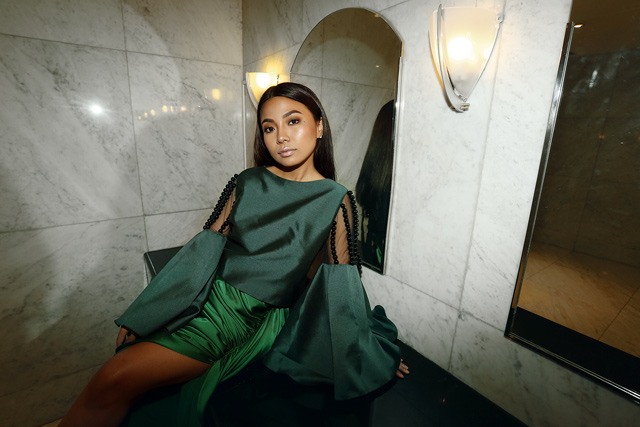 Top and skirt, prices unavailable, both MARTIN BAUTISTA, cel. no. 0917 566 5662
Beauty vlogger Michelle is based in Ilocos Norte, and she's proud of her probinsyana roots. "I still see myself as one of those girls who have daily beauty problems," she shares. The difference is she gets to talk about these problems online in front of viewers who are always willing to listen—and learn. Through these videos, she has introduced Misyel: "A character who tells every Pinay that makeup is for everyone, no matter what color or skin you're in, no matter what budget you have."
For Michelle, comfort matters most, and she champions products that are budget-friendly, accessible, and locally available. She says she's addicted to different kinds of masks and has the collection to prove it. Her makeup style is admittedly simpler than others, and she sticks to lip-and-cheek tints and eyebrow fillers. "Girl," she declares solemnly, "eyebrows on fleek dapat."
ADVERTISEMENT - CONTINUE READING BELOW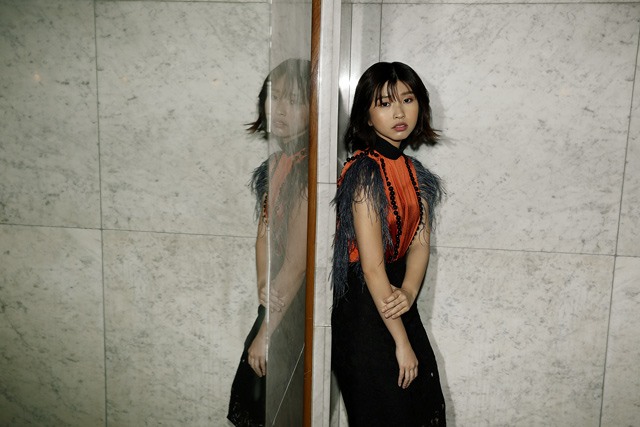 Feathered tunic, P27,000, MARTIN BAUTISTA, cel. no. 0917 566 5662. Skirt, P5950, TAHARI, Rustan's Makati
This beauty blogger describes herself first and foremost as a K-beauty enthusiast, having admired the soft, dewy glow of stars in Korean dramas and K-pop. "I honestly hated it when I had to put makeup on, but started loving it because of K-beauty," she says, adding that she finds it fun and afordable.
ADVERTISEMENT - CONTINUE READING BELOW
Her enthusiasm for sharing her beauty discoveries with friends led her to start her blog, where she's able to relate to other makeup fiends on a larger scale and show them how to find their unique style. "I make sure that I reply to each of their comments and I try my best to give them the best advice," she says. "I'm not the best at doing makeup, but I'm very comfortable doing it my own way."
Farrah prefers a no-makeup makeup look, which means that for her, skin always comes first. She's a big believer in drinking lots of water and using products with natural ingredients. She can't live without her sheet masks, CosRx's Good Morning Cleanser, Holika Holika's Aqua Petit Jelly BB Cream, Nature Republic's Micro Slim Brow Pencil, and Peripera's Airy Ink Velvet Lip Tint, which she also uses as blush.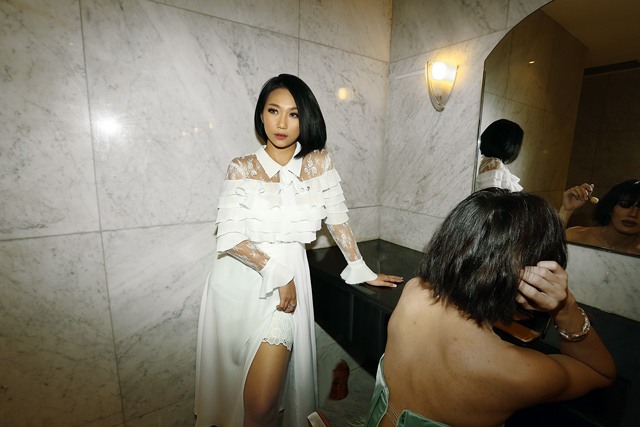 Lace dress with ruffles, P5000, ALEXA CHENG, cel. no. 0917 556 6002. Lace dress (worn underneath), P11,500, LILLY PULITZER, Rustan's Makati. Ring, P125,000, PRIVATE COLLECTION, Rustan's Silver Vault
A lifetime ago, Raiza Contawi was a marketing manager for a tech startup when she decided to start a blog on the side. Almost three years later, she's thriving as a self-taught makeup artist and has switched to vlogging after joining a YouTube competition and realizing she preferred making videos over writing. "The biggest challenge for me," she recalls, "was deciding whether I should keep my corporate job [for financial security] or take the plunge as a makeup artist and beauty influencer." Clearly, the gamble paid off.
Raiza's beauty hauls are typically work-related. Her personal beauty arsenal, however, is surprisingly low-key. "Brow and lip products are a must in my kit," she says. "If I have those, I know I can live and pull off a decent everyday look in five minutes." She finds it amazing that the beauty industry has grown into such a positive movement online. "I love how it empowers us, both men and women, and boosts our confidence [so we can become] better versions of ourselves," she shares. "Above all, the friends I made and the lives I've touched one way or another through this community [are] what I treasure the most."
ADVERTISEMENT - CONTINUE READING BELOW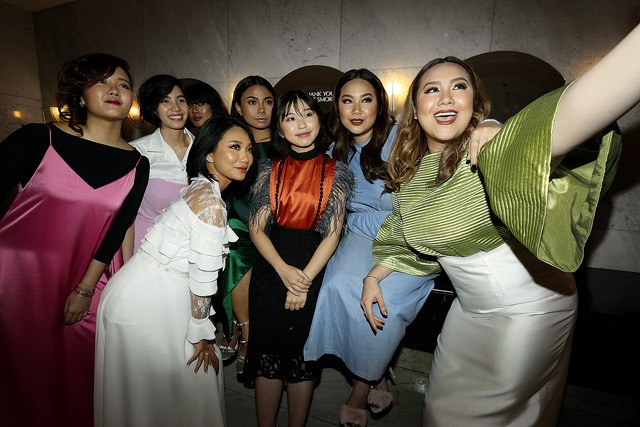 Photographed by RG Medestomas
Styled by Andre Chang
Hair by Mark Rosales and Marmie Guitche
Art Direction by Eugene David
Shoot Assistants: Teresita Gabat and April Lozada
Special thanks to Rustan's Department Store Makati
*This article originally appeared in Preview Magazine's July 2017 issue.
Related Stories from Preview.ph
Hey, Preview readers! Follow us on Facebook, Instagram, YouTube, Tiktok, and Twitter to stay up to speed on all things trendy and creative. We'll curate the most stylish feed for you!