The feline flick or what we commonly know as the cat eye can be a daunting task for most to achieve. Probably because it requires precision and symmetry to get it right. What's great about this liner technique is that it looks great on all eye shapes. The wing on the outer corner lifts the eye up and the thick ink on the eye lids produce a sultry, dramatic look. Jessy Mendiola sported this look for her sizzling señorita Preview cover.
To help you get everything right, below is a step-by-step visual tutorial to teach the tips and tricks on doing the sexy eye.
ADVERTISEMENT - CONTINUE READING BELOW
CONTINUE READING BELOW
Recommended Videos
An easy cheat to get a perfect base of a winged eye would be by starting to line the lids close to the lashline using a soft black waterproof eye pencil. This is also the step where you fill in the spaces between each lash with the black pencil.
Next up is topping off the first line with a liquid eye liner. Start on the inner corners of the eye going outwards, then do the flick on the outer lid. Use a sponge or even tape to act as a guide. Place the sponge on a 60-degree angle with the lower rim as your guide. Stretch your lids taut as you run the liquid liner to make sure that you'll have a smooth line and a fine wing. You can use a felt-tip liner for easier application. It will be just like using a marking pen on your lids.
ADVERTISEMENT - CONTINUE READING BELOW
Now that you've got the flick in place, connect it across the lid and create a thick black line using the same felt tip liner. Let this dry for at least a minute to avoid smudges, you wouldn't want to waste your hard work! For those who are quite adventurous, gel liners are great to use. Just take fine synthetic liner brush and do the same procedure as with the felt tip liner.
ADVERTISEMENT - CONTINUE READING BELOW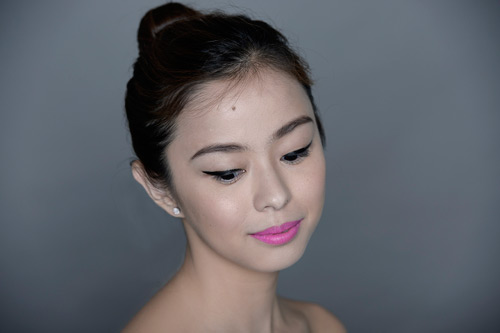 Curl your lashes and wiggle three coats of volumizing mascara. A beautiful wing eye looks complete when paired with a bright lip. You can opt for poppy red if you're leaning on the retro pin-up look or a bright pink lip for a fun, flirty version. You can see more lip color selections you can pair with your sexy feline flick here.
ADVERTISEMENT - CONTINUE READING BELOW
Not sure on what products you need to get this look? Check out our gallery to see our recommendations.
Photos by: Danish Connection
Model: Angeline Yao