Aren't sure yet on what to do on Halloween? We know you've been busy planning your costumes, but you mustn't neglect your Halloween makeup to complete your look. MAC Cosmetics shared their 2012 Halloween face charts and recommended some products to play around with.
Click on each photo to see the products for each character look.
The Capitol's couture queen, Effie Trinkett, was also spotted wearing a runway-worthy makeup look.
KEYS TO THE LOOK: Pale white skin, bright eye makeup seamlessly connecting with the blush on cheekbones, pursed lips.
THE METHOD: To cop Effie's pale matte skin, use a foundation one shade lighter than your skin tone. Mix two blush shades as an eyeshadow and cheek color, and create a corner flush by applying blush high on your cheekbones, and finally defining eyes using a black kohl liner. To achieve Effie's pursed lips, conceal the outer corners of your pucker using a white kohl pencil. Apply lipstick on the center of your lips, and top it off with gloss.
ADVERTISEMENT - CONTINUE READING BELOW
Inspired by the book and movie The Great Gatsby set in the Roaring Twenties, it's the definitive look of the era when women started sporting short bobs instead of long locks, and short, sleeveless dresses as compared to the previous decade's long, restrictive frocks.
KEYS TO THE LOOK: Lips were colored in deep shades of brick red. Eyes were defined by using dark shadows and adorned with lush, doll-like lashes. Eyebrows were thin and sloped down.
THE METHOD: Draw eyebrows downwards and set with clear brow gel. Do a soft smokey eye using a dark eye shadow on the outer crease and a stark white shadow on the lid. Curl lashes and apply four coats of mascara. Perfect the 1920s look by dabbing on some black cherry lipstick.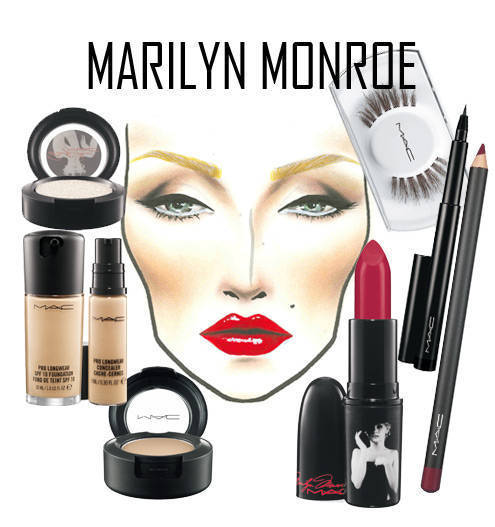 The original va-va-voom sex symbol from the 1950s is always a Halloween fave! Complete the look by wearing a short blonde wig with large vintage curls, a white, deep-neckline dress, and sexy kitten heels. Don't forget the flirtatious confidence!
KEYS TO THE LOOK: Flawless skin, framed brows, winged eyeliner, and Hollywood-red lipstick.
THE METHOD: Highlight the browbone, nose bridge, Cupid's bow, and cheekbones using How to Marry. On the crease use a matte beige eye shadow and contour using an espresso shade. Line eyes and apply false eyelashes. Of course, Marilyn's bombshell beauty wouldn't be complete without her signature red lipstick, so apply one using a lip brush and blot with a tissue, sex kitten-style.
ADVERTISEMENT - CONTINUE READING BELOW
Why wear a mask when you can just draw it? The daring cat-loving villainess from the Batman comic series, the Catwoman hides her identity by wearing a winged eye mask. She pairs it with luscious red lips.
KEYS TO THE LOOK: Drawn-on mask with a classic red lip.
THE METHOD: Start by sweeping a terracotta eye shadow all over the lid. To offset the black mask, brighten the lower lashline and inner corners with white kohl pencil. Trace the desired mask shape by using a felt-tip liner. Fill it in by using a black kohl pencil. Seal the deal by painting on gel liner all over the area. Don't forget to swipe on a bold red lipstick. Purr-fect!
ADVERTISEMENT - CONTINUE READING BELOW
Gotye's music video "Somebody I Used To Know" conquered music charts and most probably some broken hearts too. Gotye had graphic face art on his face imitating the Art Deco backdrop and making for a perfect pop culture reference.
KEYS TO THE LOOK: Four painted slices on half of the face.
THE METHOD: Use four different brushes when applying each color per face section. Mix lipsticks with foundation to achieve salmon and brown. Use two different shades of gray on the forehead and eye area. Use a black liner to define each sections to make them more distinct. Leave skin bare and set with translucent powder.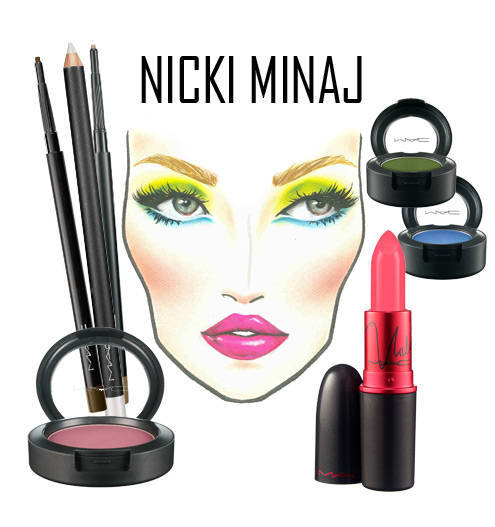 Performer Nicki Minaj is famous for her bold, colorful, even outlandish makeup looks, almost like a modern-day Barbie doll.
KEY TO THE LOOK: Rainbow popping colors and throwing makeup inhibitions out the window.
THE METHOD: To achieve Nicki's perfectly arched brows, mix two shades of eyebrow pencil to get the right shade. For eyes, use a canary yellow eye shadow as base, applying it past the crease. Lightly pat on a green eyeshadow on the lid concentrating on the outer edge of the eye. On your lower lashline and using a flat brush, sweep on a blue eye shadow. Define lashes by using a black kohl liner, making the line more intense by using a felt tip liner. Lightly dust apples of the cheeks using a pink blush, and finish off the Barbie look by painting your pout with a warm pink lipstick
ADVERTISEMENT - CONTINUE READING BELOW