During shootings or tapings, Nadine Lustre spends her idle hours on the set a little differently. Instead of catching up on sleep or endlessly scrolling through Instagram, she'd rather focus her energy and thoughts on something worthwhile. "I'm an overthinker," she confesses over the phone, excited and overly passionate about her new project that she could truly call her own. We're talking about her fragrance Luster, a perfume she personally and independently produced and conceptualized. (Prior to this interview, we actually asked photographer BJ Pascual for details given that he shot the campaign for it, and yet all he could tell us was, "Wala akong alam. Si Nadine talaga gumawa lahat.")
Related Stories from Preview.ph
Celebrity-owned and branded merchandise may be unchartered territory locally, but for Nadine, there's more to it than business. The 23-year-old actress is, after all, a creative at heart. In this exclusive interview, Nadine gets candid (and quite emotional) as she talks about how everything started, why she's adamant about being herself, and how Luster is simply the beginning.
ADVERTISEMENT - CONTINUE READING BELOW
Hi Nadine! The first thing we want to know is, why'd you decide to do it?
"Honestly, it started with my mom. We were on the plane going to an out of town show and she was like, 'You know what, I know a chemist, I know someone who makes perfume. Why don't you and James make a perfume line?' And I thought, why not? It's a good idea. So I decided to make one."
What's the whole concept behind the fragrance?
"I was thinking of the design before anything else, like the entire theme of the perfume. I love browsing Pinterest, and I started seeing mga boudoir photos, 18th century fashion photos, and vintage Vogue. When I saw all of that I got inspired, and I got the idea for the whole look of Luster. I want it to be a little sexy because I am growing up I don't want it to be sweet na lang all the time. I'm 23, turning 24 this year, so why don't I make it a bit sexy to show everyone that I'm growing up? Like a metamorphosis. I'm not gonna be like 18 years old forever. I'm slowly changing and growing into a woman."
ADVERTISEMENT - CONTINUE READING BELOW
Recommended Videos
How'd you come up with the name?
"I didn't wanna name it Nadine Lustre. It's 'luster,' [which] means to shine. I like that, it sounds nice. And Luster sounds like Lustre in away. I told James, 'What about Luster, and James just agreed with me na parang it's a really good idea.' I wanted to launch it on February 14, too, because it's inspired by boudoir, which is sweet and kind of sexy."
What does Luster smell like? Can you describe it?
"It's very sweet and very floral at the same time. Gusto ko yung mga scent na pretty sweet but floral. I don't like it fruity. Floral and sweet is what I really, really like."
The design of the bottle isn't common. What made you want to make it look like that?
"I wanted the bottle to look like a love potion or an 18th century perfume bottle. I don't know why, but when I saw those photos on Pinterest I was thinking of the name Luster na rin. Nung una the design of the bottle had a pointed bottom, but we decided na it was too complicated. We ended up with a transparent bottle with gold bits around the corners. It looks very romantic."
ADVERTISEMENT - CONTINUE READING BELOW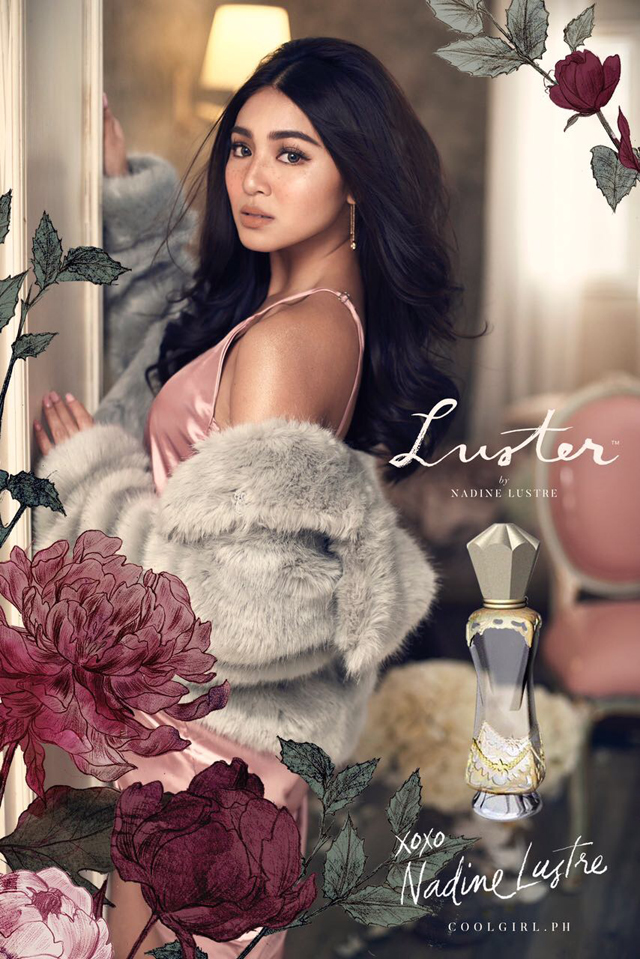 IMAGE BJ Pascual
How much will it retail for?
"It's P3000, and it's an eau de parfum. It might be available for pre-order on my site by the beginning of March."
How about the box? Who designed that?
"Soleil Ignacio! She also did the 3D rendering of the bottle for the poster."
ADVERTISEMENT - CONTINUE READING BELOW
You sound pretty hands on with everything. What was the concept of the campaign shoot? And how much input did you have in terms of the styling?
"It's bascially modern boudoir. I gave BJ and the team a moodboard and then bahala na sila to execute. I trust them and they already know what I like. I just kept agreeing."
I think everybody is wondering how you found the time to do all of this? Because we all know how busy you are.
"I started planning this before my birthday back in October pa last year. I was supposed to launch it December just in time for Christmas, pero everyone was telling me na it's impossible because we needed more time. We needed to shoot pa and all so we decided na Feb. 14. With all my tengga times during 'Til I Met You, and we (James and I) had to travel a lot [for work]—I was just constantly thinking about it. I'm like that kasi, I'm an over thinker, and I like to think [things through] a lot. When I think about something kasi it plays over and over in my head. Naalala ko nalang ganun ako. When I'm super excited about something, I think about it a lot. It's kind of a distraction din for me. In my head I'm running through a list like, 'I need to talk to ganito, I need to talk to ganyan, this is how it shoud be, etc.' I was just super inspired, that's how I found time. That's how it is naman eh, pag gusto mo naman talaga ng gawin you will find time no matter what. And also I have the right people to help me out."
ADVERTISEMENT - CONTINUE READING BELOW
What does it mean for you to have your own perfume or your own brand?
"What does it mean for me? For me, this perfume, Luster, showcases my creativity as a person. It showcases my character because it's the scent that I like. I'm selling you myself. I'm selling you a piece of me. This is as personal as it gets. This is me showing everyone na ito ako. This is what I can do. This is the real me. When you buy the perfume, it's like literally taking me with you wherever you are."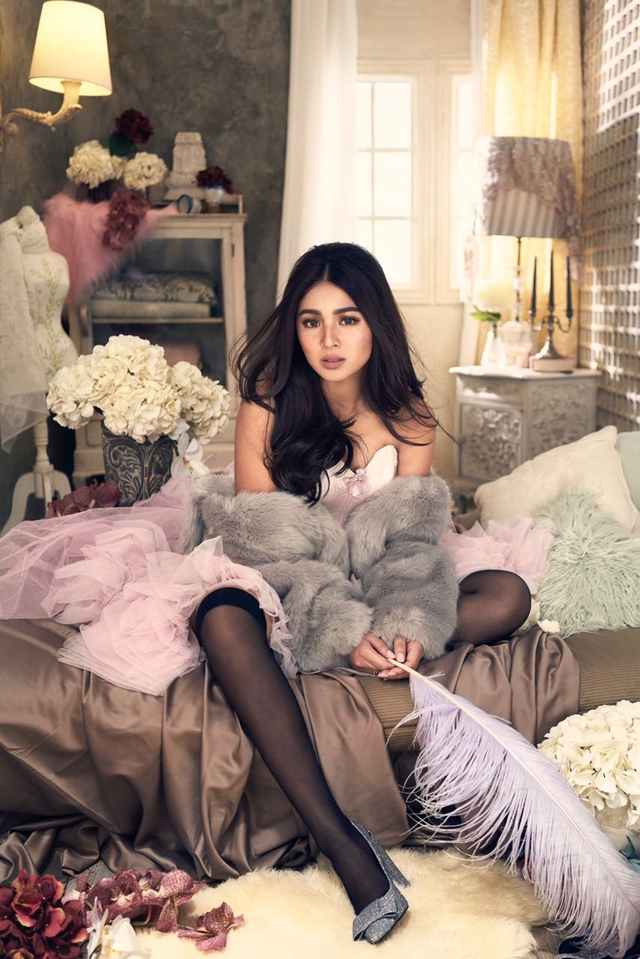 ADVERTISEMENT - CONTINUE READING BELOW
IMAGE BJ Pascual
The fragrance will be available on your website CoolGirl.ph. What is CoolGirl.ph and why'd you name it that?
"First thing we thought about was NadineLustre.com but ayoko kasi yung masyado kong shino-showcase 'yung sarili ko. I want it to be a cool name. I didn't want it to be Luster. I can do a lot of things with Cool Girl. Plus, at that time, I kept listening to Tove Lo and her song Cool Girl, so I was like, 'Okay, Cool Girl!' James was also my inspiration. In my playstation, his name is Cool Guy, and then in my laptop he has a folder that contains all his stuff and things that I just send it to him and that's also called Cool Guy. So I was like, 'Ah, okay Cool Girl, and it sounds so nice and interesting!' Not like NadineLustre.com; that's so obvious na okay si Nadine Lustre 'yan. Pero 'yung CoolGirl.ph it'll make you wonder what it is. It sounds so '90s! I just didn't want it to sound like I'm full of myself. That's why I named it Cool Girl."
ADVERTISEMENT - CONTINUE READING BELOW
Does this mean you're planning to expand CoolGirl.ph? What else could we expect?
"Definitely not going to be a blog because I have Instagram and Twitter for that. Maybe tour updates because I'll be working on an album in the near future. So maybe I'll just promote it there or call my album cool girl (laughs). That's why I like the name so much because I want it to be bigger than just Nadine Lustre. I want it to be my own brand, but we'll see what happens. [Basically,] Luster is a part of it. I'm only selling 10,000 pieces of Luster, so we'll see if there's a demand or something. Cool Girl has a lot of opportunities."
Hey, Preview readers! Follow us on Facebook, Instagram, YouTube, Tiktok, and Twitter to stay up to speed on all things trendy and creative. We'll curate the most stylish feed for you!