EB Advance's Vinyl Lip Gloss has been chosen by the Preview team as the Best Lip Gloss of 2019. This and 24 other products were reviewed by 25 real girls for this year's Preview Girls' Choice Awards to see if they truly deserved their title. Ahead, writer Sam Beltran gives us her thoughts on the product:
Lip gloss reminds me of the early-mid 2000s with shimmering puckers and goopy formulas. As a pre-teen then, of course I tried getting into the trend but I knew early on it wasn't for me. My tubes would go unfinished even as my classmates wore their shiny lips proudly.
I'm very particular about how makeup feels on my face, and even as a youngster, the sticky formula didn't sit well with me. I would get the urge to wipe my lips shortly after applying it. Besides the feel, I wasn't a fan of how greasy it looked—like you had finished a plate of lechon in one sitting.
ADVERTISEMENT - CONTINUE READING BELOW
Safe to say, I embraced matte with open arms when they became on trend. The formula still didn't do any favors for my lips, which would dry easily. The best compromise I found was in lip tint, which allowed the lightweight yet buildable coverage I was looking for, and I could easily apply lip balm under or over it to combat dryness. Fast forward a decade later and I've been looking to give lip gloss a chance again just to switch things up.
The Product: EB Advance Vinyl Lip Gloss
What It Is
EB Advance's first ever take on lip gloss claims to give your pout a glossy sheen without the goopy feel. It's sheer, lightweight, and provides a subtle rosy tint.
ADVERTISEMENT - CONTINUE READING BELOW
Recommended Videos
Current Condition
I keep my everyday makeup light and easy—I'll put on sunblock, do my brows, and apply lip tint, as well as the occasional concealer to cover blemishes or foundation for a more polished look, as well as a few coats of mascara. If I needed to look more put together I would swap my lip tint for bullet mattes, so incorporating lip gloss in the same manner was a no-brainer.
That said, I hadn't touched lip gloss in years, so I was curious to see how it would fare from the formula I was acquainted with from the last decade. I was expecting it to still have that same creamy, goopy consistency but with less of the shimmer and more of a lacquer finish that's more visible in fashion and beauty editorials nowadays.
How I Used It
One look at the EB Advance Vinyl Lip Gloss and I knew this wasn't the Ever Bilena of my childhood. It had a more contemporary approach and a less-is-more look, with the lacquer-like formula inside the clear bottle providing much of its visual appeal.
ADVERTISEMENT - CONTINUE READING BELOW
I was very pleasantly surprised with how it felt on my lips. Not at all sticky and uncomfortable as I had predicted! The texture was lightweight and comfortable, not unlike the feel of a light serum. It had a smoother and lighter feel, which also meant you could build up the gloss as you go whether to create the illusion of plumper lips or to recreate the high-sheen and wet look that's so on-trend now.
I incorporated the gloss into my light, everyday look— first on its own, and then next on top of my pink MAC lipstick. I surprisingly did not dislike how it looked on my bare lips. I was afraid it would look greasy, but it actually achieved a slick and polished appearance.
I do feel that the gloss best performs when used on top of another color. I love how it accentuated my pink lip color by enchancing the pale hue, achieving a rosy, sort of MLBB look. It looked light and slick on my lips, and its buildable shine makes it very friendly to use even for beginners and allows you to create a variety of looks.
ADVERTISEMENT - CONTINUE READING BELOW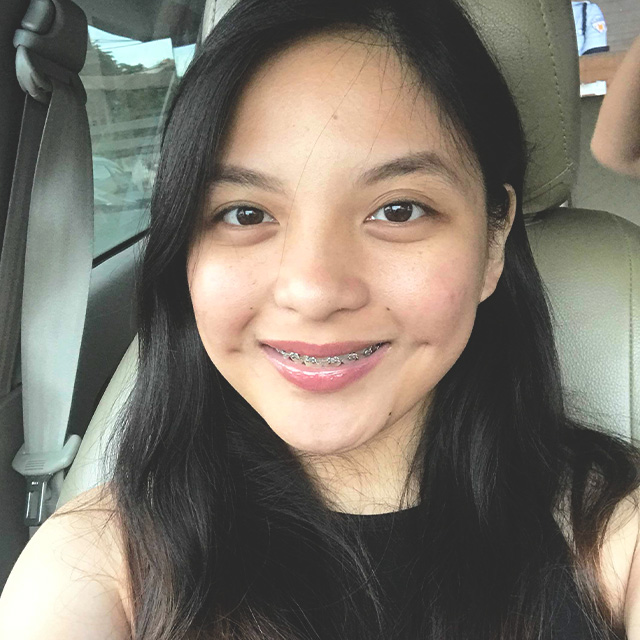 Final Thoughts
As someone who regularly suffers from dry lips, the gloss is a welcome step into my makeup routine. The formula was actually moisturizing enough to soothe my parched lips without the need for lip balm! It's a good product to have in your arsenal for girls with small lips like me to create that plumping effect, and to quickly switch up your current set of matte lipsticks for more high-shine looks.
ADVERTISEMENT - CONTINUE READING BELOW
I can't really think of actual cons! It's affordable, travel-friendly, effective, and delivers as promised! Perhaps it would be better if it came with a light tint of color, just so it looks better on bare lips. But if you plan on adding it as a finishing touch to your lipstick and lip tint, it's a handy little product in your kit.
* As told to Nicole Arcano
Related Stories from Preview.ph
Hey, Preview readers! Follow us on Facebook, Instagram, YouTube, Tiktok, and Twitter to stay up to speed on all things trendy and creative. We'll curate the most stylish feed for you!