Every skin care routine should start with a good cleanse. Removing any excess oil, makeup, and accumulated dirt gives the skin a chance to recover and start over. And to make the most out of this step, approach it like a science. Take double cleansing, for example. This two-step method gives you a deeper cleanse while keeping your skin's health in mind. It's probably the most popular cleansing technique in K-beauty—it's that good.
Below, Dr. Windie Villarica-Hayano, Managing Director of Skin Inc. Dermatology and Laser Center, gives us Double Cleansing 101!
What It Is
As the term implies, double cleansing involves washing the skin twice with two different cleansers. According to Dr. Windie, "it is a two-step cleansing ritual. It entails initial makeup removal with either a cleansing cream, micellar water, cleansing oil, gel-oil (usually an oilier product) followed by a foaming product as a second step."
Hence, removing makeup and regular cleansing are separate entities with double cleansing. It gives a much deeper cleanse, and the dermatologist adds it will benefit those who wear makeup regularly the most.
Step 1 - Makeup Removal
The initial step in double cleansing aims to wash away makeup, sunscreen, and other products that might clog the pores. "This first step should remove the oils and pigments that cannot come off with just a mild cleanser. It is a better, gentler, and definitely faster way of cleansing your face," says Dr. Windie.
It usually requires an emollient, oil-based product since most products break down easier with oil.
Despite the use of oil-based products, however, double cleansing can suit even the most problematic skin types. "If you have very oily and acne-prone skin, this might be a good way to remove the excess oil without over cleansing and drying out the skin," explains the dermatologist. Using a cleansing oil, for example, is a great alternative to rubbing your face with alcohol-soaked makeup wipes. Because unlike wipes, cleansing oils leave little to no residue while keeping your skin balanced and moisturized.
ADVERTISEMENT - CONTINUE READING BELOW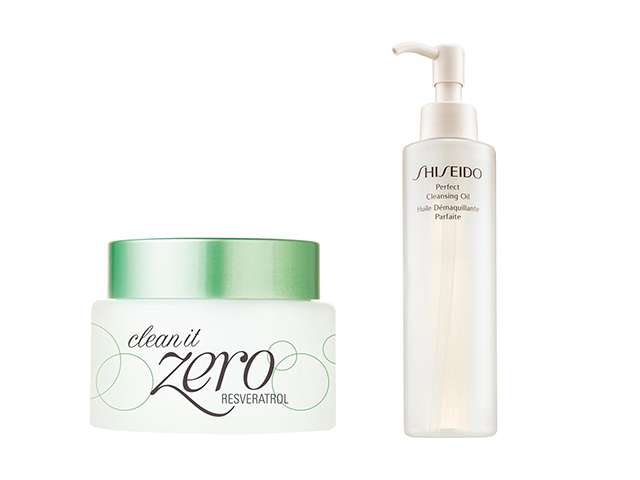 IMAGE Banila Co, Shiseido
Banila Co Clean It Zero Resveratrol, P1090, SM North Edsa; Shiseido Perfect Cleansing Oil, SM Makati
Step 2 - Gentle cleansing
The second step of double cleansing is your typical face washing routine. "It should remove the oily and dirty residue from the make up without leaving your skin feeling tight or stretched," Dr. Windie says.
She recommends gentle cleansers that have no fragrances, colorants, and alcohol. "Ideally, have a cleanser that is both hydrophilic and hydrophobic. It has to be able to bind and cleanse oil and dirt without stripping off moisture, but water-absorbing enough so that you can rinse it off easily."
Gentle cleansers, she explains, can help us prevent over cleansing our skin. As much as possible, we have to keep our skin's natural moisturizing factor by not stripping it of its natural oils. We typically do this when we use harsh cleansers that give us that 'squeaky clean' feeling after washing. "You need [your natural oils] to keep your skin soft and supple. When it's too dry, you become more prone to irritation and infection."
For this step, Dr. Windie thinks using our hands is enough. "Cleansing beads, loofas, sponges or what not, can irritate dry, eczematous skin. Oilier skin types may feel they are not 'clean' enough but really, it's okay," she explains. "Should you want to use a cleansing brush, use the softest brush available and don't rub."
ADVERTISEMENT - CONTINUE READING BELOW
When choosing your cleanser for step two, consider your skin type. "Skip the foaming cleansers if you're the dry, allergic, sensitive type. If it stings, it's not good for you. Acne sufferers may use exfoliating foaming cleansers with AHA or BHA since it is a good way to jumpstart your acne topical medicine."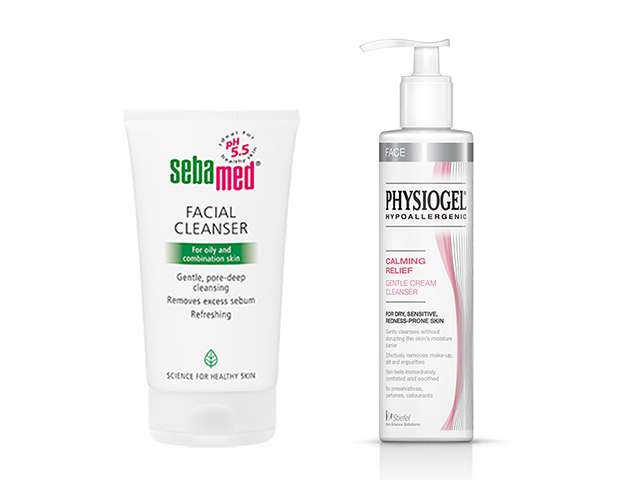 ADVERTISEMENT - CONTINUE READING BELOW
IMAGE Sebamed, Physiogel
Sebamed Facial Cleanser, Watsons; Physiogel Calming Relief Gentle Cream Cleanser, Watsons
Do's and Don'ts:
1. Do pat dry. Don't rub.
Dr. Windie explains, "rubbing can just inflame skin and cause it to thicken and change in color if you do this incessantly." You can either pat your skin dry with a towel, clean tissue, or simply tap the skin with your hands until it air dries.
2. Do cleanse twice a day. Don't over clean.
Ideally, cleansing should be done after you wake up and before you sleep. Unless it's completely necessary, stick to these time frames for your cleansing routine. According to Dr. Windie, we should also pay attention to how our skin is feeling on a certain day and adjust the products we use accordingly. "When women are nearing their monthly cycle, they may be oilier or rashier. For guys, they might start flaking when they are stressed out," she adds. When any of this happens, consult your dermatologist.
ADVERTISEMENT - CONTINUE READING BELOW
Related Stories from Preview.ph
Hey, Preview readers! Follow us on Facebook, Instagram, YouTube, Tiktok, and Twitter to stay up to speed on all things trendy and creative. We'll curate the most stylish feed for you!