Skin care is essential to a good makeup routine as the latter stems out from an equally flawless beauty regimen. Taking care of our skin will benefit us in the long run as we continuously combat sagging and wrinkling. With this, I have kept a meticulous routine that will moisturize and maintain my skin elasticity. Part of it is masking at least once a week. As a beauty junkie, I have tried numerous sheet masks that are locally available, and it's also the first thing I look for whenever I travel abroad.
With a vast selection of sheet masks, it's easy to get overwhelmed and confused as to what these can do for your skin. Plus, daily masking can get really expensive as most packaged masks are sold with only 10 pieces per box. So after reading online articles that you can DIY your own sheet masks, it piqued my interest. I can customize my own concoction and perhaps use masks more often.
ADVERTISEMENT - CONTINUE READING BELOW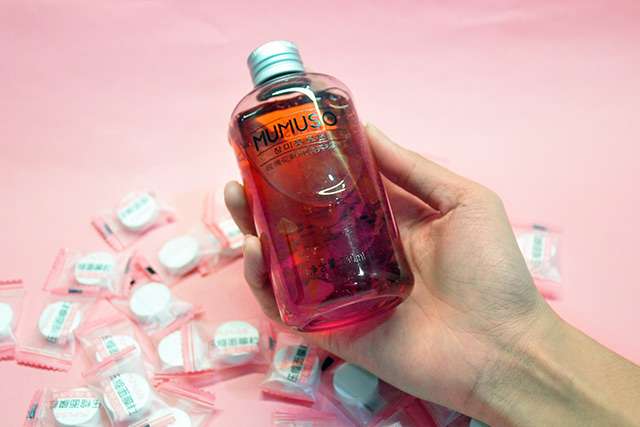 IMAGE Gab Gutierrez
I am not that confident to mix my own extracts yet so I opted to go for bottled essences for my first try. In my recent trip to the K-Beauty goldmine that is Mumuso, I got their Fresh Rose Flower Moisturizing Water to be used with compressed facial masks.
ADVERTISEMENT - CONTINUE READING BELOW
Recommended Videos
The Fresh Rose Flower Moisturizing Water is said to be effective in calming acne breakouts, de-puffing the face, and moisturizing the skin. The product is bottled in a clear plastic container, where you can see the slightly thick consistency of the vermillion liquid. Real petals are also floating in it, and it does smell like roses. I am also surprised when I read the label that it doesn't list any alcohol in its ingredients. Affordable at P149 for a 240ml bottle, it contains hyaluronic acid, rose and licorice extracts, and deionized water.
I haven't been sleeping well these past few days and I keep forgetting to slap on a face mask, so I can't say that my skin is on its best condition. Needless to say, it's in desperate need to be taken care of.
Assembling your own sheet mask with an essence or serum doesn't really involve rocket science. It's a pretty much straightforward process and all you need is a bowl, a blank sheet mask, and the bottled essence. Using clean hands, put an adequate amount of your choice of essence into the bowl.
ADVERTISEMENT - CONTINUE READING BELOW
You don't have to put too much—just enough to soak your mask. Drop in the compressed sheet and wait for it to decompress. Spread it and let the sheet absorb the essence.
Let it sit on your face for about 10-15 minutes, as most packaged masks instruct us to do.
Upon placing it on my face, I was deeply overwhelmed with the smell. I figured I may have placed too much. I think I should have done it in reverse: put the essence on the sheet mask, so I can just add as needed. In retrospect, perhaps I should have also gotten the blank masks that weren't compressed to save time. On the other hand, the compressed ones would be best for when you're traveling as they are individually packaged.
The essence, however, was great on my dry skin. It's refreshing and does not sting. It can be used both with a sheet mask or on its own. If you need something deeply nourishing for your skin, applying a thicker coat with the help of the mask works wonders. Allowing the product to seep into your pores overnight lets you wake up to brighter and less puffy skin.
ADVERTISEMENT - CONTINUE READING BELOW
Using it as part of your morning skin care however, works just as fine, too. Though it looks thicker in the bottle, the serum actually spreads out like toner, and it's easily absorbed by the skin. It doesn't leave any residue at all so you won't have to worry about the sticky feeling.
To sum it all up, I'd definitely use this product for when my skin needs deep conditioning because the results are immediately visible. I also recommend the essence to those who have sensitive skin as it is formulated with gentle ingredients.
Hey, Preview readers! Follow us on Facebook, Instagram, YouTube, Tiktok, and Twitter to stay up to speed on all things trendy and creative. We'll curate the most stylish feed for you!