I do still remember the glory days of my complexion. They're now clouded in a romantic haze of nostalgia—back when I didn't even own a single tube of concealer (I balked when Cindy Crawford lauded it as her desert-island must-bring), three hours of sleep left no trace, and pore was a four-letter word. Being born fair already made me hyperaware of every spot, and was grateful that my skin seemed to be made of the sternest stuff.
Then of course, almost overnight, it decided to accrue all its past sins in one fell swoop and I was exfoliating and Clé de Peau-ing like nobody's business. People—and skincare ads—called it turning 26. I called it unacceptable. Pore is still a four-letter word!
If I was vigilant about my skincare regime beforehand, then I went into overdrive, putting on every mask and sampling every lotion and potion made by mankind, making it my objective to reclaim the blush of youth. I've been seeing a dermatologist since I was 11 years old, and it was this prudence and discipline that saved me time and again; however I knew it was still time for an overhaul, or at the very least, a reset.
ADVERTISEMENT - CONTINUE READING BELOW
CONTINUE READING BELOW
Recommended Videos
Lots of my colleagues have raved about the boons of the Cosmelan Pack peel, saying that it restores your complexion to the skin you had 10, maybe even 20 years ago, sans the sun spots, visible pores, broken capillaries, and pigmentation brought about by negligence and age. Being of the thinner-skinned variety I was hesitant to go for peels, but decided once and for all to give it a go. In the words of beauty kindred and Summit Beauty Director Agoo Bengzon (who also has taken the plunge), "You'll look like a different person."
For the curious, Cosmelan is a Spanish whitening and anti-aging skincare program that has at its core one of the most effective (aggressive?—let's see) facial peels you'll ever undergo. It rids you of the most stubborn freckles, pigmentation, and acne scars, revealing near-virgin skin with the most immaculate texture and almost-invisible pores. The secret: It inhibits tyrosinase production (the melanin-producing enzyme) to whiten, and while doing so, also sloughs off the surface to reveal a perfect, baby-like layer of skin underneath.
ADVERTISEMENT - CONTINUE READING BELOW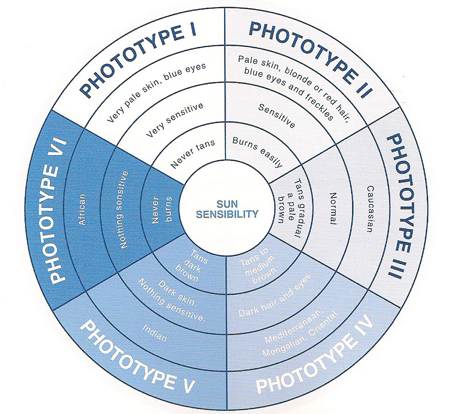 Dr. Fitzpatrick's internationally-used skin type classification model. Most Asians fall under Phototype IV; I'm a Phototype II/III
I mentioned aggressive. I wasn't kidding; first off, you can only do it under professional supervision, and I said I would do it during Holy Week so I could hide out while I molted. I shipped off to NU U Asia Center in Fort Bonifacio where my dermatologist, Dr. Giselle Lazaro, applied Steps 1 and 2 of the program: the Oil Removing Solution and Cosmelan 1 Mask. No pain at all, but I did have to go home without rinsing—which meant using the elevator and stepping out onto the street with a clay-brown mask on my face, which I just hope concealed my identity as well.
ADVERTISEMENT - CONTINUE READING BELOW
I was told not to rinse for six hours and to expect major redness, and sure enough, my face and super sensitive neck were lobster-pink afterwards. The program came with take-home maintenance like the Hydra-Vital Factor K (a moisturizer), Dermatological Sun Protection (a beige-tinted sunscreen, and a must with any peel), and the Cosmelan 2 Cream, which "maintains" an additional micropeel till you get all of it off after around two weeks.
Day 2 was just redness, but Days 3 onwards—hereafter referred to as Media Blackout Saturday et al—were comprised of nothing but peeling, as in skin literally just cracking on my face and sloughing off. Painless, but it got itchy at times, which is when you're told to double up on the moisturizer. My skin would feel a bit tight upon waking and would start peeling a few moments after I applied moisturizer and SPF, the feeling of which I loved. Oh, and of course there's forever that urge to pick at your peel, which I never could resist. Add to everything the heat of the March and April sun, and I had my work cut out for me.
ADVERTISEMENT - CONTINUE READING BELOW
The patches starting out big (around 2-3") and then diminished to the whiskery type as the week went on. This lasted for around 10 long days on both my face and neck.
I actually experienced a mild depression around the fifth day, since I felt that I had been "ugly" for so long and couldn't wait for all this redness and peeling to subside and could finally start wearing makeup again (this was also the longest I'd gone makeup-free since I was 15—kind of harrowing for a beauty editor). What egged me on though, the light at the end of the tunnel, was the quality of the skin that began peeking through in increments—glowing. Smooth like it hadn't ever seen a makeup brush. Poreless.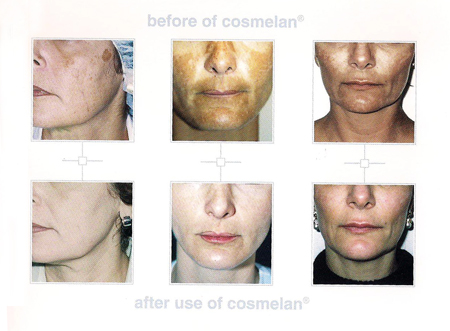 ADVERTISEMENT - CONTINUE READING BELOW
Before-and-after shots. My 'before' shots weren't as sun damaged, but the results were as remarkable.
After a slight bout with a heat wave-induced scratching session, the peel went by almost smoothly. By the second week I felt confident enough to go out into the world again without having to explain myself, and by the third week, when my Cosmelan 2 applications were staggered to every other day instead of daily, I was beginning to feel completely renewed and, well, finally pretty. My skin had a new firmness, and those who hadn't seen me in weeks thought I actually had some cosmetic work done. Needless to say, unwanted freckles were erased, roughness is gone, and a glow I hadn't seen since the '90s is now back in full force. I haven't worn foundation since.
My notes: If you're a whiner like me, don't do this at the height of summer; save yourself the extra sweat. Also expect major social downtime for at least a week, as the peeling isn't something you can laugh off and cover up with a BB cream on the fly. Try to be with loved ones who understand why you're as red as a beet and/or unconsciously picking at your face, though you're not supposed to. (Publisher: Why is Eunice super pink today? Agoo: She's doing Cosmelan. Just wait!—true story)
ADVERTISEMENT - CONTINUE READING BELOW
The bottom line: only for the brave and those committed to perfect skin. It definitely takes some patience, but a month into it and honest to God, I've never felt this beautiful.
Cosmelan, NU U Asia Center for Dermatology and Plastic Surgery, 3F 32nd & Fifth Bldg., 32nd St. cor. Fifth Ave., Bonifacio Global City. Tel. no. 856 3641. Cel. no. 0916 647 4640
Hey, Preview readers! Follow us on Facebook, Instagram, YouTube, Tiktok, and Twitter to stay up to speed on all things trendy and creative. We'll curate the most stylish feed for you!