Tattoos hold great meaning. In pre-colonial Philippines, tattoos were used to symbolize rank, accomplishment, and protection. Our ancestors needed to earn their tattoos! Nowadays, people get inked for various reasons whether to celebrate a milestone or to aesthetically represent themselves, but in any case getting inked is a huge commitment. Choosing the right design to etch on your skin can be intimidating. Generally, designs can be words, images, or objects to represent a feeling or idea. But have you heard of getting your own sigil tattooed?
Sigils are visual representations of our life stories. Filipino artist CJ Francisco believes in the philosophy of Sigil magic which means we are empowered to co-create our own reality and manifest the change we want. He creates personalized designs that are unique to one's passion and journey. The illustration is primarily based on his client's mantra which is a statement expressing what we want to declare to the universe. Moreover, sigils act as visual reminders of our intentions which is why most of his clients get them tattooed.
ADVERTISEMENT - CONTINUE READING BELOW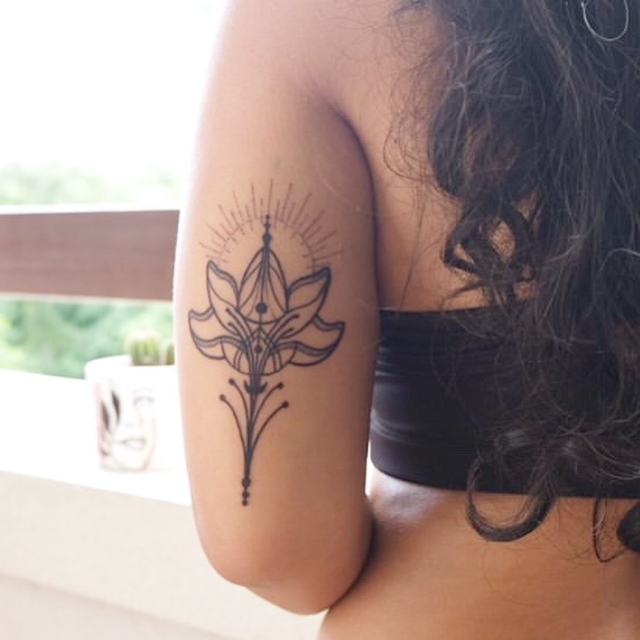 "The interest in sigils actually came about through the marriage of my artistic side and my witchy side." CJ tells Preview. 'Magick' was always alluring to him with art being an avenue to illustrate spectacular scenes from imagination. His first sigil creation came about in high school where he fused all his initials into one symbol. It started out as a logo but felt more than just that. After being self-taught then enrolling in a tarot card reading class, he formed the basics of his sigil making process. CJ combines different techniques, sacred geometry, and intuition with his client's mantra to design their sigil. This is a deeply personal process resulting in distinctive sigils where no one has the same style as the other.
CONTINUE READING BELOW
Recommended Videos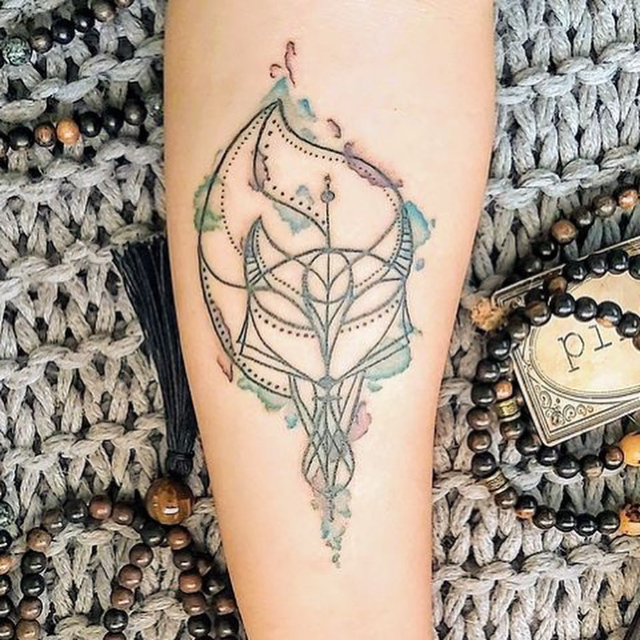 Below, we delve deeper into the craft of this Filipino sigil artist and find out how you can get your own customized sigil!
How did you start getting interested in sigils?
"So a little background on myself, I have always been interested [in] 'magick' and the idea that you can create reality as you see fit for yourself. This isn't very different from how artists are able [to] create fantastical worlds from their imagination and then translate it into physical artworks for the rest of the world to see.
ADVERTISEMENT - CONTINUE READING BELOW
"It wasn't until mid 2018 when I attended this leadership training seminar called LEAP and, in the process, they asked us to come up with personal declarations. 'Personal declarations' in LEAP is [a statement describing] your essence, [and] your highest and truest self. Throughout the process I found my declaration to be 'My magick is light and love.' This statement resonated with me so much, that I wanted a way to somehow translate it into something visual. I remembered reading something about sigils before and did a quick search on Google, and there it was, hundreds of YouTube videos and photos on Pinterest explaining how to make sigils. So I took the process [I researched] on creating them and made my first intentional sigil for my declaration.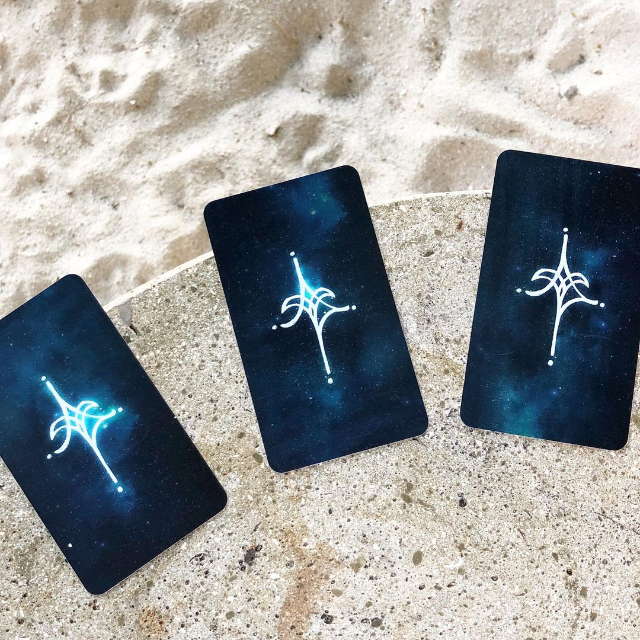 ADVERTISEMENT - CONTINUE READING BELOW
"[The] funny story about this sigil is it also ended up becoming the logo [of] the tarot deck I created during the same time—the Imaginarium Tarot (@imaginariumtarot). My intention for illustrating all 78 cards of that tarot deck was to prove to myself that I am a capable artist who will spread enlightenment and empowerment through my art. But that's a whole different story haha."
How did you learn to make sigils?
"As I mentioned, I learned the basics of creating sigils through YouTube videos and Pinterest boards. I knew that was just the tip of the iceberg—there was definitely more to learn! In 2019, I was taking my formal tarot training under Mysterium Philippines and they offered a course called Manifestation 101. In this class, I actually had a deeper understanding of the process and the esoteric magical aspect of it. I learned the importance of creating a 'Statement of Intent,' [which is grounded on the belief [that] putting the time and energy into the sigil will help pack more of a punch in manifesting what you want. Essentially, I got to understand every single step more than I did compared to the YouTube videos."
ADVERTISEMENT - CONTINUE READING BELOW
Why is it important to have a mantra and to manifest those intentions visually?
"The mantra is your 'Statement of Intent.' This is your declaration to the universe that this is what you wish for: what you truly desire. The more you see it, think it, [and] be it, the more you can attract what you want. It's essentially the Law of Attraction. The letters in the mantra become the basis of how the sigil will turn out. It's the skeleton that I will use to build from."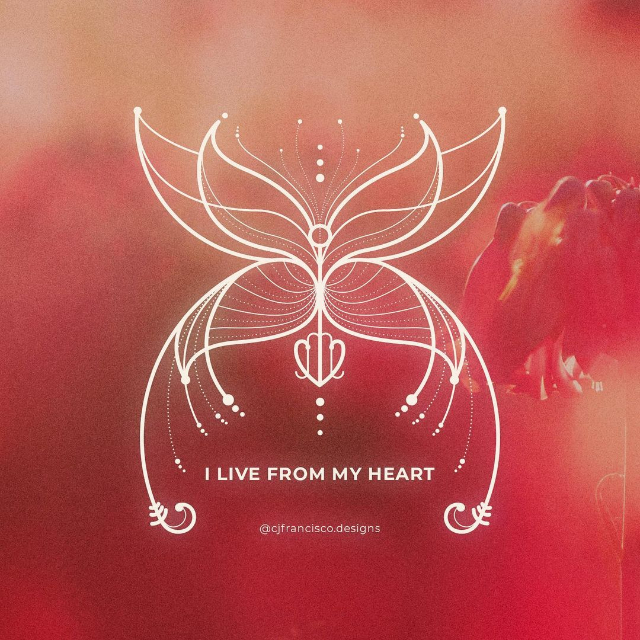 ADVERTISEMENT - CONTINUE READING BELOW
Do you have your own sigil?
"I do! Like I said earlier, my mantra is 'My Magick is light and love' which also became the logo for my tarot deck. But at the same time, I do have a lot more sigils scattered around. I create sigils for a lot of things: for protection, for health, for wealth, [and] for fitness even! They are little symbols that [when] every time I see it I am reminded that the reality I wish to create for myself is within reach. It's also a reminder for me to continually trust that the universe is always listening [and] she will always provide."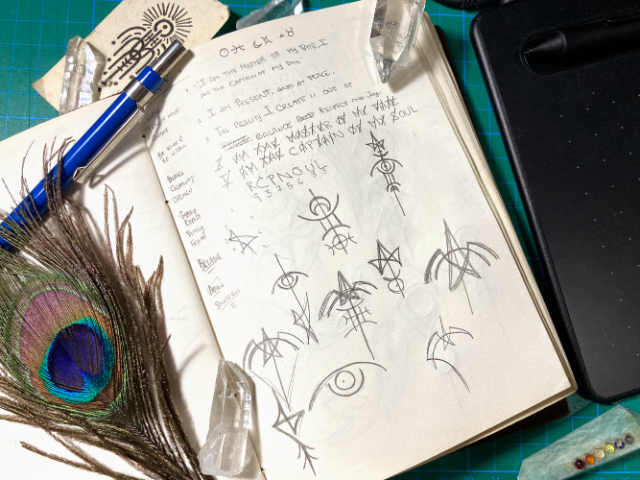 ADVERTISEMENT - CONTINUE READING BELOW
Sigils seem very personal and contextual, how do you capture the essence of your clients when personalizing their own?
"This is actually where the sigils I make have a different layer than the ones used for manifestation. The questions that I ask challenge the clients to think deeper about themselves: what they want to happen in their lives, [and] what matters most to them. They tell me about their past, their struggles and how they overcame it, or how they wish to overcome these challenges. It's very humbling to have people be open and vulnerable to me. The more they are able to tell me about themselves, the more I am able to incorporate symbolisms that tell their stories better.
"[This process is] a very good example of the saying 'you receive as much as you give' because the more they give, the more I have to work with. This is also an intuitive artwork [because] this is where the magical side comes in as well. I am a level one Reiki practitioner and I learned that you can use Reik [the practice of energy healing] to connect to 'Source' to get you in the 'flow state.' In effect, [I] positively infuse the sigils with Reiki energy. [With] the elements that I've been given [by the client], I thread them together guided by my intuition and what I feel is aesthetically pleasing. I keep the client in mind as I sketch on my notebook and as I translate it into my computer. I really try to connect with what they have given me and the stories they've told [in an effort] to try and really capture their essence. Ultimately, the result is a sigil that reflects their soul.
ADVERTISEMENT - CONTINUE READING BELOW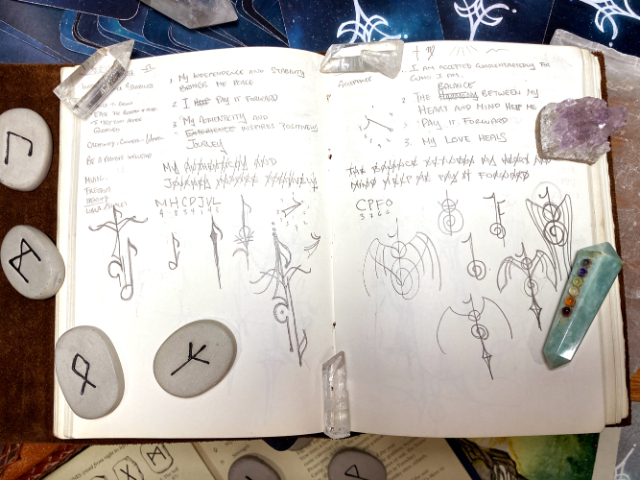 "[The next story is] unrelated, but I just wanna say a little bit about people just randomly taking sigils. I find it so upsetting when I see people use the sigil of someone else and just have it tattooed without knowing the story behind the sigil. I've seen a few of my sigils tattooed on people other than the person who commissioned the artwork.
ADVERTISEMENT - CONTINUE READING BELOW
"First of all, the stories woven into the sigils are more than just the mantra written on the image, there's much much more. There are symbolisms that are unique to the client, like their sun, moon, and rising zodiac signs which are usually incorporated in the sigils. I mean, what are the chances that you have exactly all three zodiac symbols as the one who commissioned it? I am flattered that people love my designs enough to be tattooed on them forever, but it also feels like a violation of something so personal. This is also why I do ask permission from my clients before posting their sigils on my social media because I know that once it's out there on the internet, nothing is really stopping other people from just grabbing it and having it tattooed, or using it for themselves."
What do you consider when making a client's sigil?
"Actually, apart from the mantra that the client gives, I don't really consider much when creatingthe sigil. With regard to the way it is shaped, I generally try to follow 'sacred geometry.' I use the 'Tree of Life' as my guide for most sigils, which is why most of the sigils are more long and vertically designed. It will always start with a straight line down the centre and it just builds from there. There are sigils that look similar but each [person's] sigil is unique and will never be replicated exactly because, just like snowflakes, no two people are exactly the same. For usage, it's completely up to the client where they would use it, but I do only just provide the JPEG files."
ADVERTISEMENT - CONTINUE READING BELOW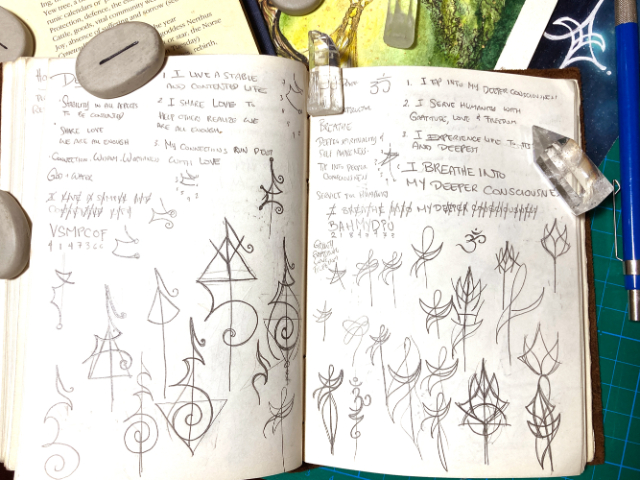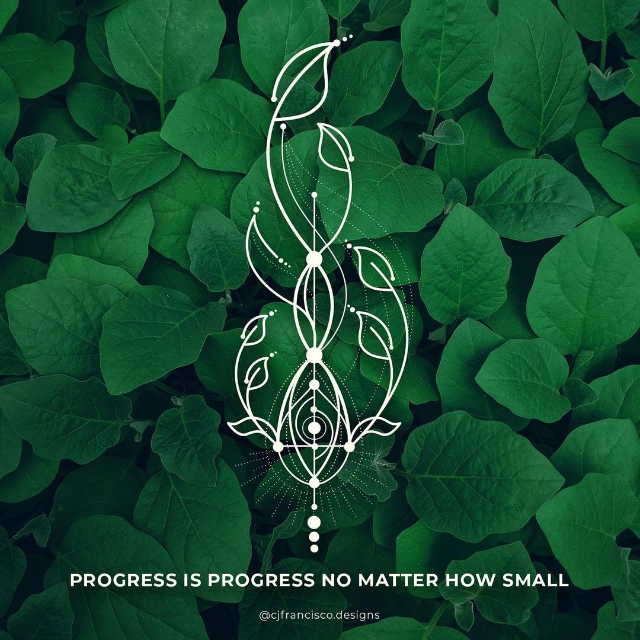 ADVERTISEMENT - CONTINUE READING BELOW
Other than tattoos, what can the sigils be used for?
"Well tattoos are the main thing, yeah, but other people use it as their phone wallpaper [or] they print it out so that it's in their room. [It acts] as their reminder to live out their personal mantras."
Can clients change their sigil designs after the finished product?
"I do allow one free round of consolidated minor revisions, 'can you add this,' 'remove that,''thicken the lines,' 'turn this into dots' and the like, because I want the client to resonate with it as much as possible. But [a revision] to completely change the design, I don't [welcome] since my process is a mix of symbolic storytelling and intuitive art. The art piece is intentionally made with what I feel is aesthetically pleasing and what I feel captures the essence of the client's heart and soul. I feel that clients who reach out to me trust that I will be able to deliver and [they] are open enough to allow my artistic freedom to create something that will resonate with them. [Their] trust in me is actually what makes me feel more empowered to create sigils, compared to if I was given parameters and pegs. So far, all my sigils have resonated with each client."
ADVERTISEMENT - CONTINUE READING BELOW
What is the price range of your personalized sigils?"
"As of today, for a personalised sigil, it's Php1,600."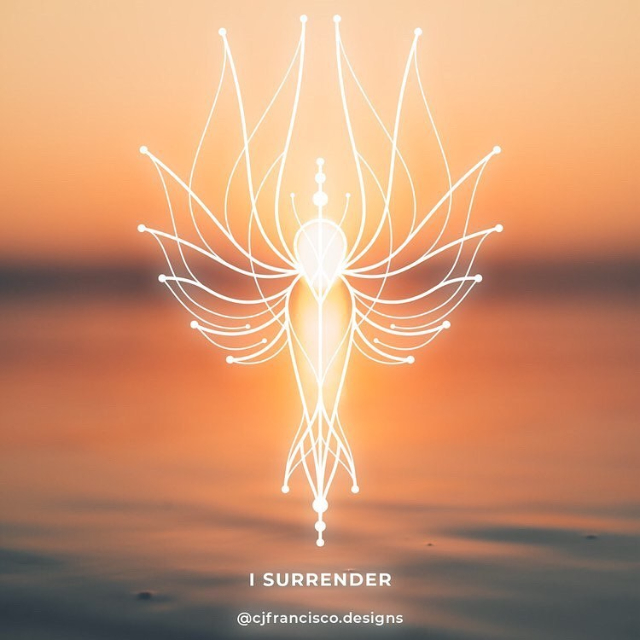 How do interested people book a consultation with you and what can they expect?
"They can reach out to me on Instagram and Facebook, or on my personal Twitter account. They can expect to be asked some deep questions that they probably have not thought about in a while or have [not] even considered asking themselves. I've actually had some people tell me that the questions really made them think. Which is what I hope they do, because the more thought they put into answering the questions, the more I am able to draw from it."
ADVERTISEMENT - CONTINUE READING BELOW
Preview is now on Quento! Click here to download the app for iOS and Android and enjoy more articles and videos from Preview and your favorite websites!
Related Stories from Preview.ph
Hey, Preview readers! Follow us on Facebook, Instagram, YouTube, Tiktok, and Twitter to stay up to speed on all things trendy and creative. We'll curate the most stylish feed for you!